2011 Pro Preview With Triathlon Coach Matt Dixon
What can we expect in 2011 from top pros like Chris Lieto, Linsey Corbin, Samantha McGlone, Meredith Kessler, Rachel Joyce and Luke Bell? Matt Dixon, the man coaching them this year, gives us his take on the these athletes and the season ahead.
Heading out the door? Read this article on the new Outside+ app available now on iOS devices for members! Download the app.
What can we expect in 2011 from top pros like Chris Lieto, Linsey Corbin, Samantha McGlone, Meredith Kessler, Rachel Joyce and Luke Bell? Matt Dixon, the man coaching them this year, gives us his take on the these athletes and the season ahead.
San Francisco-based coach Matt Dixon of Purplepatch Fitness has guided some of the sport's biggest names—Chris Lieto, Linsey Corbin and Rachel Joyce to name a few—to breakthrough seasons in 2010. We sat down with Dixon to chat about his game plans for his pro athletes going into the 2011 season. What will get Lieto that elusive Ironman World Championship title? How will he train new recruit Samantha McGlone? Dixon gives us a glimpse into his playbook.
Chris Lieto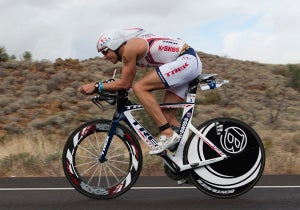 As an athlete, Chris had his best year in 2010. We both agree on that. He won three half-ironman races. He had a fantastic year, there's not too much we can look back on and think, "This is what he did wrong." With Hawaii, we might have got him a little too tired in Mammoth, but no matter what Chris could have done that day, the dynamics of the day didn't fold out so that he had a chance to win. Even if he had his best run, on that day he wouldn't have won. It's no secret that Chris needs the conditions to go his way in order to win that race and a little bit of luck—as does everyone else. The conditions were not hard enough on the bike. He maybe went a little too early, but that's because he didn't want to get second, third or fourth. He decided to go for the risk with full understanding that he might pay the consequences. But he went for the tiny chance of winning. We went to Ironman Arizona with the pure goal of having a great marathon. He a very bad swim and on the bike he was following the plan by sitting in, but what I didn't realize as his coach was that he was actually getting dropped on the bike and battling to stay on and humbled his way around on the marathon. That was ultimately a bad decision to go and do that race, probably a bad coaching decision. We have two goals for Chris in 2011: One is to try to win Hawaii, which if the conditions and dynamics go his way he has every much a chance as he did in 2009, when he got second, and 2010 when he led until mile 10 [of the run]. The second goal is to put together a great marathon in an Ironman. He hasn't done that yet. There are many, many reasons for that. The one thing we do know is that he's better than he's ever been. He just needs his day. We've shown he's a greatly improved runner. We've shown that in a half-ironman but ultimately we have to show it in an Ironman.
Samantha McGlone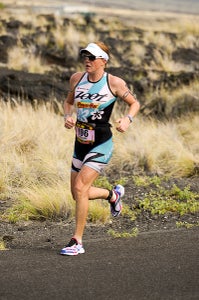 Sam has had a really challenging last couple of years. Physically, there's been an accumulation of a lot of training and she got very, very tired. She reminds me a lot of Linsey [Corbin] when she came to me about a year ago and Chris [Lieto] when he came to me a couple of years ago—just tired and a little worn out physically and emotionally. We're changing a lot with Sam. Firstly, she's going into a brand new coaching methodology, one that includes a greater focus on nutrition and functional strength. And we're going to go back to some of the success she had with Cliff [English], her former coach, who did a tremendous job with her through the years. The first focus will be getting her back to full health metabolically, training consistently, and getting back to being very, very fit. We're going to treat her more like an Olympic-distance athlete—try to get her speed back, her confidence back and get her racing very well. While Hawaii will be the ultimate goal, it will be secondary until we get her back to racing at the top level.
Meredith Kessler
It's very challenging when you have a breakout year like Meredith had—when nearly everything goes your way and you break out onto the scene and win an Ironman. Then what's next? We're going to change her work schedule to free up more time to increase her recovery and periodically have her go away and be able to get into some training camp environments to get in some training volume and consistent volume. We're going to de-emphasize Hawaii as a goal and have her go to Ironman races in North America to compete and ultimately win those. The focus will be to continue to improve her Ironman strength riding—improve her endurance on the bike to make sure she can be strong throughout the bike, and that's going to need some volume and, in turn, she'll be able to run better off the bike. Her indoor training will remain very important because of the efficiency of her life. To take the next step she needs a little bit more volume, a little more time and greater lower intensity endurance. We want her to be very strong in the back half of the bike.
Linsey Corbin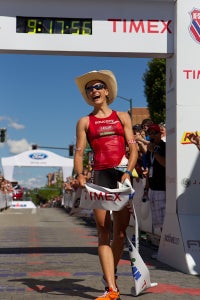 I think Linsey had a breakout year last year and not just because she won her first Ironman [Coeur d'Alene] and got second at Arizona and raced her fastest Ironman races. She made a really difficult journey to change her training methodology and to set herself up so that she goes into the year better able to make big strides in her career. The first half of last year was about getting her functionally healthy—getting her healthy enough to absorb the training and not just do the training, and race well. Linsey will be able to train more this year with a little more volume while remaining healthy; the increased volume will be value volume and we'll remained focused on recovery. I look for Linsey to be more consistent in her racing and move toward the pinnacle of the sport. She's starting a two-year project—because I think it takes two years to do this—to improve her swim and to do that we're putting her in an environment of good swimming. She'll be spending time in Tucson, Arizona with Hillary Biscay, Sam McGlone and some of the other Tucson-based athletes, focusing on her swim and getting in some outdoor riding.
Luke Bell
Luke's going to spend the winter (summer) in Australia, and we're going to have him race more consistently throughout the year. He came to me in May of last year very tired, after a very poor 2-3 years of racing performance and a lack of confidence. The second half of last year was about turning the ship around and getting his confidence built back up and giving him a platform to be able to make big steps. 2011 is going to be a big year for him. I think he will win an Ironman this year and he will return to being back in the upper end of the sport. We're going to have him do a couple of early season races—Abu Dhabi will be a build to Ironman South Africa. It's only now that Luke, like Linsey, can start to do the accumulated training that it takes to put together a great Ironman. I'm very confident for Luke. He's still very young.
Rachel Joyce
Rachel had a year of some of the worst fortune of any athlete. Last year she had the freak accident in Abu Dhabi—she cut her foot and severed three tendons on the chain ring of her bike. The problem wasn't just recovering from that, it was the injuries that she got resulting from that—the compensation injuries. So last year we sort of salvaged the season. She obviously had a great, great day in Hawaii relative to her year, and went to Ironman Arizona and was actually much better in Arizona than she was in Hawaii because she had another five weeks to train. But then had more misfortune when she got hit on the course by an amateur athlete. Last year Rachel was based out of Central London, which is one of the worst cities to train in, especially in the winter. This year she's spending much of the winter in Spain and Lanzarote to get in a warm-weather climate. She's going to finally be able to make her move and do some racing in America in the middle part of the year. I think in 2011 we're going to see her make another step up. She is the complete package for an Ironman athlete: she has a quiet intensity about her but she also has tremendous swimming ability and undiscovered strength in biking and running. In Hawaii, she was consistent across all three, but this year I would love for her to greatly improve her biking ability and I think that will unleash her run. If we can keep Rachel healthy this year, she's going to be a threat in any race—even to Chrissie [Wellington].