How Drug Testing Works in Triathlon
Anti-doping efforts are not as straightforward as you might think.
Photo: Kyle Rivas/Getty Images, Franck Fife/AFP, Triathlete
Heading out the door? Read this article on the new Outside+ app available now on iOS devices for members! Download the app.
In our six-part series on doping in triathlon, we examine every aspect of anti-drug efforts in our sport. For more in this series, read:
The recent Collin Chartier doping controversy raised questions about how effectively triathlon is policed when it comes to cracking down on athletes taking performance-enhancing drugs.
Chartier returned a positive sample for the blood-booster erythropoietin (EPO) in an out-of-competition test in February and was banned for three years after admitting the offense.
Digging into the details, the 29-year-old American triathlete wasn't caught by his national anti-doping organization, the United States Anti-Doping Authority (USADA), but rather by Ironman—a private race organization—at a training camp in Spain. At the time Chartier was one of 46 triathletes in Ironman's Registered Testing Pool, according to WADA reports.
The process took place under the World Anti-Doping Code, and the investigation was led by the International Testing Agency (ITA). The result left the Professional Triathletes Organization (PTO) – whose U.S. Open in Dallas handed Chartier a $100,000 payday just months prior – checking with lawyers to see if they could pursue the athlete to get their cash back (Chartier says he wasn't doped at the time of his triumph).
On its surface, the Chartier case could exemplify how well drug testing works—he was caught, admitted to the offense, and subsequently said he would not return to triathlon after the ban. But it also illustrates the complexity of the system, one where many different organizations are involved along the way. To fully grasp how anti-doping works in triathlon we also need to understand the different tactics, procedures, and tests that are deployed.
Section divider
What is WADA?
Based in Montreal, the World Anti-Doping Agency (WADA) is the great overseer of anti-doping in sport—not just triathlon—and its code is the bible to which most anti-doping authorities defer. It attempts to define performance-enhancing drugs (PEDs) such as anabolic steroids, peptide hormones, or masking agents, along with outlawed doping methods, such as blood transfusions that could lead to anti-doping rule violations (ADRVs).
WADA also develops standardized international practices for how drug testing takes place and how sanctions should be enforced, and tries to educate athletes and coaches to embed fairness in sporting culture across the globe, with events such as its annual symposium that this year took place in March in Lausanne.
Section divider
Who signs on to the WADA code?
Most of the WADA signatories are international federations, such as World Triathlon—the international governing body that oversees triathlon in the Olympics—who then follow WADA protocol, which includes using WADA-accredited testers and labs to analyze blood and urine samples.
This gives credibility and confidence that the testing is robust and can survive legal challenges from athletes or their lawyers protesting an ADRV. The code also protects the athlete's right to fair due process, and if they feel their voice is not being heard, they have the option to appeal to the Court of Arbitration for Sport (CAS) for a final verdict.
The WADA umbrella of anti-doping enforcement allows bans to carry between different organizations and competitions. For example, Chartier can't turn up to compete at a UCI cycling race because his prohibition extends beyond triathlon, a problem Lance Armstrong ran into when trying to take part in a masters swimming event back in 2013.
In triathlon, Ironman has been a WADA signatory since 2005. As a private organization this is quite an unusual step, but one it would argue gives it more veracity when it comes to catching and sanctioning cheats. As a newer organization, the PTO – along with the likes of Super League Triathlon, Challenge Family, and Clash – is not a signatory to the code. Instead, the PTO has partnered with World Triathlon on a legal and procedural basis to give integrity to its in-competition testing.
Section divider
Who actually carries out drug testing in triathlon?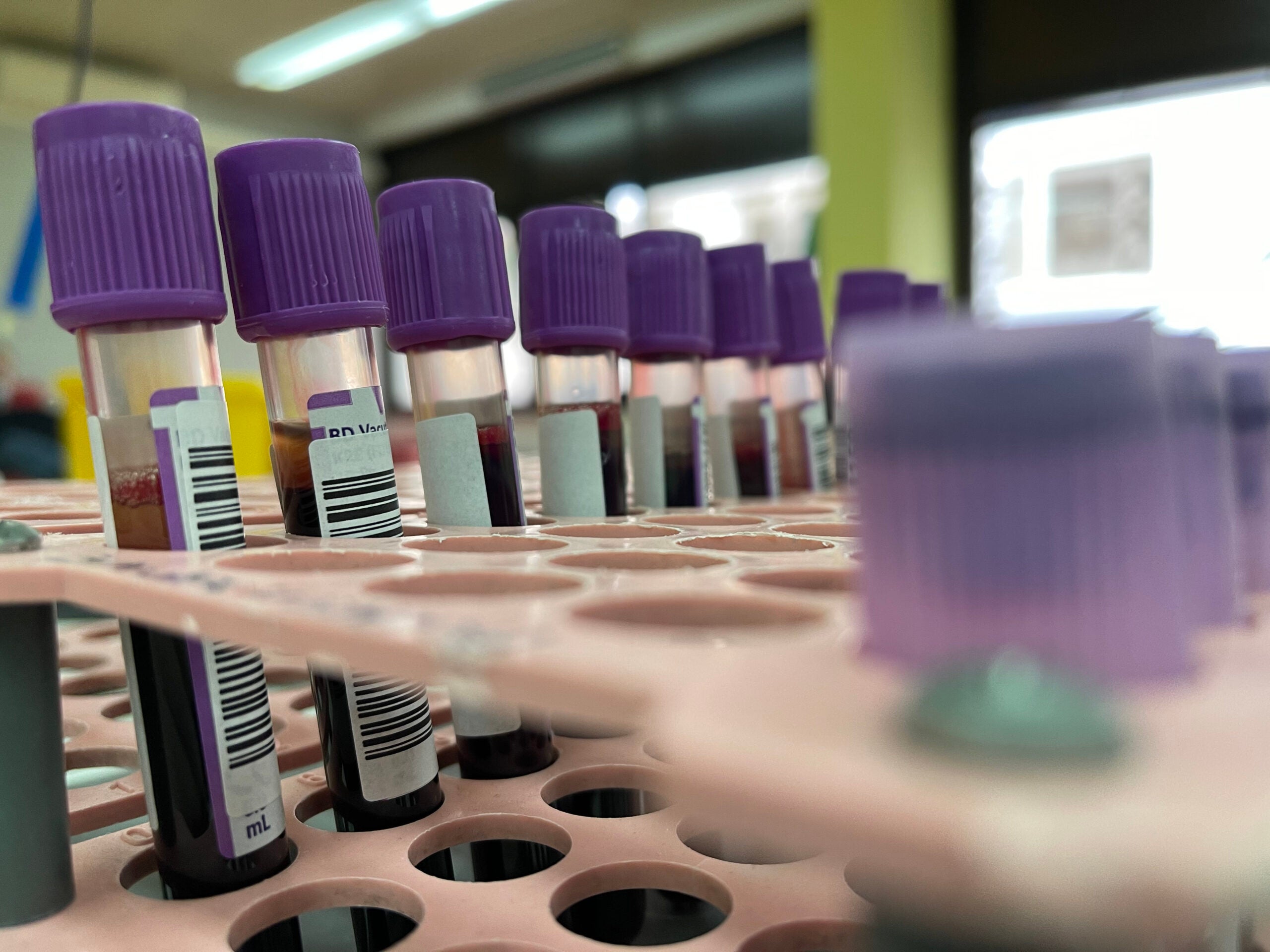 It's not quite as simple as one company doing all the tests. There are several strands to anti-doping in sport and who fulfills what role depends on the organizations involved. This includes intelligence and investigations to decide who will be tested and when, the drug testing itself, and the results management of the samples.
For example, Ironman coordinates with National Anti-Doping Organizations, as well as Professional worldwide controls (PWC) to conduct drug testing. but contracts out its results management to the International Testing Agency (ITA), an independent, non-profit foundation that was created in 2018—the same organization cycling's governing body, the UCI, uses. Based out of Lausanne, Switzerland, the ITA works across a range of sports from table tennis to boxing to weightlifting and is relatively new to triathlon. As part of its intelligence gathering, the ITA provides a confidential reporting platform called REVEAL for tip-offs, suspicions or knowledge of doping offenses.
In contrast, while the ITA is also a contractor to World Triathlon, it takes on more responsibility here, handling everything except the results management of cases and World Triathlon's Therapeutic Use Exemption (TUE) program – where triathletes are cleared to use certain substances on medical grounds that could otherwise result in a positive test. World Triathlon manages its anti-doping results and the TUE program in-house.
Testing can take place in or out of competition, and who takes on the physical responsibility again depends on the organizations involved and the location. For example, at last year's PTO Tour event in Edmonton, the PTO contracted the Canadian Anti-Doping Program (CCES) for the sample collection and used a WADA-approved laboratory in Montreal as a robust, cost-effective solution.
Worth noting is that the PTO – whose procedures came under additional scrutiny after the Chartier bust – are also working with Sporting Integrity Ltd., a consultancy run by former director of anti-doping at U.K. Sport, Michele Verroken, whose expertise is being harnessed to implement fair and consistent processes as the organization tries to make its anti-doping measures more robust.
Section divider
In-competition versus out-of-competition testing
There is an obvious and clear distinction between the two, let's look at in-competition testing first.
In-competition drug testing
Cynics argue that failing an in-competition drugs test is the equivalent of failing an IQ test. By this, they mean that anyone doping should know enough about the PEDs to be sure the substance is out of their system by the time it comes to competition. In other words, in-competition testing is futile.
But while there's some merit to this viewpoint, it's not wholly justified. As well as it being an extra deterrent to doping with impunity around events, athletes have been caught in-competition, so it is not entirely ineffective. For example, U.S. triathlete Lisa Roberts was sanctioned for her use of an asthma inhaler containing a banned substance (a Beta-2 Agonist) at Challenge Roth in Germany in 2017 and given a public warning after a USADA review.
Another advantage is that in-competition testing is cheaper than testing out of competition, with all the athletes being on site rather than the expense of sending a tester to some far-flung destination.
As an example of in-competition testing, Triathlete asked organizers for numbers from a busy weekend of racing focused on the PTO European Open, World Triathlon Long Distance World Championship and Ironman 70.3 North American Championship in May.
The PTO said it tested every athlete in its 52-strong pro fields with dried blood spot ("DBS," see below for more details) testing prior to the race and "at least" 10 men and 10 women for post-race urine samples. World Triathlon revealed it conducted 80 in-competition tests for both elites and age-groupers across a week of various multisport competitions in Ibiza, and Ironman said it doesn't release figures because "the number of tests conducted is not indicative of the quality of an anti-doping program." Ironman's response underlines the earlier argument that it is targeted testing, based on intelligence that often proves more effective. If you want to compare figures for in and out of competition testing across sports, WADA's annual report (2021) is a good place to start.
Out-of-competition testing
As the name suggests, this kind of testing takes place away from the race course and often at the triathlete's home or training environment. It's typically targeted testing where high-performing athletes or those under suspicion are asked to give blood or urine samples or both to official testers.
Whereabouts
Out-of-competition testing mainly works in conjunction with the Anti-Doping Administration & Management System (ADAMS), where triathletes in registered testing tools provide their whereabouts for one hour each day when they can be called on by testers.
This can be at a time to suit the athletes. Many pick an hour in the evening before bed or early in the morning before training, so it doesn't disrupt their daily routine and – importantly – reduces the likelihood they will absent-mindedly be elsewhere.
While an inconvenience, athletes understand the rationale behind out of the competition testing and accept it as a necessary part of the process for clean sport. They can change their whereabouts at short notice through an app, but if the tester turns up and they are unavailable to be tested it is recorded as a missed test. Three missed tests within 12 months and they run the risk of a sanction, which could be up to two years.
Triathletes not on the whereabouts system can also be tested out-of-competition, but it's more of a gray area because they can't be compelled to be available 24/7. If a professional triathlete not on whereabouts is perceived to be actively avoiding testers, it is likely to raise suspicions and they can be moved on to ADAMS.
Section divider
Registered Testing Pools
Budgets to fight doping are not limitless, and while many observers would argue that a higher percentage of revenue should be spent on anti-doping, each organization cuts its cloth accordingly, often focusing the attention on leading athletes who are challenging for titles and money more than those who are up-and-coming.
Each organization has its own registered testing pool (RTP), which lists the  athletes it has on ADAMS. For example, Ironman currently has a 46-strong RTP, World Triathlon has 60 in its RTP and around another 100 in its secondary testing pool (TP). The TP demands are less stringent – for example, the triathlete doesn't have to give an hour's window between 5am and 11pm each day – but non-compliance to a visit will see them moved up to the RTP.
Registered testing pools are not operated in isolation. Ironman, World Triathlon and national anti-doping associations will confer to make sure the combined pools cover as wide a spectrum of athletes as possible. This is why you won't always find the top athletes in every testing pool. For example, Norwegians Kristian Blummenfelt and Gustav Iden (who between them hold the Ironman, Ironman 70.3 and Olympic titles) are in the Anti-Doping Norway testing pool (where they are tested a minimum of three times a year out-of-competition) and the World Triathlon TP (not RTP). Their country's robust anti-doping protocols include the use of athlete biological passports (explained below). Because of this, they are not in the Ironman RTP, though Ironman can (and does) test them in competition.
Athlete Biological Passports
A biological passport is another evolution of tracking an athlete, where biomarkers in blood and urine are checked periodically. If the results are too far adrift from the normal range, it could be charged as a doping offense. World Triathlon implemented the athlete biological passport (ABP) in 2010, and collects data for both the hematological and steroidal profile of athletes.
Because authorities don't want to risk undermining the ABPs with "false positives," the burden of proof tends to be high. In 2021, World Triathlon claimed that Vladimir Turbayevskiy of Russia was the first triathlete to have been suspended due to abnormalities in his ABP that indicated blood manipulation through EPO or a transfusion. But while we rarely hear talk of ABP breaches in triathlon, they have been in the wider sporting news recently, with Romanian tennis player Simona Halep and Kenya's road world 10,000-meter record holder Rhonex Kipruto facing sanctions for ABP irregularities.
Section divider
Not just a numbers game
It's unfair to judge any organization purely by the number of tests it conducts. As per our earlier response from Ironman, it's how many tests you conduct, but how intelligently you conduct them.WADA's most up-to-date figures come from 2021, which need the additional context of being in a pandemic-affected period.
Even comparing triathlon to anti-doping efforts in other sports comes with caveats. WADA reported a total of 4,244 and 4,293 samples collected in triathlon in the years 2018 and 2019, respectively. That's paltry compared to cycling, athletics (track & field), and swimming, but one must remember those sports have significantly higher participation numbers overall. One could choose to look at WADA figures for triathlon compared to smaller sports like tennis, sailing, or taekwondo for those same years as well.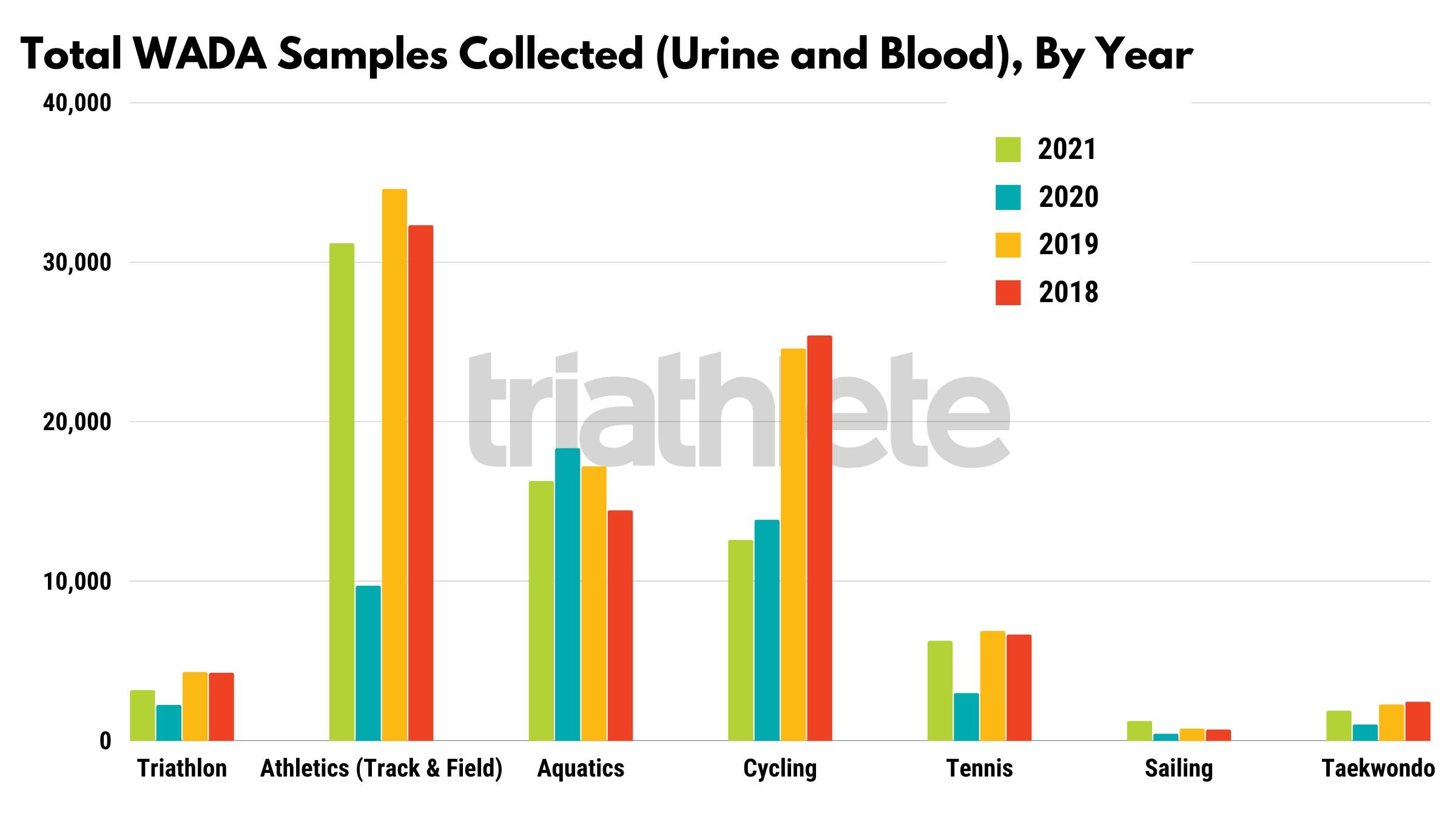 Focusing on USADA's testing of triathletes so far this year, 17 triathletes have given a total of 59 samples, with Taylor Knibb and Katie Zaferes giving the most at six apiece. This could mean they have been tested twice if both blood and urine were taken each time. It also doesn't mean they have only given four samples in the whole year, as they may have been tested in and out of competition by other authorities in other locations, not reported in USADA's figures.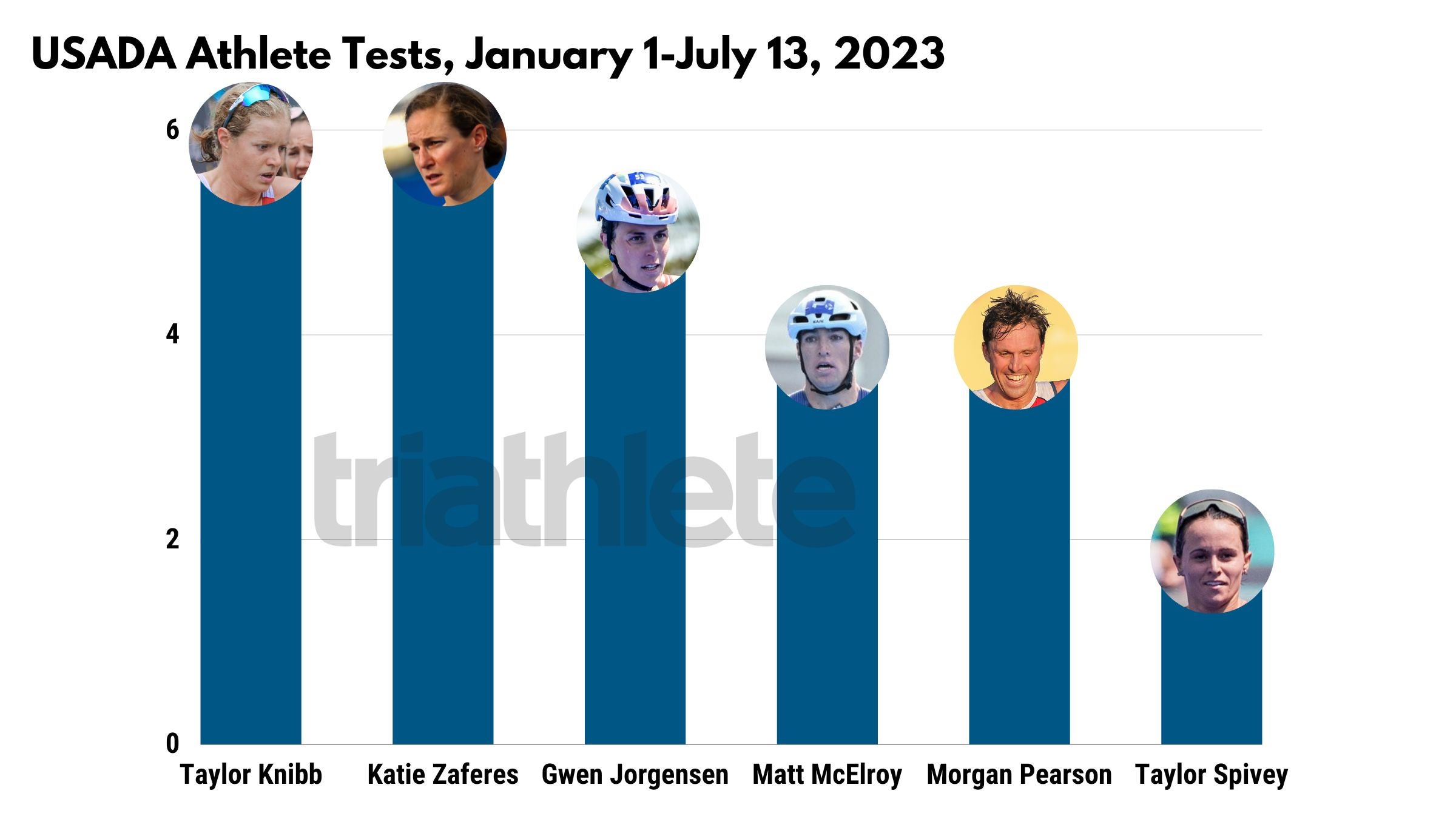 Perhaps interestingly, no U.S. triathletes are in the World Triathlon RTP for quarter one of 2023. This would infer that World Triathlon trusts USADA that its own registered testing pool is comprehensive.
Section divider
What types of drug testing takes place in triathlon?
Drug testing has traditionally been blood and urine, with samples split between two tamper-proof vials, called the A and the B sample. You might hear of an athlete awaiting the result of their B sample if the A sample returns an adverse analytical finding (AAF). Although it happens on occasion, rarely do the A and B sample results differ.
A newer form of testing called Dried Blood Spot (DBS) is also being introduced. This is a less invasive way of drawing blood, with a small puncture in the skin to collect the sample (as opposed to a needle draw), which is then stored and can be tested.
One important distinction is that not every sample is tested for every type of performance-enhancing drug. It depends on the functionality of the laboratory used and the cost implications. Samples might also be stored to be tested at a later date, when the screening technology has evolved and before the 10-year statute of limitations has expired. This is why we see podium finishers from historic Olympic Games stripped of their medals years later.
The WADA Prohibited List  includes substances that are banned at all times such as anabolic agents, peptide hormones, and masking agents. Some are prohibited at all times and some, such as narcotics, stimulants, and cannabinoids, are banned in-competition only. It also lists the prohibited methods, such as blood transfusions and injections of more than a total of 100mL per 12-hour period (except for those legitimately received in the course of hospital treatments).
Section divider
Who can be drug tested at and around Ironman events?
For those worrying about a tap on the front door, Ironman Anti-Doping rules allows Ironman to test any professional triathlete who holds an M-Dot race license, including those in its RTP. They can also test any athlete, including age-groupers, who has accepted entry to an Ironman World Championship or Ironman 70.3 World Championship through one year following the date of the race, and any athlete registered for an Ironman race from the date of entry through three months following the race. USAT has a similar policy in place stating that while testing of age-group athletes occurs more infrequently than testing of elites, it can still happen in or out of competition if you carry a USAT license. In short, if you're racing, you could be drug tested.
Section divider
What steps are involved in the drug testing process in triathlon?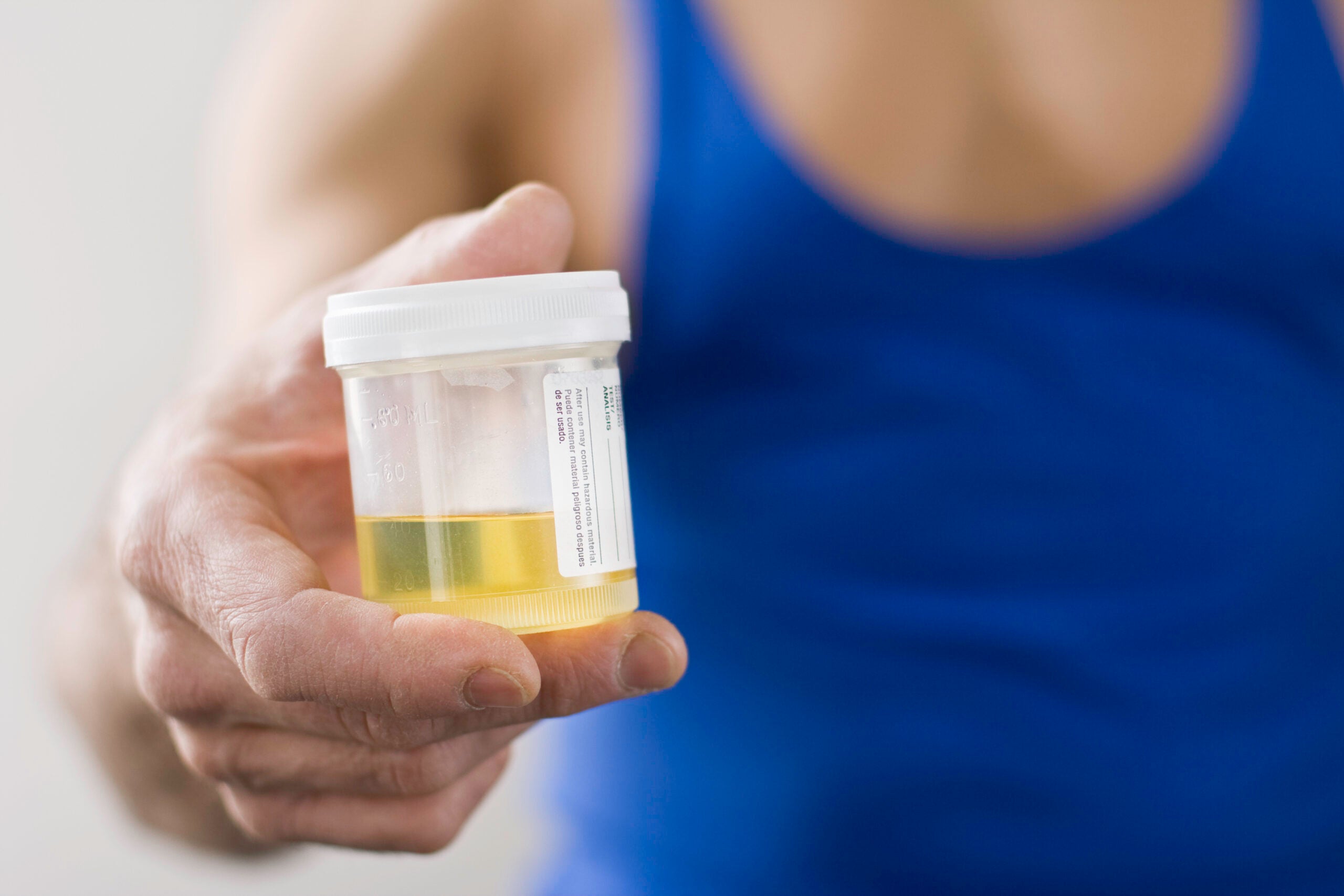 Drug testing in sport should follow a strict process and abide by the WADA code. If mistakes are made along the way, it could give legal grounds for an athlete to appeal against an adverse finding. The drug testing protocol in sport runs as follows.
The athlete is notified by a doping control officer (DCO) or chaperone that they have been selected for testing, including being told under which anti-doping authority they are being tested.
The athlete must report to the doping control station immediately. If it's out of competition, the DCO will stay with them. If it's post-race they could be briefly excused for the medal ceremony (though a chaperone must still supervise the athlete).
The DCO or chaperone will witness the passing of the urine sample. The athlete will divide their urine into the A and B bottles. If required, blood will be drawn into two vials (A & B). The B samples allow the athlete to have further analysis performed if the A sample returns a positive result.
The athlete seals the samples, the DCO then measures the gravity of the athlete's urine. If the sample is too dilute, they will be asked to provide an additional sample.
The athlete completes a paper or digital doping control form, including a list of any substances or methods used, and any comments related to the doping control process.
The sealed sample is sent to a WADA-accredited laboratory, with the doping control form anonymized, indicating only the sample bottle number, sport, and the athlete's gender.
Section divider
What happens if a sample is positive?
The WADA-accredited laboratory sends the result of the positive finding to the relevant anti-doping organization (ADO) or sports federation responsible for the athlete.
The athlete is notified of the positive A-sample result by the ADO. If requested, the B-sample is analyzed in the presence of the athlete or their representative. If the B-sample also tests positive, the athlete is considered to have committed an anti-doping rule violation.
The athlete is informed of the adverse analytical finding and can decide whether to accept or challenge the finding. If they challenge the result, a hearing is scheduled where the panel reviews evidence, listens to witnesses, and gives a decision.
If found guilty, the panel determines the appropriate sanction, considering factors such as the substance, intent, and previous violations. If the athlete is found to have intended to cheat – whatever the substance – the period of ineligibility is four years. Otherwise it is two years unless they can show they had no significant fault or negligence, in which case ineligibility may be reduced to one year. For multiple offences, it can be extended all the way to a lifetime ban. In practice, if the athlete accepts early liability for the failed test, they may be able to receive a reduced sanction and save on financial penalty and costs.
The athlete has the right to appeal the decision to an appellate body, usually the Court of Arbitration for Sport (CAS). CAS reviews the case and either upholds, modifies, or overturns the decision. The final decision is then communicated to the athlete, anti-doping organizations, and relevant sports authorities. The costs of anti-doping hearings and appeals to the Court of Arbitration for Sport are usually shared between the athlete, national federations and the anti-doping organization involved. Given it can run into tens of thousands of dollars, it can be financially prohibitive to either launch or defend anti-doping challenges.
If the athlete is sanctioned, the period of ineligibility begins, and the athlete's results during that period may be disqualified. This includes backdated results from when they tested positive.
The athlete may agree to undertake anti-doping education programs and fulfill any other obligations as part of the anti-doping process. Once the athlete completes the sanction, they may return to competition.
This article has been updated to clarify Ironman's use of National Anti-Doping Organizations and Professional Worldwide Controls to conduct drug testing.