The Monarchy-Inspired Way British Triathlon is Building Their Dynasty
Using a "five kingdoms" approach that sounds right out of Game of Thrones, the British pipeline to Olympic and Paralympic development aims to build triathlon superstars for generations to come.
Photo: Charly Triballaeu/AFP, Triathlete
Heading out the door? Read this article on the new Outside+ app available now on iOS devices for members! Download the app.
For many athletes, the one-year pandemic delay of the 2020 Tokyo Olympic Games made carrying on training and keeping their Olympic dreams alive a nearly insurmountable challenge. But for British triathletes, the Games seemingly went off without a hitch. In the men's individual race, Alex Yee claimed a silver medal in his Olympic debut; in the women's individual race, Georgia Taylor-Brown also clinched a silver to become Great Britain's most successful female triathlete at an Olympic Games. The four-person mixed relay team of Yee, Taylor-Brown, Johnny Brownlee, and Jess Learmonth finished off the Games by bringing home a gold medal.
But this is no sudden British invasion of the sport. Instead, this is best described as a persistent and strategic climb to the top. It started with Simon Lessing's five ITU world titles, snowballed into the dominant long-course careers of Chrissie Wellington and Leanda Cave, and broke through to new levels with the Brownlee brothers. Today's stars are simply the latest heirs of a British triathlon dynasty decades in the making.
So how do you keep a dynasty going? By always having someone waiting in line to ascend to the throne. That's why British Triathlon, the country's governing body for the sport, has partnered with the University of Bath to forge the next generation of champions.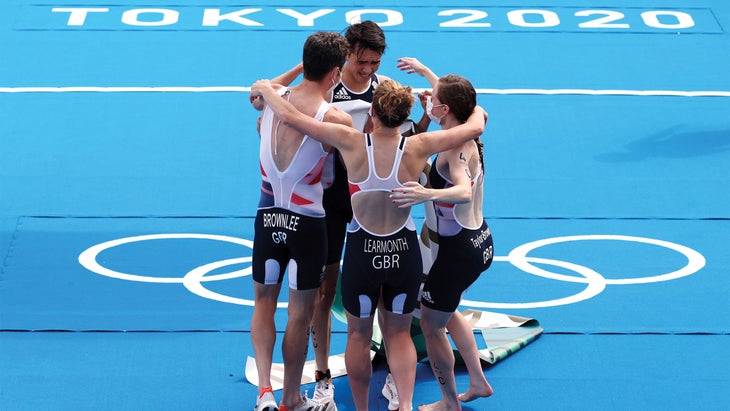 Renewing and refreshing
Since 2017, the University of Bath has been the home base of British Triathlon's Bath National Pathway Centre. It's one of five training centers nationwide that deliver sector-leading training opportunities and access to top sports scientists and physiotherapists for up-and-coming and elite triathletes. British Triathlon's two main training centers – one in Loughborough and the other in Leeds – have produced a crop of talented athletes thanks to concerted investment from British Triathlon over the past several years. British Triathlon has three other centers in Sterling, Scotland; Cardiff, Wales; and the University of Bath.
Michael Cavendish, performance director for British Triathlon, says each center serves a distinct purpose. Each year, the top one or two athletes that come up through the pathway program head to Leeds or Loughborough.
"That's where our big names are based – the Alex Yees and Georgia Taylor-Browns of this world," Cavendish says. But the site might not be right for the smaller names, the ones with untapped potential. "If it's not appropriate for them, they may actually be much better off in a different center."
It's at these smaller sites like Bath where that potential is nurtured. This is no B-list facility; in fact, it's already produced stellar athletes. Vicky Holland, who won the bronze medal in Rio, trained at Bath. Because of its documented success, the site was identified as the best place to build a better triathlete.
"It's more about changing the approach to our training structure more generally and kind of setting ourselves up for the future," Cavendish says of the partnership with the University of Bath. "It's about creating more opportunities for developing athletes to be able to access a really high-quality training center and really high-quality coaching, sports science, and sports medicine support." In doing so, they can take triathletes who have raw talent but limited opportunities, put them into an optimized training environment, and see if they grow into an Alex Yee or Georgia Taylor-Brown.
"Unless they were in the very, very top tier at 17 or 18 years old, they're not necessarily going to get that, because we've got room for maybe one or two new athletes at the two main training centers every year," Cavendish explains. "Outside of that, we're potentially missing some potential for Olympic or Paralympic world champions in the future, because we don't have the space and we don't have our resources spread widely enough to support those athletes."
Their aspirations may be longer-term in scope, and not as medal-driven in the immediate sense, but the end game is to build a superior country program across the board and develop a continual pipeline of athletes ready to step onto the world stage at any time.
Taking the long view
The Bath Center expands British Triathlon's reach by creating new opportunities for up-and-coming elites who aren't destined for one of the two main training centers at Leeds or Loughborough. That reach extension starts with the coaching staff, led by Jack Hall. He came up through the center at Loughborough, and knows how to spot talent in the sport. And, according to Hall, there is plenty of it.  "There are loads of great athletes in the U.K. at the moment," he says.
That's good news for the future of triathlon in the United Kingdom. Hall says the idea is to build a pipeline for identifying young talent and funneling the best toward a training center in each region. Currently, there are about 20 athletes in the development program, but Hall says "we try to keep the door open" if fresh talent is spotted in the field.
Rather than a quick fix, "this is more about our long-term pathway structure of developing and supporting athletes," Cavendish adds. This long view starts from the moment a talented athlete is identified and assigned to a specific training center. Each of the five centers is aligned with a university to provide the support needed to train top performers while also helping build a well-rounded human.
"If we can work with big institutions like that, it works out financially better for us, but equally, most of the athletes that we work with tend to be pretty academically gifted. Most of them want to go to university," Cavendish says. Placing these centers on academic campuses makes it more efficient for these young people to pursue both their studies and athletics in a meaningful way.
Cavendish notes that a lot of thought goes into placing each athlete at the right center for them: "When they get to be 16 or 17 years old and they're starting to think about university, we work with those athletes to identify where they might want to go from an academic perspective." They also take pains to match athletes up with the right coaches by looking at how their personalities might mesh and the unique mix of strengths and weaknesses to get the most optimal pairings.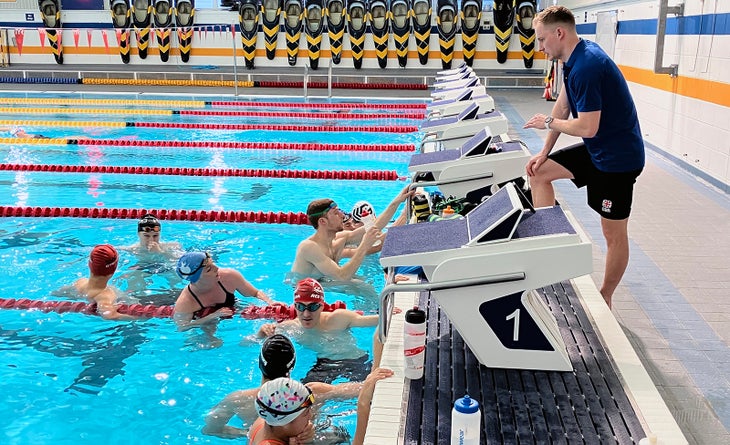 Forging future champions
One up-and-coming triathlete, 20-year-old Mack Downey, is among the bright hopefuls currently taking advantage of the high-performance training at Bath. Downey took up triathlon at age 7 and showed early promise when he got more serious with the sport around age 14.
"I wasn't one of the best, but I was very aware that I wanted to do a good degree to have career options in the future," Downey says of his early years in triathlon. The Bath Centre seemed like a perfect middle ground for him to explore his triathlon aspirations, because it's "slightly less competitive than Leeds and Loughborough, but it's a well-ranked, good university that has a really good degree (management and marketing), so it ticked all the boxes."
Downey says his whole schedule is built around the multiple training sessions he needs to complete each day. Five days a week, the group swims for 90 minutes starting at 8 a.m. An hour-long gym session follows at 11, with a track workout closing the afternoon. Weekends are devoted to cycling and running.
It's a lot of training, especially when going to school simultaneously, but Downey says the integration has been smooth. All of his class lectures are recorded, which means he can prioritize which sessions he needs to attend live and which he can catch up on later if a workout seems more critical at that moment.
He also says the culture at Bath has been the perfect fit for him, and he's inspired to be able to work out alongside role models and have support from British Triathlon. Having a spelled-out pathway has helped him see how he might one day race at the very top of the sport.
"Lower down the pathway, there's quite a visible route to say, the Olympics," he says. "It obviously depends on how capable you are and how good you are. But I think everyone training at a center, or even a youth or junior who's just racing in the U.K., will know the exact path they could take to get to the top of the sport, which I think is quite unique compared to other countries."
In most countries, an athlete usually has to achieve first before their county federation starts supporting them. USA Triathlon is one example of that, developing NCAA swimmers and runners into world-class triathletes: Olympic medalists Gwen Jorgensen, Katie Zaferes, and Morgan Pearson, along with short-course star Matt McElroy are all products of USAT's development program. British Triathlon starts that investment much earlier, Downey says. "[The federation] definitely gives us a lot and gives us the best chance to succeed."
RELATED: By the Numbers: Who Makes A Good Pro Triathlete?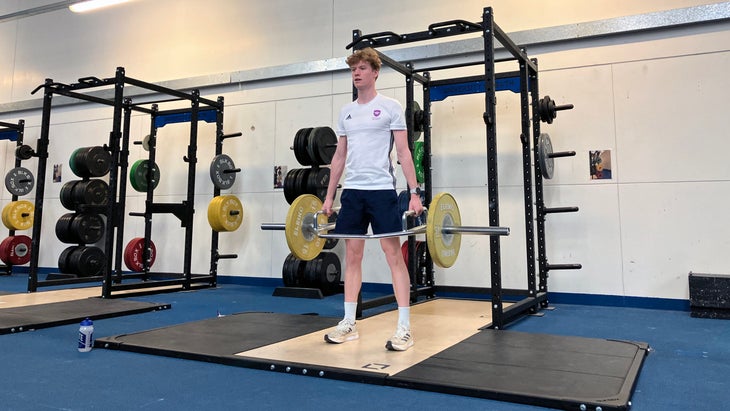 What the villagers can learn from the monarchy
The thing about dynasties is that for all the glitter and gold, the people at the top are just that – people. While the collaboration promises to boost the performance of the UK's most elite triathletes, Cavendish says most of the day-to-day work focuses on the same basics your own coach constantly talks about.
"We really don't do anything special," Cavendish says. Unlike in Norway where they use "super fancy scientific disciplines that are shrouded in secrecy, that's not really our game."
Instead, the Bath group focuses on the basics. While one or two of the very highest athletes may be getting a lot of sports science support, the rest are focusing on "just getting the work done," Cavendish says. "The critical thing for us is staying fit and healthy," he adds.
While the team is focused on nuts and bolts, there's still plenty for the weekend warrior to learn. The Bath team spends a lot of time:
Avoiding injury
Injury is perhaps the biggest stealer of Olympic dreams, Cavendish says. "They're either out of sport entirely or it slows down their progression to such an extent that they just can't realize their potential." Preventing injury in the first place is a smart way of keeping the whole program moving forward.
"The vast majority of our time is spent around making sure that they understand loading and their body and they have a genuinely inherent understanding of what feels right and what doesn't feel right for them when they're training."
Downey says having a single, triathlon-specific coach has helped him overcome a history of illness and injury. "It can be quite difficult if you don't have a specialist triathlon setup. A lot of young athletes might struggle with this – you swim with a swimming club, you run with a running club and you cycle with a cycling club, and they all are pulling you in separate directions."
Instead, having his training program fully integrated and managed by Hall means they can adjust the volume on days when Downey's feeling off: "He manages all of my training holistically. He sees me three times a day, so he can really keep on top of how I am and how I'm feeling."
Nailing nutrition
Another key element of this high-level training comes back to nutrition and fueling right. Cavendish says the team spends a lot of time helping athletes make sensible nutritional choices that can support their long-range development.
"This isn't rocket science. More than anything, it's about fueling and getting enough calories on board," Cavendish says. "That's the big thing rather than worrying about where you're getting the calories from necessarily or talking about specific micro- or macronutrients."
The bigger lesson is to make sure you're consuming enough fuel to support your training volume. While many triathletes are constantly trying to get leaner, Cavendish says most of the athletes at the center have the opposite problem. "Our athletes are often too thin," he says, which can have repercussions for bone density and immunological health. "We are continually trying to make sure they are eating enough," especially immediately after heavy training sessions when the body is most able to absorb nutrients.
RELATED: Despite Increased Awareness, RED-S Still a Major Problem in Endurance Sports
Improving weak spots
Hall says when new athletes arrive, they spend much of the first year looking closely at the weakest points in the athlete's performance and shoring up those areas. This sometimes means focusing most of the athlete's energy on just one aspect of the sport such as improving their swim time. They'll hyper-focus there for three or four months to really drill in the changes. "When you're just trying to do all three and balancing all those spinning plates, it doesn't go well, so we tend to target the training a bit," Hall says.
RELATED: How to Pull off a Mid-Season, Single-Sport Focused Training Block
Recovering right
"Recovery is, by and large, the thing that most athletes tend to get wrong," Cavendish says. Most age group athletes can also attest that it's way too easy to forego that extra hour of sleep for another episode of must-see TV, a work deadline, or a family obligation.
"If I were advising any weekend warrior or any aspiring young athlete, I would tell them to take your recovery more seriously, and your sleep, in particular, more seriously than anything else," Cavendish says.
As such, the team works a lot on helping athletes develop good sleep hygiene habits and teaches them to track their recovery. "I would absolutely encourage anybody who is doing any sort of endurance sport to make sure that they are tracking their sleep."
RELATED: How Do I Know If My Recovery Sucks?
Tracking volume
In addition to tracking sleep, Cavendish says it's critical to keep tabs on how much you're training. Understanding where the spikes are can help athletes better understand where the sweet spot is in training and how not to over- or under-train. Miscalculating the optimal amount of training can stop athletes from reaching their full potential.
Achieving balance
Hall says that one of the most important pieces of the puzzle the team at Bath supports is helping athletes find the balance they need to stick with the sport long-term. "We help them balance the dedication and the reward and the cost of uni and trying to make it as a pro athlete and what you need to prioritize. I think that's something for a lot of people – knowing your energies and where to place them at the right time."
RELATED: Real, Concrete Steps to Rebalance Your Tri Life This Spring
Taking advantage of location
While Cavendish says "there's really nothing in here that's groundbreaking; that's not really our style," Hall notes that the facilities at Bath are world-class – an Olympic pool, an indoor track, a state-of-the-art gym, physiotherapists, massage therapists, sports psychologists, and nutritionists – making the whole experience convenient and efficient.
What's more, Bath itself offers great opportunities for running and cycling beyond the university campus. "It's just brilliant, absolutely brilliant," Hall says, noting that Bath provides quick access to many winding country roads, hills, and a range of terrain for working on all of the elements a racer might need to perfect. "It's all here in a nice package in one area," which offers the work-life-sport balance that can help a junior-level triathlete make the leap to the senior level.
Downey agrees that Bath's location is ideal. "I'm a five-minute run away from hills where you can't even see a house and the roads are stunning and beautiful. Even in the winter when it's classic, English, and horrible weather, the environment is striking and that helps. It's just a nice place to be and live."
Envisioning the road to success
That the coaching staff can envision how each individual athlete might navigate the next steps up the ladder also translates into more opportunity, Hall says. "They can see their pathway for the next three, four years, and it's making sure that they have that plan and they know where they're going whilst they're here."
Focusing on the fundamentals
Hall adds that there's a "great sports science team" on-site and more testing and tech-based insights should be coming online in the near future as the program grows. For the time being, they're focusing on training the fundamentals using tried-and-true methods.
Right now, "it's relatively boring here. It's real basics," Cavendish says. "We think generally that the people that tend to go for the groundbreaking, one-percenter stuff are the ones who are usually forgetting to do the 99% of the other stuff."
He goes so far as to say the fancy stuff is "mostly fads anyway. Our biggest challenge is actually debunking all that stuff because athletes, particularly young athletes, can get carried away with that."
Still, the group does offer some higher level technological testing and sport science options for the most elite athletes, "but they're a complete and utter waste of time to be doing that stuff if we don't get all the other stuff right," Cavendish says. For example, if they get the loading wrong and the athlete is injured, it doesn't matter what they did on a fancy VO2 max test or what the latest tech tracker suggests the athlete is capable of. If they're injured, they're not going to be doing much of anything.
The next generation
Trained as a physiologist, Cavendish has worked in high-performance training his whole career, first in athletics – what we call track and field in America – then in football (soccer), and now in triathlon.
Over that career, he's learned there's so much value in helping people become the best versions of themselves they can be. "The longer I'm in this game, the more I see it as a real privilege. I know that sounds really corny, but it genuinely is."
Promising young people arrive with lots of raw talent that simply needs to be molded, and being able to help them do that provides a real sense of purpose. "We know full well that in any sport, it's really bloody hard to win Olympic medals or world medals, and the vast majority of the kids we work with are not getting anywhere near that level. But the responsibility of giving them a lifelong thirst for the sport – we talk about keeping them involved with the sport in one way, shape, or form from when they arrive at 14 or 15 for their entire lives. It's a significant responsibility, and we are really fortunate that triathlon has a pretty significant profile in this country," Cavendish says.
For athletes like Downey, whose current goal is to be competitive in the British Super Series, the top level of domestic racing in the UK, having the opportunity to really focus his training under the guidance of Hall at Bath has been a superlative experience no matter where he ends up.
"Jack understands that to get the most out of your training, you have to enjoy it," Downey says. "It has been a fun and enjoyable environment. He's created a really fun, collaborative, and enthusiastic environment." And, it would seem, an environment that's poised to produce future champions.
RELATED: The Secrets—and Science—Behind the Norwegians' Training and Racing Success