Time-Saving Tips From Savvy Age-Groupers
Three age groupers share their clever tricks for fitting triathlon training into their time-crunched schedules.
Heading out the door? Read this article on the new Outside+ app available now on iOS devices for members! Download the app.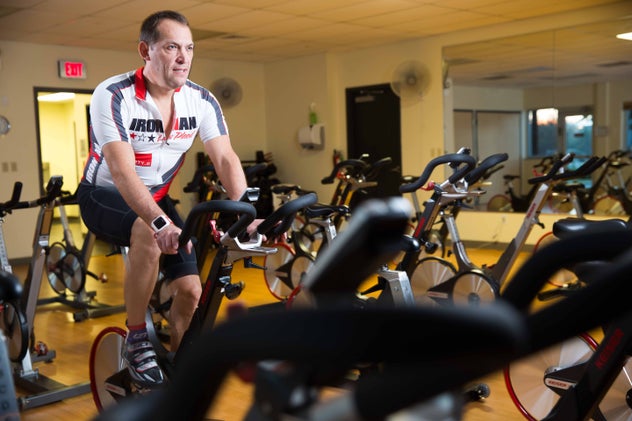 Savvy age-groupers share how they fit training into their time-crunched schedules.
Efficiency is King
Shawn Phillips covers a lot of ground—specifically, the region from Texas to North Dakota, and Arkansas to Minnesota. As a regional sales director, Phillips is on the road 35 weeks out of the year. That means the majority of his triathlon training takes place in gyms, where he can check off multiple workouts with the most efficiency.
"I spend a lot of time on spin bikes and treadmills, but I make it work," says Phillips, who recently completed his 17th Ironman. To maximize his time in the gym, Phillips has a detailed training plan with specific, focused work. If he's only got an hour to ride or run, he'll make the most of it by including hard intervals.
"If you try to wing it, you will more than likely fall short of your goals and expectations," advises Phillips. "Be honest with yourself on how much time you really have to train because it does you no good to schedule 15 hours when you really only have 5 hours."
The biggest key to his successful training on the road, however, is not time management but an honest assessment of where triathlon falls on his list of priorities each day. Sometimes, job demands require that day's workouts be shortened or skipped altogether, and that's OK.
"Most triathletes are Type-A personalities, and when they decide to do something, they are all in," says Phillips. "But unless you are the 1 percent of triathletes who make a living as a professional, then this is a hobby. As the old saying goes, you need to remember who butters your bread."
Researching the location, amenities and guest-pass fees for gyms at your destination can be a time-consuming process. Skip the search and head straight to your workout with these tips from Phillips:
Buy a membership to a gym with nationwide locations. "It's a little more expensive to get access to all of them, but well worth it."
Check with the front desk. "I have found that several hotels have open gym memberships in the area that are free to use for guests. Always ask."
Surf for a pool.
"I have found some really nice pools in my travels. Many have a daily fee of $3–$5. You can find these easily on the web (check Usms.org or Swimmersguide.com), but make sure you look at the open swim times so you are not sitting on the deck waiting for too long."
RELATED: How To Maximize Your Weekend Training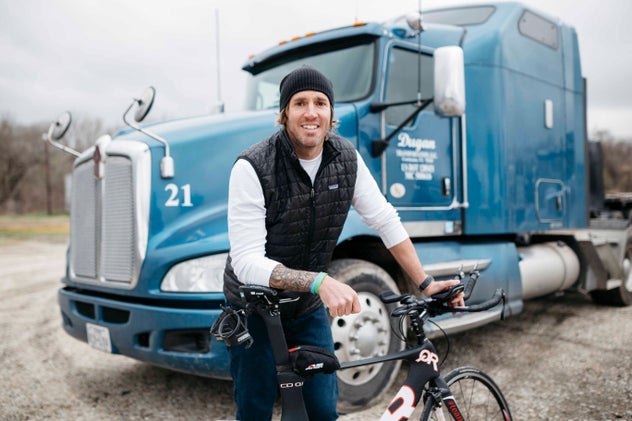 Driven to Succeed
Nathan Bugg doesn't commute to work—his work is a commute. As a truck driver, Bugg spends more than 60 hours per week on the road. With odd schedules, desolate routes and cramped sleeping quarters in the back of his truck, it'd be easy to assume Bugg lacks the time or energy to exercise.
"I'm definitely an anomaly in my industry," laughs Bugg, who has successfully trained for many races, including several Ironman triathlons, while on the road.
Because the nature of trucking is so unpredictable—traffic jams, weather and road detours can throw a wrench in the schedule at any time—Bugg has learned to squeeze in workouts whenever he can.
"I used to wait until the evening, when the work was finished. But, like most people, I was often too tired and drained to want to train," says Bugg. "Now, I try to take time in the middle of the day."
To facilitate this, Bugg keeps a box of training gear in the cab of his truck. When he sees an opportunity for a workout, he takes it. Sometimes, that means finding a gym nearby to swim laps or do a quick spin class between loads, but more often it means pulling out resistance bands in the parking lot of a truck stop or busting out a few miles in the most random places.
To Bugg, doing something is a lot better than nothing at all: "I think the most important thing is to just keep a positive attitude and trust that you are doing enough."
RELATED: How To Maintain Fitness While Traveling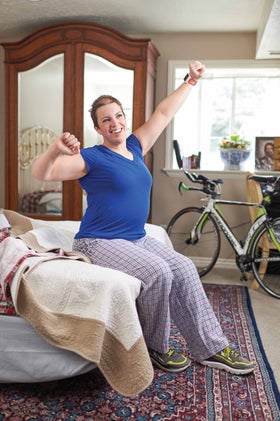 Pillow Talk
Melinda Oldroyd loves her job as a surgical technician, but she can spend upward of 12 hours per day on her feet in the hospital. She also loves her role as a college student, where she soaks in as many lectures as she can attend and books she can read.
"And then, of course, there is training," the veteran triathlete smiles. Surely Oldroyd must pull all-nighters on a regular basis, right? Not quite. In fact, while most of her peers are chugging coffee and putting off bedtime to conquer their to-do lists, Oldroyd swears by a solid night's sleep.
"The biggest mistake I've made is not getting enough sleep," Oldroyd shares. "I can't put in all-night study sessions and then get up and train. My body will not recover, and everything I am trying to do will suffer. When I don't get enough rest, it affects everything I do, and my attitude goes downhill fast."
Though it sounds counterintuitive to gain more hours in the day by spending at least eight of them in slumber, a good night's sleep allows Oldroyd to work more efficiently, retain information in her studies with ease and still have enough energy left over for a solid training session each day. Her advice: Schedule your Z's and stick to it.
"If you're supposed to be in bed by 10, then do it," Oldroyd says. "Proper sleep keeps your mind and body sharp."
Nap Your Way To A Better Day
If eight hours of shut-eye just isn't possible, fear not—a short afternoon nap whenever possible can give you the boost of energy needed to make the most of the hours in your day. In a study done by NASA, workers who were allowed to take a 40-minute nap improved their cognitive performance by 34 percent and alertness by 54 percent.
RELATED: Is Your Sleep Position Contributing To Your Injuries? 

At The Ready
If you're the type to squeeze in a workout when you can, having a "go bag" of basic gear can come in handy. Stash the essentials in the trunk of your car or your office drawer for an impromptu sweat session.
Swim bands
Stretchcordz With Paddles
$51, Nzcordz.com
Bodyweight workout cards
Strength Stack 52 Fitness Cards
$20, Stack52.com
Foam roller
Trigger Point GRID
Mini Foam Roller
$25, Tptherapy.com
Running shoes
Asics Gel-Quantum 180
$130, Asicsamerica.com
Water bottle
Contigo Autospout Devon Squeeze Water Bottle
$13, Gocontigo.com
Shower wipes
Action Wipes
$19 (pack of 15), Actionwipes.com
Required Reading
Need a roadmap for big fitness in a short amount of time? Check out these titles for the busy triathlete:
The Time-Crunched Triathlete
By Chris Carmichael and Jim Rutberg
One-Hour Workouts
By Scott Molina, Mark Newton and Michael Jacques
Be Iron Fit: Time-Efficient Training Secrets for Ultimate Fitness
By Don Fink
Run Less, Run Faster
By Bill Pierce
Training Plans for Multisport Athletes
By Gale Bernhardt