Mental Mastery with Mark Allen Week 3: Learning to Push Through
Six-time Ironman World Champion Mark Allen shares the run workout and mental focus cues that helped him keep going when things got tough on race day.
Heading out the door? Read this article on the new Outside+ app available now on iOS devices for members! Download the app.
This is the third week of our nine-week series designed to help you gain mental mastery of your triathlon performance. And the singularly unique way this is being done is by flexing your mental muscles while doing your sport. There is no time sitting quietly visualizing your success – while that type of technique can have value, I personally found that the most potent and effective way to practice developing mental mastery is during the workout itself. When a workout gets tough and you want to quit, you can't go re-center yourself in the calm of a soft meditation pillow. Besides, I've found if you can actually remember some of those positive images you had about how you wanted your race to go (something I could never do in a race, unfortunately) you will likely not believe any of them: "I am running effortlessly and feel light as a feather" – no, I don't! When things get hard, I am struggling to not just stop in the middle of the road, because I feel I'm as heavy as an elephant.
That's why I take the approach of practicing the mental mastery drills to shift into a focus that serves you, rather than holding you back.
Remember the three pillars of Mental Mastery:
Body Awareness – Tuning into how you are moving.
Internal Dialogue – Being aware of what you are telling yourself.
Mental Race Prep – Connecting your immediate effort to the outcome you want.
The run workout below is designed to help you develop those skills through pacing and pushing through.
I had a very powerful experience with this when prepping for my final Ironman World Championship in 1995. My last long fartlek run was high up in the Rocky Mountains outside of Boulder, Colorado. It was a 15-mile, very hilly run on a trail called the Switzerland Trail. The first half was a long, 10k gradual upgrade. I focused on my breath, my cadence, and my foot strike. My mind was quiet, and I was super-efficient. The next 9 miles were either up or down – and all very steep. These were demanding miles. But despite the challenge of each mile, I could see I was chewing these off one uphill at a time, one steep downhill at a time. In the end, I ran the loop almost 3 minutes faster than I had in over a decade of running that trail. It wasn't my physical fitness that got me through – it was what was happening in my mind.
Fast-forward to race day and the infamous Energy Lab on the marathon. As I exited that long, lonely stretch of road and made the right turn that signaled the final 10k back to the finish, I had that momentary panic of feeling like I wouldn't be able to make it.
But then that memory of my incredible run on the Switzerland Trail that I had done 3 weeks earlier came back to me. It gave me this incredible boost of confidence. If I could run that hard on that demanding of a run for 15 miles, then for sure I could make these next 6 miles to the finish. Three miles later, I caught the leader, Thomas Hellriegel, who had led the race for almost 6 hours. With that surge of confidence – thanks to mental mastery – I went on to win my sixth and final Ironman World Championship.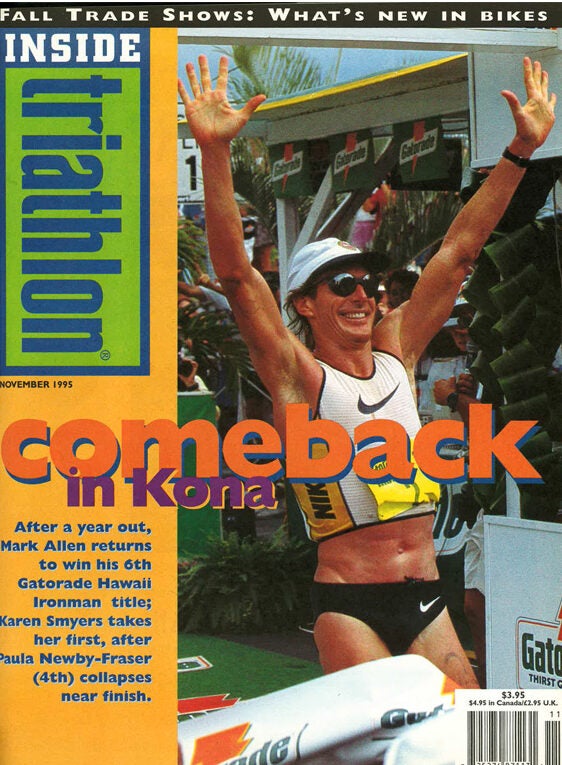 Week 3: Key Endurance Run Workout and Mental Mastery Drills
There are two goals and key benefits you will get from this session. The first is related to pacing. As you can see in the workout instructions below, there is an initial push in pace that then transitions into more of a steady-state component. Then the real gold comes in: the final third of the workout, you'll kick the pace up to the fastest you will target. This builds into your body the ability to have the last part of your race be the fastest. No more holding on to just get across the finish line! Instead, you'll get there going strong.
The Mental Mastery cues I've provided for this workout will help you do this. Right away in the first key part of the workout, you'll narrow your focus to just one point, which stops all the internal chatter. The second cue in the middle develops the ability to keep efficient mechanics in place, even if you might start to get tired. And the third cue connects your race with this workout, and this workout with your race. What does this mean? On race day, when you enter the final long stretch of the run leg, you will remember this session and how you moved through it – which will give you the confidence to keep going, stay strong and finish with a smile on your face.
This Week's Key Workout Session: Pacing and Pushing Through
Total time: 1h10m to 2h10m
Key:
Easy jog: Truly easy – you should be able to to carry on a conversation
Z = Zone (learn about what each zone should feel like here)
Warm-up
5 minutes easy jog
4 x 30-second accelerations, going from moderate running up to about marathon pace in the final 5 seconds of each interval. Easy 30-second jog between each interval
Main Set
Olympic distance: 10-minutes Z3, 30-minutes Z2, 10-minutes Z4
Half-iron distance: 20-minutes Z3, 40-minutes Z2, 20-minutes Z4
Iron distance: 30-minutes Z3, 50-minutes Z2, 30-minutes Z4
Cooldown-
Walk easy until your heart rate comes down to below 100 beats per minute.
RELATED: The Complete Guide To Setting Your Triathlon Training Zones
Mental Mastery Focus Cues
Z3 run segment: Listen to the rhythm of your breath going in and out. Be aware of its sound. Be aware of how you control its rhythm. Notice how you match it to your arm movement and foot strike. This cue, on the surface, looks like body awareness, which it is. But the key result of practicing this drill is that it helps you with your Internal Dialogue. As I have said before, your mind can only focus on one thing at a time. (Yes, this is true, even if you think you're a multi-tasker!) Focusing on your breath, when brought into play in difficult moments of training or racing, will quiet your internal dialogue and then take you to a place where you can further control your breathing to help you relax through that difficult patch.
Z2 run segment: Since this is a Z2 stretch of the run, it's time to optimize your efficiency by having your Body Awareness placed on the relationship between heart rate, cadence rate and foot strike. To do this, work backwards with those three elements. First, shorten your stride until you are certain that you are landing on your midfoot, rather than your heel. Now see how that impacts your cadence. Next, increase build your cadence rate up to around 170–180-foot strikes/minute. Finally, be mindful of how this impacts your heart rate. If you go over the top of Z2 with the heart rate, shorten the stride even more until it comes back down to be within Z2.
Z4 run segment: This is the fastest of the three parts of this endurance run workout. It's also at the end, which means you will likely be tired. Keep those first two mental mastery drills going. Now add in the element of Mental Race Prep. Notice that you are getting through this last stretch bit by bit. Stay as relaxed as you can. Move through it one minute at a time, one signpost at a time, one breath and foot strike at a time. And just before you get to the final steps of the run, celebrate that you did get through it. Put that memory into your bank of positive images.  When you are in a race and hit points where you are struggling, recall the moment in this final part of this workout where you felt like it was too tough for you to deal with, and remember that you did, in fact, deal with it. Draw strength from that in the tough moment in the race. You are making it through that moment too. There will be those final steps in the race where you can look back for a split second and see that yes, you did it!