Become a More Durable Triathlete With 3 Simple Moves
Strength training is key to help you avoid injury and get more power out of every move you make.
Heading out the door? Read this article on the new Outside+ app available now on iOS devices for members! Download the app.
We know you've got other stuff to do in between swim-bike-running. Strength training is key to help you avoid injury and get more power out of every move you make. What's more power mean? Free speed. To get it, though, you've got to be smart about the moves you do. Pick moves highly targeted to help your triathlon muscles do their best, then do them consistently. This quick program is designed to improve strength, balance, synchronization, and kinesthetic awareness of the sport-specific movements of triathlon. You can do these exercises in a gym, at home, or even in a hotel room. So strengthen up! No excuses.
Getting Started
Most of the exercises in the program are performed on a single leg. Most life activities (including running and cycling) are based on single-leg movements. Single-leg exercises also reduce the need for training with heavy loads (goodbye weight room!) because you can use your body weight as the "load." Functional movements such as these will make you stronger for both life and sport.
Consistency is key to this program.
Do these functional strength workouts twice a week, every week to see results.
The repetitions provided for each exercise are a benchmark. If you can't complete the full set of reps as indicated, get as many reps as you can with good form.
The Workout
Do three rounds of the following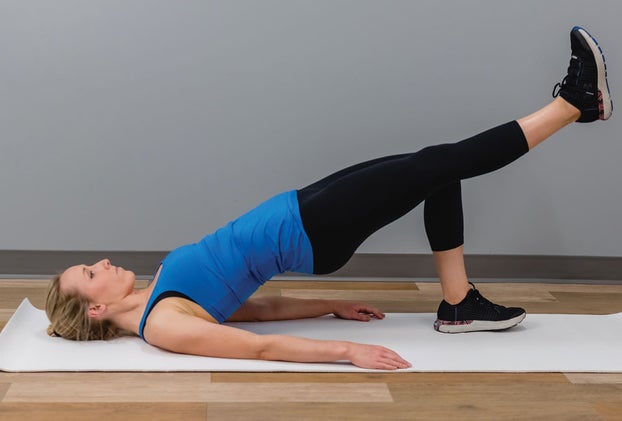 Single-Leg Hip Bridge
10 reps each side with 3-second hold per rep
The goal of the single-leg hip bridge is to use the glute, as opposed to the hamstring or lower back, to extend your hip. Training your body to better activate your glutes will help you get more power out of every pedal stroke and stride. Clenching a tennis ball in the nonworking hip requires activation of the hip flexors and core, making it less likely that you will use your back to extend your hip—and therefore less likely to injure your back doing this move.

Front Plank
1-minute max
The front plank builds core strength. Yes, plank wars are fun. But once you hit a minute, you'll get more out of a more difficult move than you will out of holding the plank longer. Build up to a minute, then move on.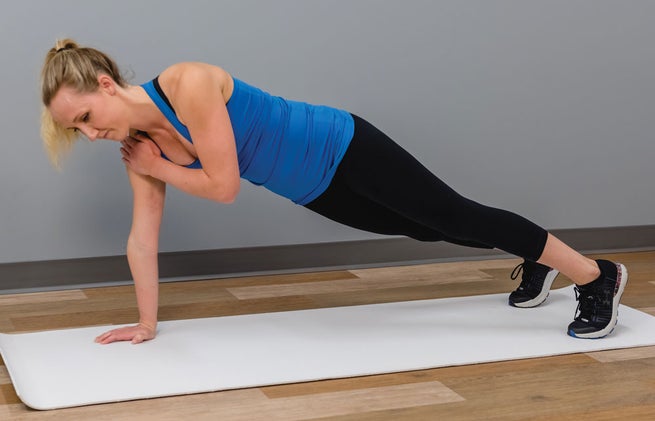 Push-Up Taps
10 reps each side with a 2-second hold per rep
This movement engages your rotational core muscles and helps you become accustomed to being in the push-up position—a handy skill for staving off fatigue on long bike rides.
[velopress cta="See more!" align="center" title="Buy the Book"]