Why Do So Many Pros Train In Kona?
Why Hawaii Ironman contenders make a Kona training trip a staple of their Kona preparation.
Heading out the door? Read this article on the new Outside+ app available now on iOS devices for members! Download the app.
Why Hawaii Ironman contenders make a Kona training trip a staple of their Kona preparation.
Written by: T.J. Murphy
Awhile ago the president and CEO of the Competitor Group, Peter Englehart, asked me about the trend of triathletes making training trips to Kona during the weeks before the race. His observation was spot on: Training for a week or two in September appears to have grown into a basic tenet of properly preparing for the Hawaii Ironman, as equally important as getting in a last long run. More and more racers are doing it.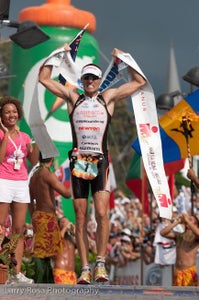 Three-time Ironman World champion Peter Reid put a face on the practice of a Kona training camp when he made his annual pilgrimage to live at high altitude (in a vacant Girl Scout camp) and expose himself at sea level to all the punishing conditions, like the wind, sun, humidity and the brain-grind of going back and forth on the Queen K. Reid says that because of these elements the training would wreck his body so much that he'd stagger back onto a flight to Canada so he could recover in time for the race. Reid's Kona camp was such a solitary endeavor that back in Victoria he would cheerfully ride with anyone and everyone to reconstitute his connection with reality.
Another Canadian, Lisa Bentley—typically coming off a win at Ironman Canada—would also venture to Kona for the acclimatization, but she always seemed to arrive for race week like a scorched Cool Hand Luke having been sprung from digging ditches. She seemed to serve as the cautionary tale that Reid's advice warned of: It could easily be overdone.
Then comes Chrissie Wellington, the Grit Brit, emerging from Brett Sutton heat camps (previously held in places like the Philippines and Thailand). With her first two Hawaii victories Wellington may have handily proved that you don't need to swing by Kona for a heat camp, and in fact maybe it's better to just live in place that makes Hawaii seem like September in Minnesota. Wellington pranced through the fabled Kona heat and wind as if she were just Singing in the Rain.
So clearly there is a physical adaption advantage to be gained with specific environmental training inserted within a master plan, and, like anything that has to do with training, there is a degree of individual variation to it. But perhaps the great value is mental. In a Q and A that appeared in the 2009 November/December issue of Inside Triathlon, a Kona camp, according to returning champ Craig Alexander, can eliminate fear.
Says Alexander, "It always pays to do a race that you've done before, or one where you know and understand the conditions; there's less anxiety than going to one where you aren't familiar with the course or the conditions for obvious reasons. I think such a big race like that; anything you can do to put your mind at ease or eliminate anxieties is a good thing."
Reid made preparing his mind for competition central to the mission of his Kona camp. "The Hawaii Ironman is a world of pain," he told me a year ago. "During it questions can come up and cause self-doubt, and that's when the race can get away from you. You have to go to the race having answered all those questions beforehand."
This, Reid says, was the heart of his Kona camp—getting his mind squared away for the supreme task at hand, to endure the unendurable on the Big Island that can, at times, feels a lot bigger than it really is.