Week 6: Reducing Overall Load
Heading out the door? Read this article on the new Outside+ app available now on iOS devices for members! Download the app.
Welcome to Week 6
This week we'll focus a lot on recovery and addressing potential injuries. Pay attention to your body, how it feels, and how you can maintain your training efforts without getting injured. That means working on your sleep and nutrition, focusing on foam rolling, stretching, and your other go-to recovery methods. We'll also talk about proper race fueling to help you perform at your peak come race day.
If you're just joining us: Be sure to start at the beginning! Go back to the course intro so you're prepared and have the foundation for the 10-week training program.
Section divider
Week 6 Key Sessions
Here are your key sessions for the week. Remember, they're the most important and shouldn't be skipped. Check out (or set up) the detailed calendar in Today's Plan (directly access the plan here) or the downloadable training calendar PDF.
Long run (90 minutes as a run/walk)
Long ride (2.5 hours at Zone 2 effort)
70.3 Specific ride on Wednesday, progresses to next level
Key swim (swim test)
Additional recovery day on Thursday
Transition run with intervals at 70.3 goal pace
Section divider
Race Nutrition Demands
Don't want to remember all of this? Download and/or print out our cheat sheet that gives you the gist of what and how much to consume on race day.
Nutrition on the Bike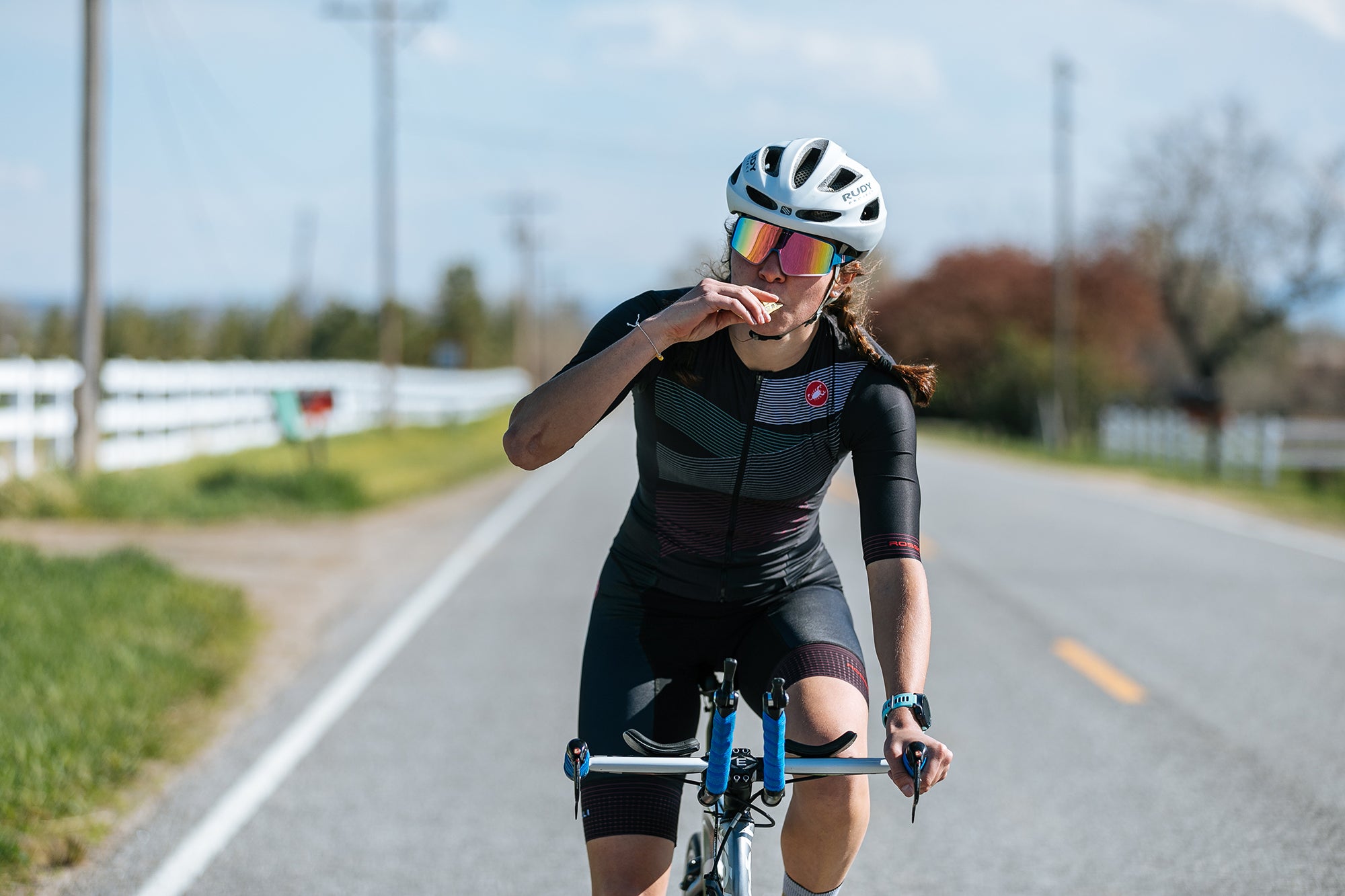 On the bike, generally you'll want to consume 150-350 calories per hour comprised of 1.3-1.5 grams of carbs per hour per kilogram of body mass you have
Example: A 150-pound (68kg) athlete should consume 88-102g of carbs per hour on the bike.
Nutrition During the Run
On the run, generally you'll want to consume 100-200 calories per hour. That should be comprised of 0.6-1 grams of carbohydrates per hour per kilogram of body mass you have.
Example: A 150-pound (68kg) athlete should consume about 53-68 grams of carbs per hour on the run.
Section divider
Race Nutrition Logistics
Solids v. Liquids
Faster athletes (sub-5 hours on course) should focus on liquid-based calories, like gels and sports drinks, because of the potential GI distress at higher intensities.
Middle-of-the-pack athletes (5-6.6 hours on course) can likely introduce some solids but will still rely more on liquid calories.
Slower athletes (6+ hours on course) can eat solids for fuel and may need more to sustain them for longer.
What's Offered on Course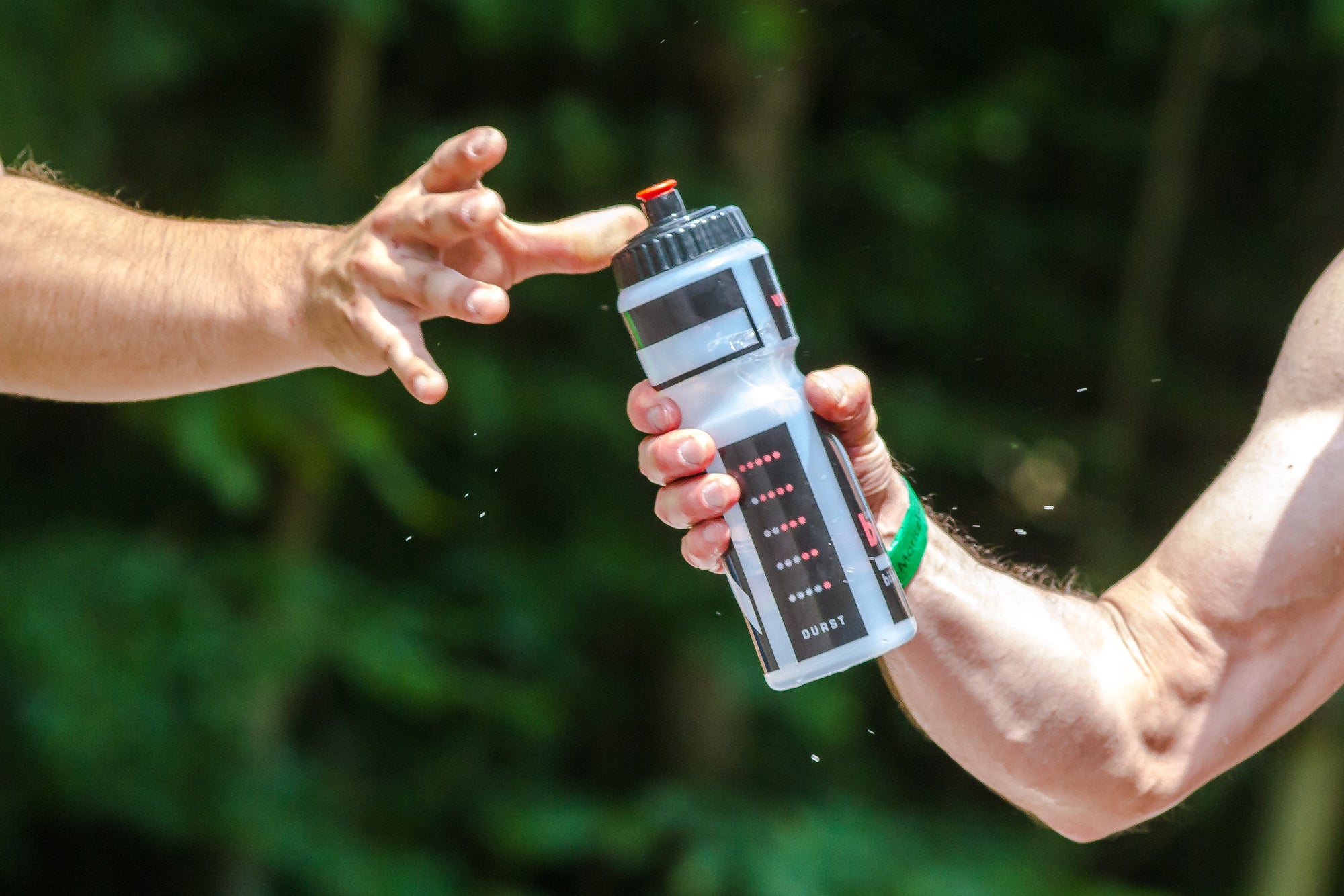 Take advantage of aid stations, and know what they provide and where they'll be in the course. Leveraging them helps lighten your load and still fuel your body.
Pro Tip: Practice grabbing bottles and other nutrition while on the bike prior to the race. You don't want to mess up your opportunity to refuel mid-race.
Looking for more guidance? Check out: The Triathlete's Guide to Race Fueling for Every Distance
Pre-Race Nutrition
If you're not sure what to eat before your race, you're not alone. There are plenty of racers on either end of the nutrition spectrum. But rest assured. Here's a good starting place for some research. And, do you need to carb load? Well, get your answers here.