Week 5: Open Water Skills & Race Pace Off the Bike
Heading out the door? Read this article on the new Outside+ app available now on iOS devices for members! Download the app.
Welcome to Week 5
In Week 5 we'll focus on upping your open-water swim skills along with fine-tuning your pacing off the bike. Open-water swimming can intimidate many triathletes, but it doesn't have to be scary. We'll give you some tips on gaining confidence and comfort in the water, as well as talk about proper sighting. This week we'll also introduce race-pace runs off the bike, so you know what you can sustain (and improve upon) during training.
If you're just joining us: Be sure to start at the beginning! Go back to the course intro so you're prepared and have the foundation for the 10-week training program.
Section divider
Week 5 Key Sessions
Remember, the key sessions of the week are sessions that are the most important. Of course, you should try to do all the workouts, but we want you to know which should absolutely not be skipped. And, as always, check out (or set up) the detailed calendar in Today's Plan (directly access the plan here) or the downloadable training calendar PDF.
Long run (100 minutes as a run/walk)
Race specific 70.3 ride on Wednesday, repeats for a second time
Long ride is shorter, but increases to Zone 2 steady effort
Transition runs on Wednesday and Saturday
Key swim Wednesday, working on sighting in the pool
Section divider
Lesson of the Week: Open-Water Swimming
Reading the Water
Remember, open-water swimming is very different than swimming in a crystal-clear pool with lane lines, minimal waves, and a smooth bottom. And, because of that, there are a variety of safety considerations to keep in mind.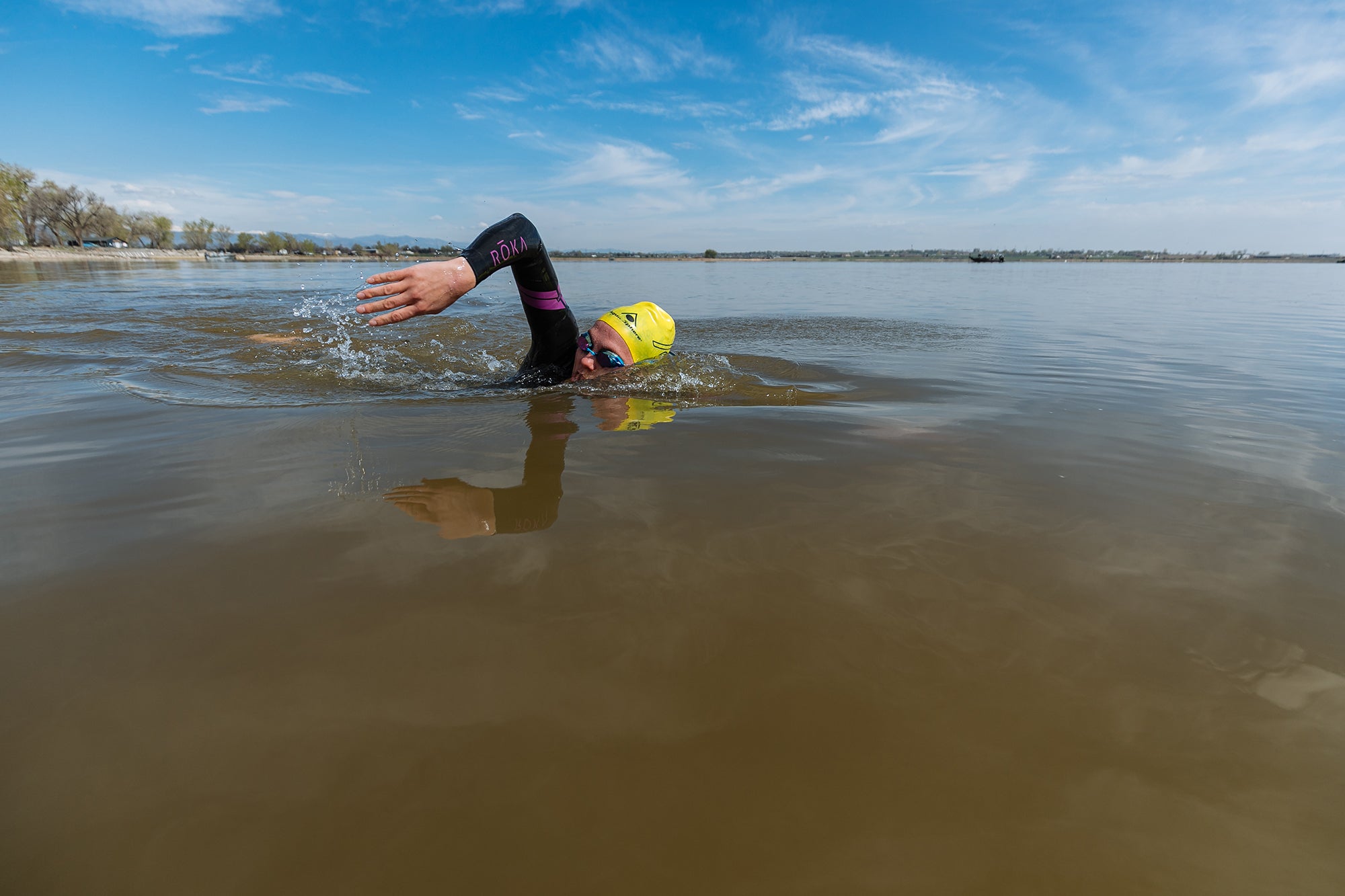 Swim with a buddy (especially in choppy water or when there are big waves)
Water conditions and currents change, so be aware of that and survey the scene before you get in
Most open water has some form of environmental hazards, whether those are reefs, holes, rocks, weeds, or pollution.
Wetsuit or No Wetsuit?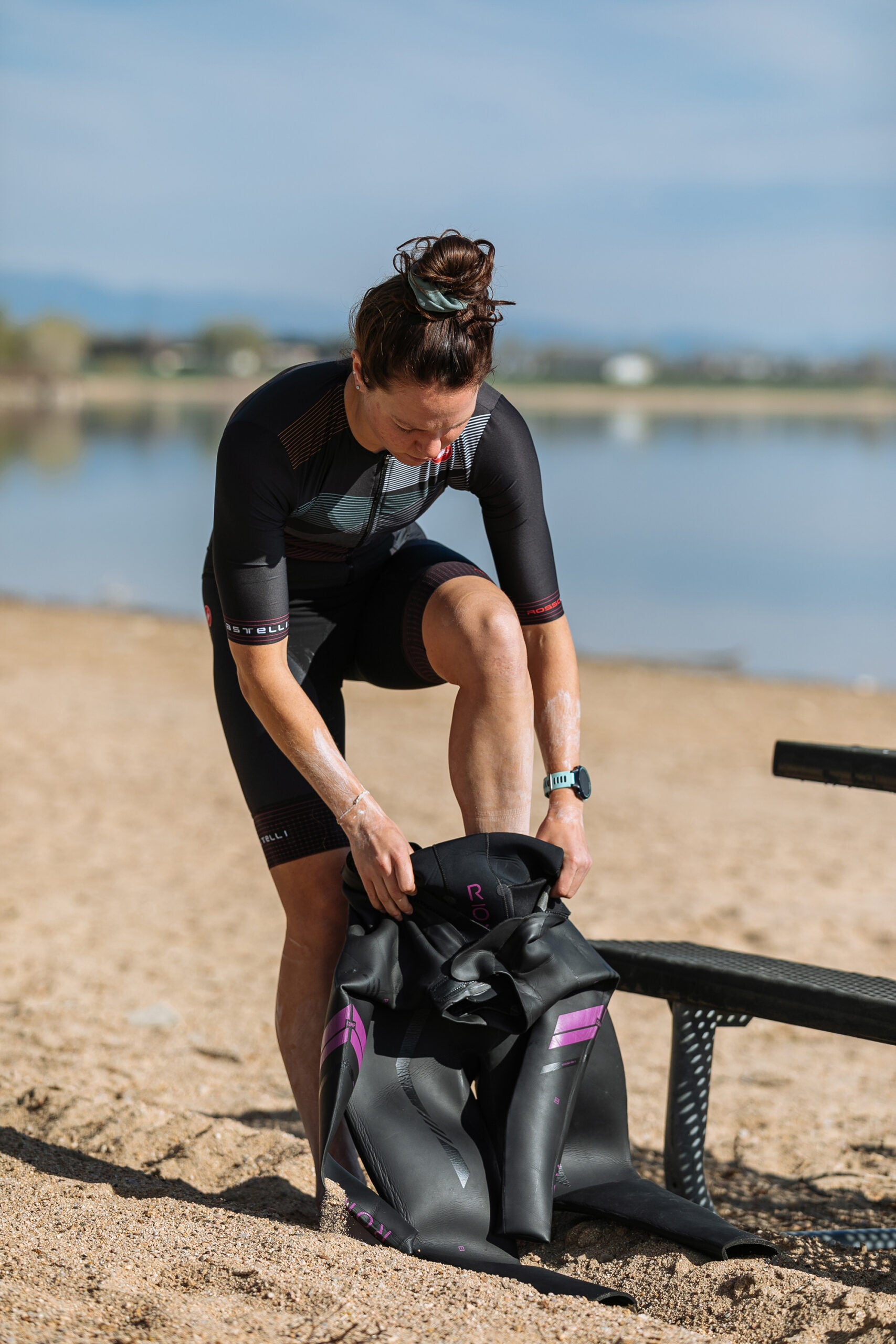 While the use of a wetsuit can depend on the race and water temperatures, as a triathlete you'll want to weigh the pros and cons of using one in your race. Here are some things to consider in wetsuit selection:
Make sure it fits well and is comfortable.
Determine if there are any chafing areas, such as your neck, and remediate them.
Practice with it in a pool if you can't test it in open water.
Looking to buy a wetsuit? Here's a good resource for you to start your search.
Section divider
Sighting
Section divider
Swim Logistics
Section divider
Types of Swim Starts
There are different kinds of starts for different kinds of races (though most 70.3s currently are a beach start). Be prepared for whatever your race is, and check the athlete guide beforehand and swim location to confirm how your race will start.
1) In-Water Start:
This means everyone starts already in the water before the gun goes off.
Pro Tip: Start horizontally with your feet facing the beach in order to give yourself room and to be in the right position when you start swimming.
2) Mass Start: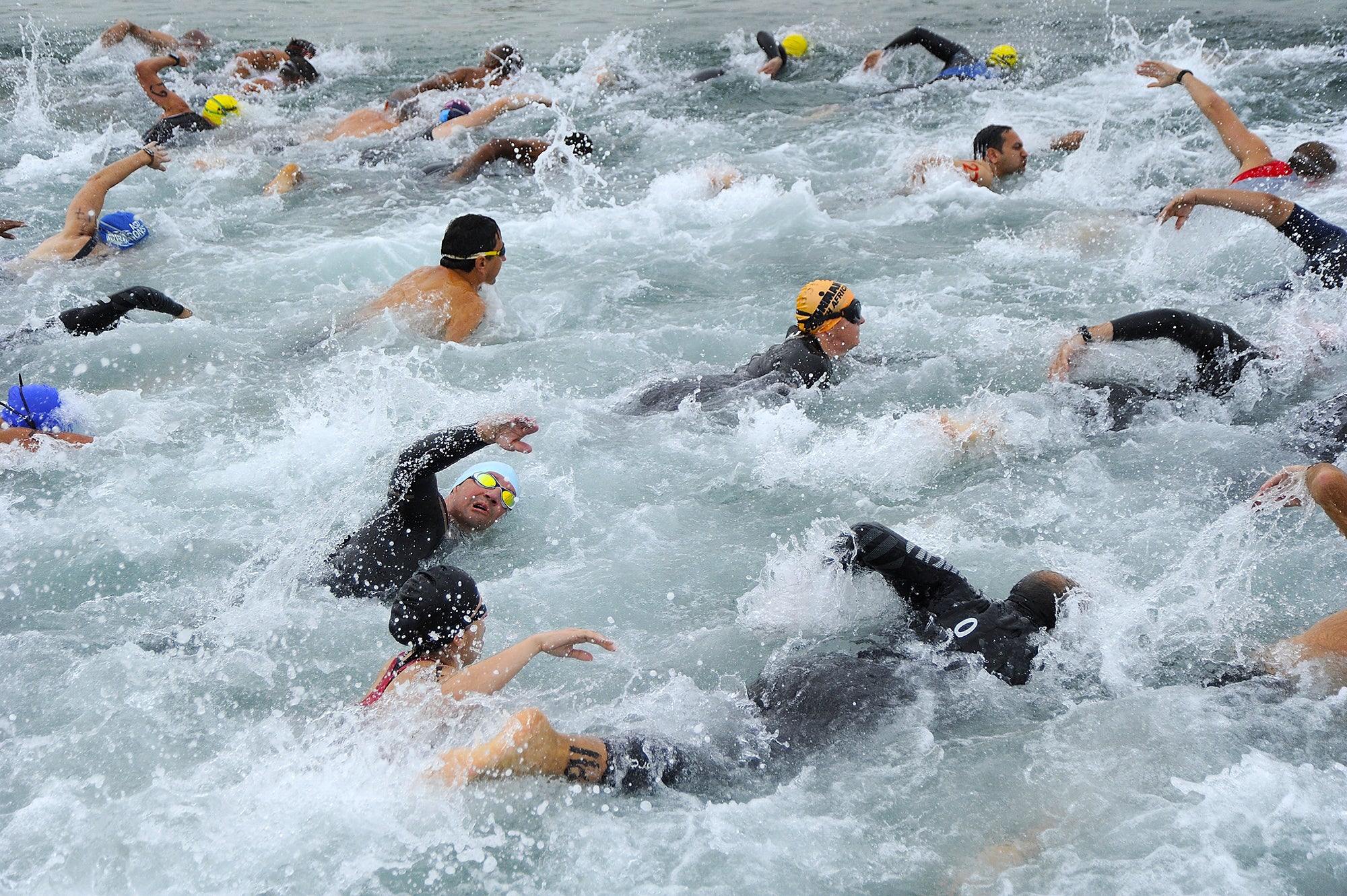 This means everyone starts at the same time in a large group—either in waves, separated by age, or all the racers at once.
Pro Tip: If starting from the beach or land, then accelerate as you run to the water to put more distance between you and the other racers and to avoid more jostling. Make sure you know how far you need to run into the water before diving in.
3) Time-Trial (TT) Start:
This means that athletes start solo or in intervals—i.e. a couple of people every five seconds—and your timing chip will register when you cross the start mat.
Pro Tip: These are typically self-seeded. If you're a faster swimmer, place yourself near the front of the line to avoid slower swimmers around you.
Section divider
Drafting in the Water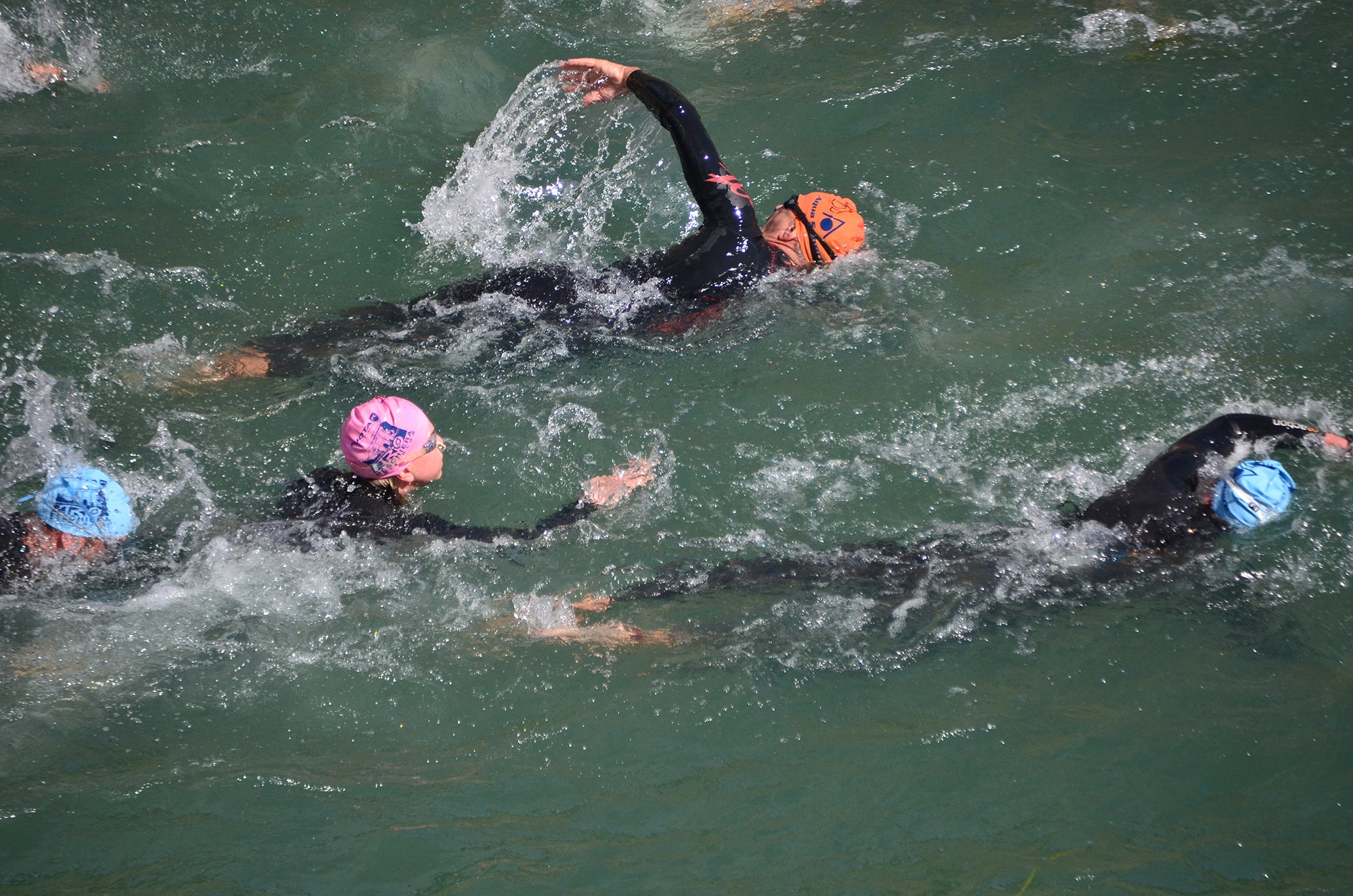 While drafting is illegal on the bike, drafting is perfectly acceptable while swimming. Drafting will help you save energy, which will help carry over during the bike and run. There are different ways and positions in which to draft off other swimmers.
1) On the Feet:
Stay close to the person's feet in front of you without actually touching their feet—because nobody likes a toe tapper.
2) On the Hip: 
Just like a boat, a swimmer creates a wake making their hip the perfect place to draft.
In general, expect some bumping and kicking during the swim. You should hold your ground while around other swimmers, but don't be a jerk—nobody's trying to run you over or drown you (even if it feels like they are).
Get more tips on drafting, sighting, and advanced open water skills, check out Triathlete's guide to triathlon swimming.