Use Targeted Nice/Kona Course Training to Nail Your Pre-Race Prep
Two expert coaches analyze the Ironman World Championship courses in Kona and Nice, and explain how to apply these crucial lessons to nail your own "championship" race.
Photo: Danny Weiss/Triathlete
Heading out the door? Read this article on the new Outside+ app available now on iOS devices for members! Download the app.
This year, for the first time ever, the Ironman World Championship will be split over two locations, with men racing in Nice, France, on Sept. 10, and women racing in Kailua-Kona, Hawaii, on Oct. 14. While many of us are familiar with the iconic Big Island course, the race venue in France is not so well-known. While there are plenty of similarities between the two, there are some significant differences that will impact how an athlete needs to prepare if they want to perform at their best come race day. With the help of coaches Alison Freeman, of NYX Endurance, and Jim Lubinski, of Tower 26, we dissect both courses and look at the most important aspects of training for athletes preparing for Nice and Kona.
But what if you're not going to either Nice or Kona? The good news is you can learn from the best and apply this course breakdown strategy to your own personal world championship event. Pay attention as our coaches tailor their advice to the particular race, and look for similarities to your own race conditions (or identify the elements they target for race-specific prep).
Section divider
Nice vs. Kona Ironman World Championship Courses
Though both Kona and Nice are Ironman World Championship courses, they're not the same race. Here, we outline the key differences between the two courses and how to train for each, plus how you can train for other races with similar conditions and develop your own targeted race plan.
The swim
| | |
| --- | --- |
| Nice | Kona |
| Sea swim with in-water start and six buoy turns | Ocean swim with in-water start and two buoy turns |
| Likely to be a wetsuit swim | Typically non-wetsuit/swimskin conditions |
| Calmer water conditions | Can be choppy and challenging conditions |
Training for the Ironman World Championship Nice Swim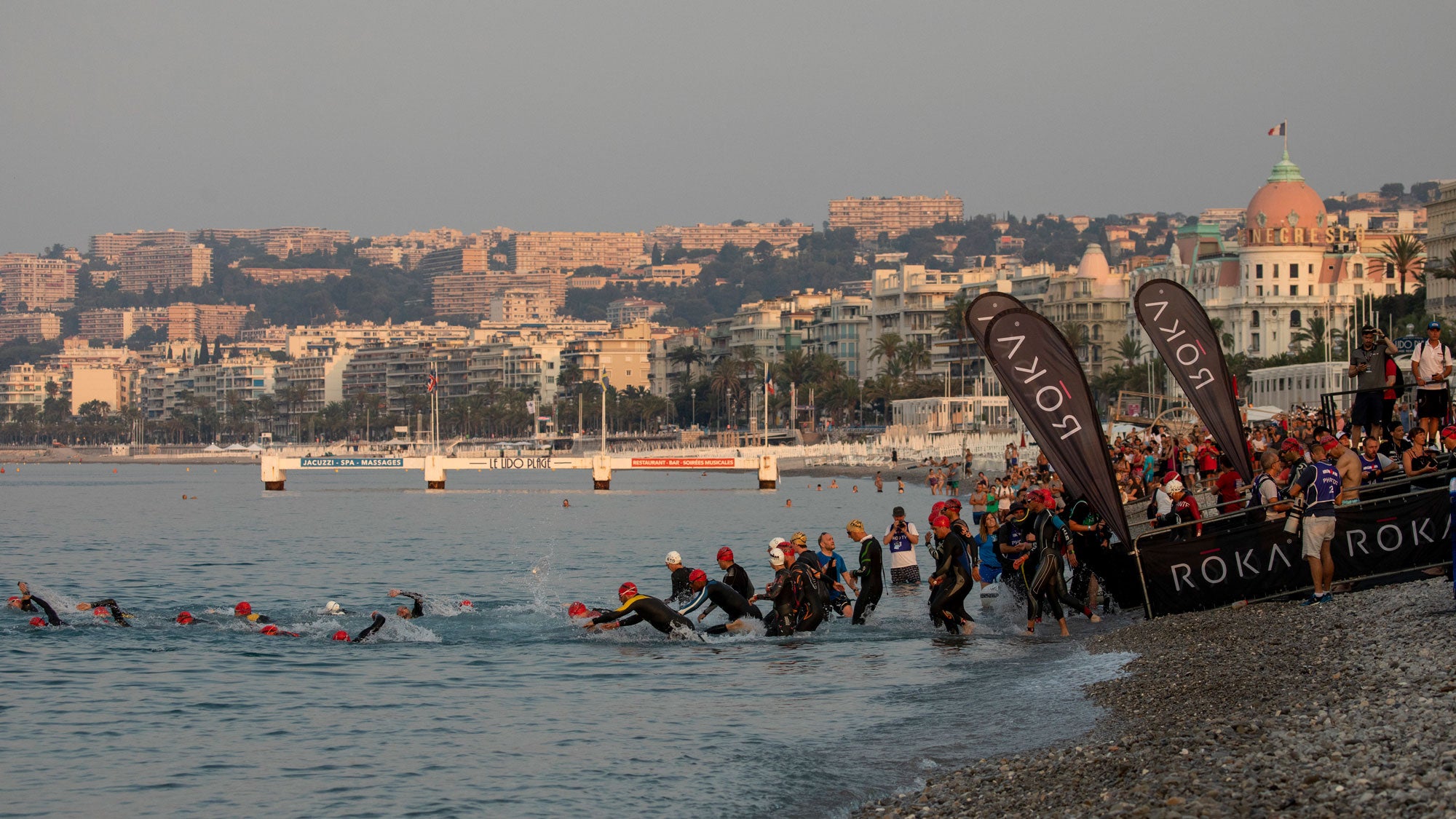 The Nice swim course will take place in the relatively calm waters of the Mediterranean Sea, where the temperature is typically in the low 70s in September, so it should be a wetsuit-legal swim. With this in mind, Lubinski advises all athletes preparing for Nice, or a similar body of water to make sure they're swimming in their wetsuit well ahead of race day, even if that's in the pool (but ideally in open water). As there's a chance the water temp could be above the wetsuit cut-off of 76.1 degrees F, so he also says it's worth occasionally practicing in your swimskin if a warmer swim is a possibility.
The layout of the swim course in Nice differs quite significantly from the Kona swim, with six turns (four right, two left), some of which are tight. Because of this, Lubinski is having his Nice athletes not only practicing their turns in open water (here's how to do it), but also getting used to swimming in close proximity to other athletes.
"Athletes [racing courses with tight turns] will want to practice being in close proximity to other swimmers," he says. "All of these turns often create bottlenecks when athletes slow to make the turn. Being comfortable swimming among and/or through other swimmers is a skill that will help keep you swimming calmly, efficiently, and moving forward with ease."
In addition to this, Lubinski says being able to put in a stronger effort going into and coming out of each turn, and then settling back into race pace, will be crucial to an optimal swim for this type of course. "You can settle in and recover from a stronger effort while at tempo pace, but it must be practiced in training to get used to the uncomfortable feeling," he says.
Both Lubinski and Freeman have their Nice athletes frequently practicing sighting in training (in the pool and in open water), as the multiple buoy turns on the Nice swim course will require good navigation.
Training for the Ironman World Championship Kona Swim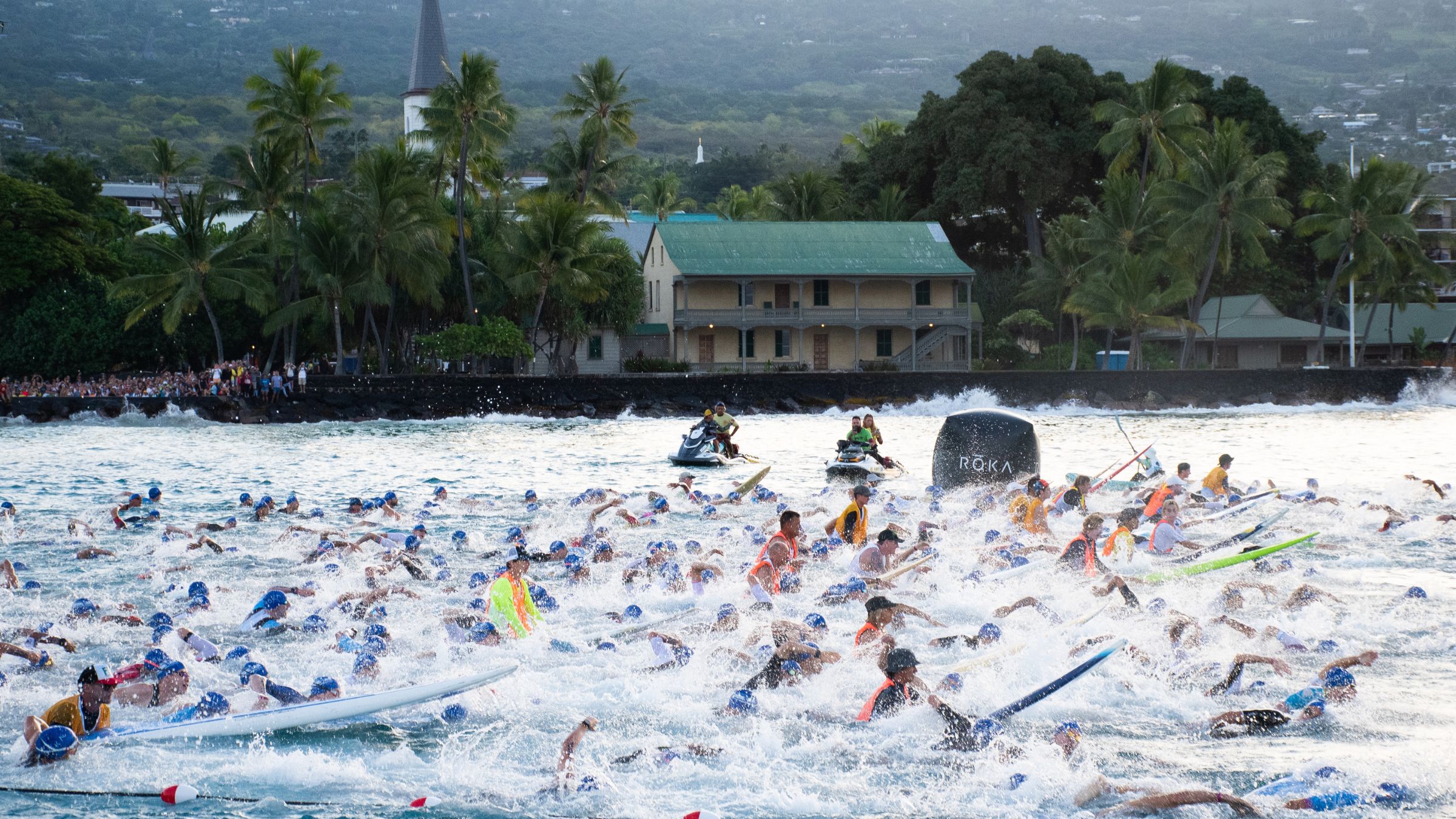 The Kona swim is rarely a wetsuit-legal swim, due to the warmer water temps (average temp is 78 degrees F). For this reason, both coaches advocate getting plenty of practice training in the swimskin you plan to wear on race day. It's not uncommon for the Kona swim course to have choppy, challenging conditions, especially as swimmers near the turnaround buoy, which is approximately halfway through the swim course. Being able to sight fluidly and efficiently will be important (as it will in Nice), and breaking the long out-and-back stretches into smaller sections, thinking only about swimming from one buoy to the next, can be an easier way to manage the swim (both physically and mentally), Lubinski says.
Being physically and mentally ready to deal with challenging conditions can be the key to a successful swim at any race, but especially at Kona, Lubinski warns: "Chop is always present in the Kona swim. I like to say to my swimmers, 'Have your way with the water. Don't let it have its way with you.'" When the water is more turbulent, it becomes even more important to have good posture and tautness in the water. "Picture this like a torpedo cutting through the water versus a jellyfish going with the flow of the current," Lubinski says. "You want to have the feel and structure of the torpedo."
Doing plenty of pull sets using a buoy and band can help with improving posture and tautness in the water. Keeping a high stroke cadence as you swim will also be important. "A cadence that is too slow, especially without a wetsuit, will not allow you to get the propulsion stroke after stroke which, in turn, leads to a feeling of start/stop/start/stop," Lubinski says. "You want your cadence to be solid and maintainable while keeping your pull powerful and efficient." He recommends using a tempo trainer at workouts to find your optimal cadence and try to increase it slightly week after week, but not at the cost of your stroke efficiency.
Section divider
The bike
| | |
| --- | --- |
| Nice | Kona |
| Long sustained climbs with almost 8,000ft of elevation gain | Rolling and undulating with one key climb up to Hawi |
| Technical descents with tight hairpin corners | Strong crosswinds and oppressive heat and humidity |
Training for the Ironman World Championship Nice Bike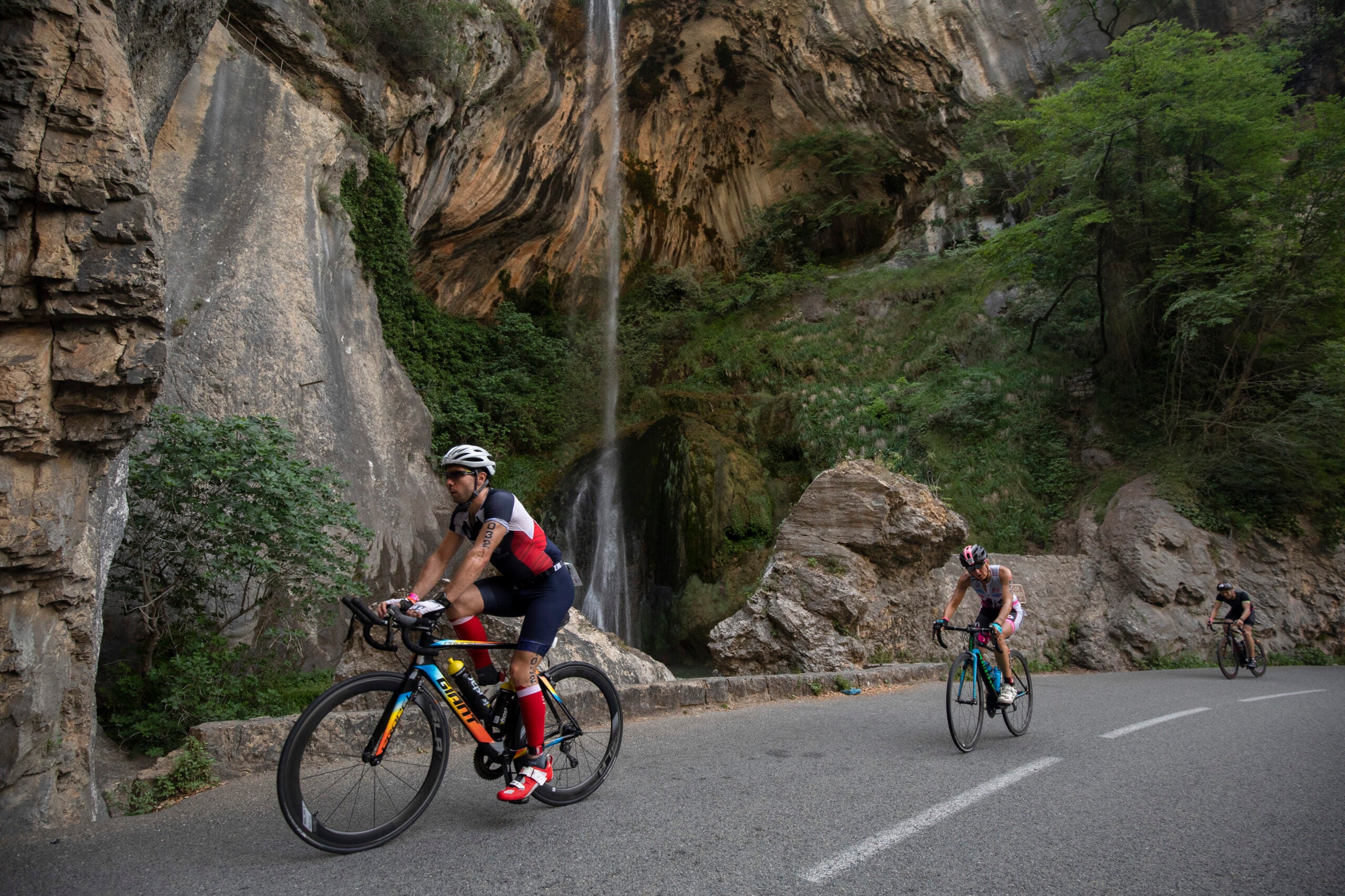 The Nice bike course is not for the faint of heart, with some lengthy, challenging climbs and technical, twisty descending. (Indeed, when an uber-biker like Cam Wurf says he's taking it seriously, you know it's the real deal). Athletes training for Nice will need to prepare themselves by riding long, sustained climbs, which Freeman says means longer durations of low-cadence work at an elevated effort level, slightly higher than Ironman race pace (see example workout below). These are best executed outdoors on longer climbs, but can also be done indoors on virtual training platforms like Rouvy and Zwift.
But both coaches agree that indoors is most definitely not the place to prepare for a race with technical descents, as Nice is. Freeman says: "Nothing will prepare an athlete better than actually practicing speed control and cornering on technical descents. Those descents don't have to be done on your tri or road bike; gravel and mountain bike descents require similar or even better bike handling skills and will do just as much to prepare you for Nice."
If you don't have access to anything resembling a technical descent, Freeman says you can transform a quiet road with a straight descent or even a slight downhill into practice terrain by picking up downhill speed and then inserting a few tight shoulder-to-shoulder switchbacks into the descent.
Lubinski says it's important to remember that descending practice doesn't need to be done at breakneck speed, saying: "Slow, controlled, well-balanced descending is the important aspect to focus on. Because of the good amount of hairpin turns on the Nice descents, having the ability to U-turn smoothly on flat terrain will help your bike handling/cornering as you descend."
Due to the amount of climbing and descending, he also advised making sure you're comfortable in different positions on your bike. This is far from a flat course where you'll be in the TT position for 112 miles. Being able to keep steady pressure on the pedals regardless of whether you're climbing or sitting up is important, he says. He also urges athletes to practice fueling early and often as the technical nature of the course could make it harder to remember to stay on top of fueling and hydration.
Training for the Ironman World Championship Kona Bike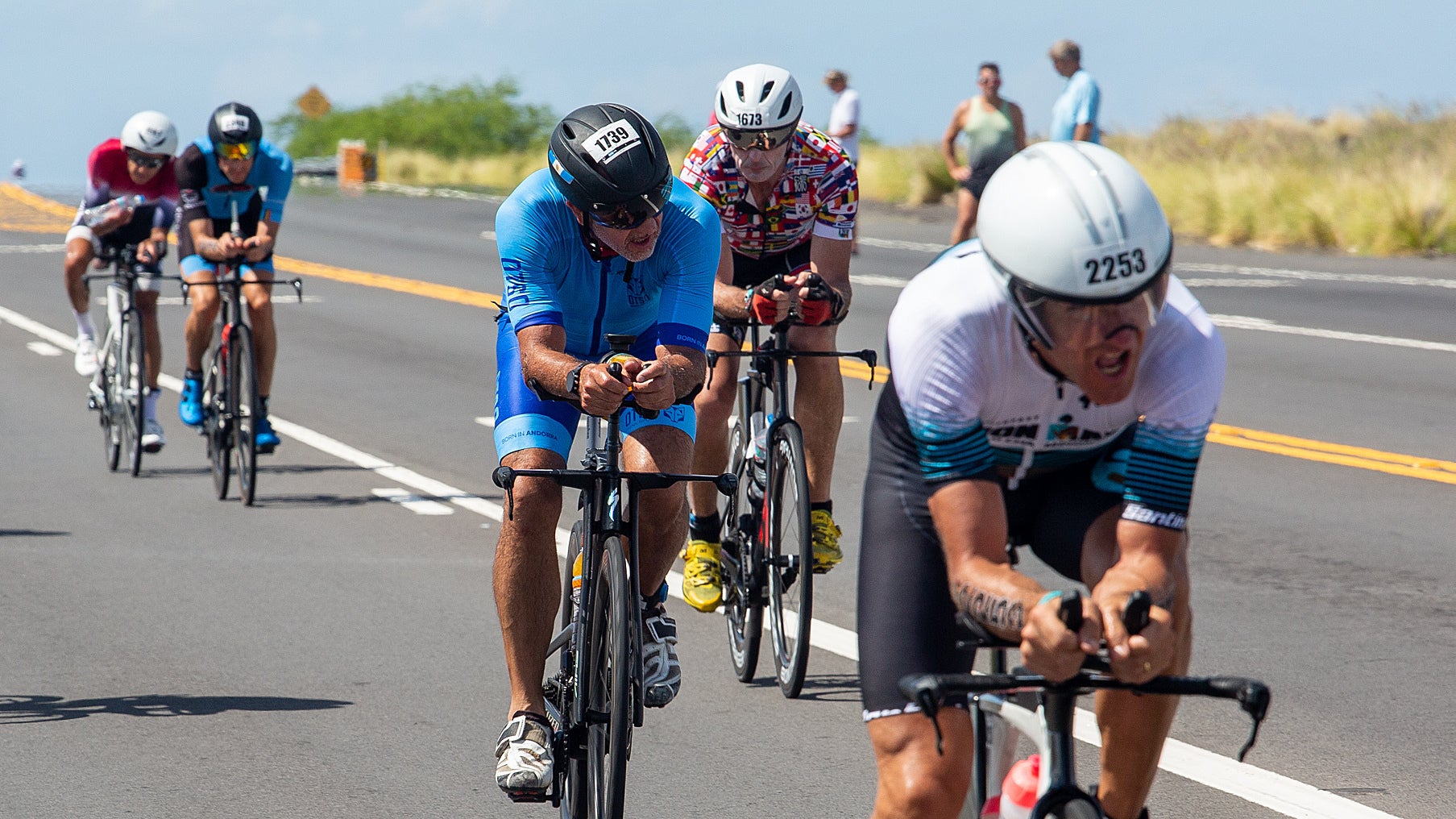 What the Kona bike course lacks in technical difficulty, it certainly makes up for with its oppressive heat, humidity, and unforgiving crosswinds. Aside from the climb up to Hawi that comes at about halfway, the Kona bike course is more of an undulating, rolling ride that's best tackled with steady power output and maximizing momentum versus huge surges.
"Having watched the race in Kona many times, all too often I see athletes hammering up the inclines and over the top of the hills, then coasting the descents, which leads to big surges that only come back to haunt them later in the ride or on the run course," Lubinski says. "The best bike execution that leads to a good run split at Kona is accomplished through steady power output."
Freeman agrees that maintaining a steady effort on rolling terrain through strategic gear shifting is the best way to manage the Kona bike course, and that's typically done by riding outdoors on similar terrain (where possible). She believes the best way to prepare for the inevitable Big Island winds is to take advantage of any windy conditions in your home locale when they arise and simply get out and ride in them, learning to stay relaxed as much as possible and practice bracing with your "windward" arm.
Of course, a major stressor on the Kona bike course is the heat and humidity, so athletes preparing for hot conditions should always undertake as much heat acclimation as possible, while also understanding how depleting it can be. "You must practice the feel of what the heat adds to your system," Lubinski says. "This can be done by keeping the fan off for a little longer while riding the trainer or going out to ride during the hottest part of the day. You will see your heart rate climb while your power drops, and it's this you need to be aware of, knowing the feel of the effort on race day so you don't overcook it."
Freeman says athletes who don't live in hot and humid climates can prep for these conditions by wearing extra layers of clothing to raise core temperature during training, doing hot yoga, or sitting in the sauna after workouts.
Section divider
The run
| | |
| --- | --- |
| Nice | Kona |
| Four-lap out-and-back run | One-loop run |
| Physiological and psychological demands of running off a hard bike | Sections with huge crowds and high energy; sections that can be desolate |
| 300ft of elevation gain | 1,000ft of elevation gain |
Training for the Ironman World Championship Nice Run
While it might look like a relatively easy run course, the Nice marathon will likely be anything but. A four-lap out-and-back route that almost delivers you to the finish line at the end of each lap can be extremely tough mentally. If you've overcooked it on any of the climbs on the bike and/or not paid close enough attention to fueling and hydration during the technical sections, and your Ironman run can quickly become an Ironman shuffle. This phenomenon is not unique to Nice, and all triathletes must learn proper pacing and mindset.
"The challenge of the run course at Nice doesn't lie so much in the course itself as it does in running after a bike leg that will be both physically and mentally exhausting," Freeman says. "Executing endurance- to tempo-pace runs off of challenging bikes—physically demanding in terms of climbing, and mentally demanding in terms of descending—will be your best preparation."She also advised getting mentally accustomed to passing your finish line without actually finishing by executing multi-lap long runs in training to help prepare athletes for this part of the course (see run workout below).
Lubinski advises using the four-lap run course to your advantage, breaking it down into smaller bite-size chunks – a strategy that works for triathletes of all stripes. "Don't look at it as 26.2 miles," he says. "Take it one loop at a time."
Psychological preparation will be your friend on this run course, and Lubinski suggests a mantra such as "keep the reins on." He says: "It's a very flat course and your natural inclination might be to run a little faster than you should, especially with crowds no doubt lining most of it. This will come back to bite you in the latter miles when the heat is up and the fatigue is setting in."
Training for the Ironman World Championship Kona Run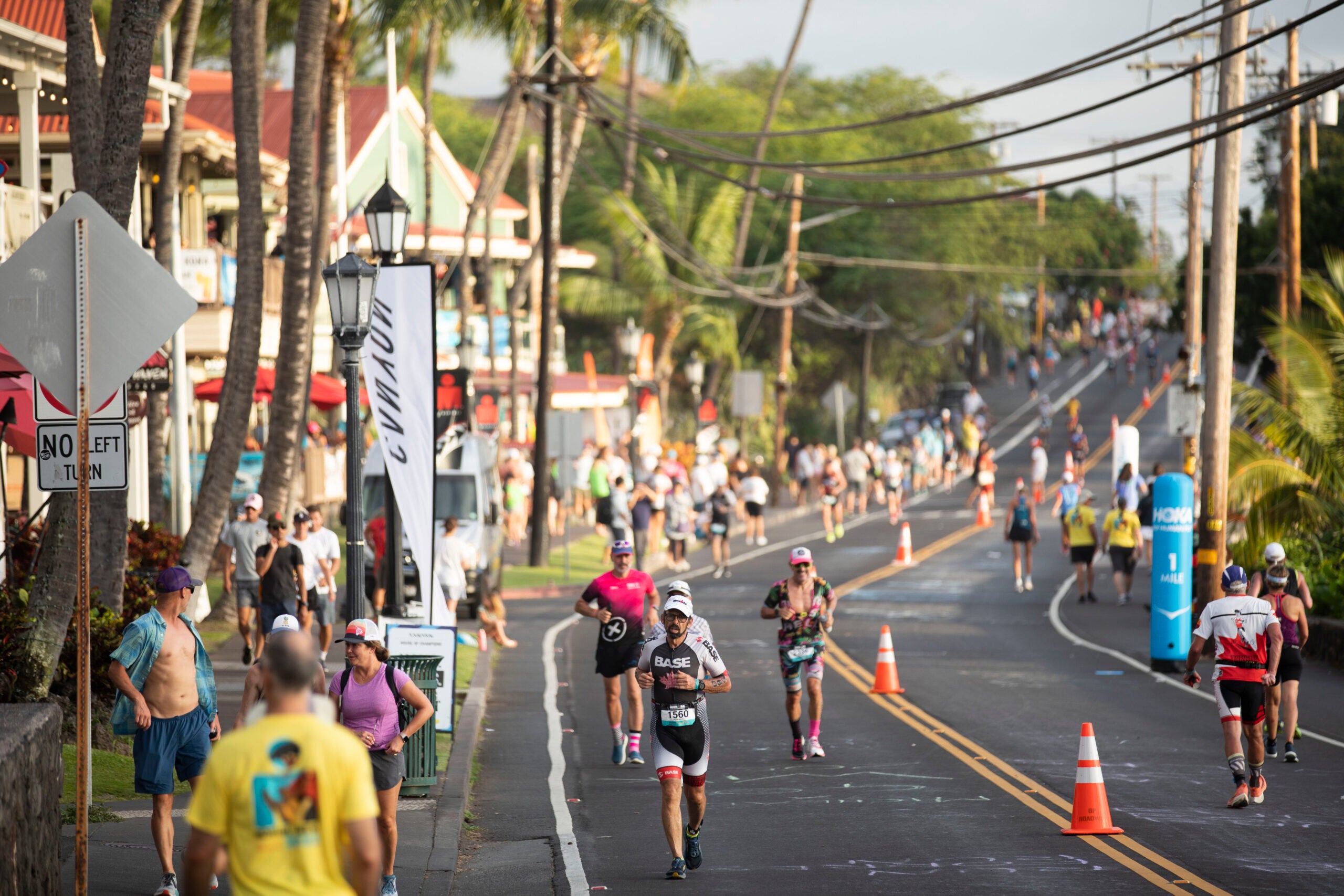 There's no sugar coating it: the Kona run course can be brutal. With more than three times the elevation gain of Nice—and some soul-sapping humidity and desolate spots along the route—it isn't an easy course to prepare for.
"Preparing for the run course at Kona requires running hills," Freeman says. "Lots of them, big ones, and athletes need to be prepared for the challenge of running hard uphill as well as down." She advises athletes to incorporate plenty of hill repeats, as well as long runs with lots of elevation gain during the second half of the run. In addition, gym work should not be overlooked. A regular routine that builds lower-leg strength (e.g., squats, deadlifts, weighted glute bridges) with extra attention paid to eccentric loading and the addition of plyometrics is a must-have in the Kona athlete's training program, she says.
Lubinski says he's seen far too many athletes take it out too fast on the Kona run course (as with so many run courses in triathlon), so he advises really dialing in your race-pace effort—and sticking to it. "The tendency on the Kona run is to take it out way too fast," he says. "The crowd is cheering and the adrenaline is pumping for the first 10 miles. Then it gets really quiet and lonely. As in Nice, you must have a well thought out race plan based on your ability levels and stay diligent to the plan no matter what is going on around you on course."This means plenty of runs off the bike in training, practicing your race nutrition, and also focusing on good run form and posture, especially as fatigue sets in, he says. "The Kona run is constantly undulating with the run up Palani Drive to the Queen K being the steepest climb on the course. Because of this undulation, keeping a good cadence, with your feet landing under you, with tall posture as you run, will help you move up the hills and transition into the flats or downhills with greater ease."
And as reigning Kona champ Chelsea Sodaro showcased last year, there's plenty to be gained from walking through aid stations to maximize fueling and hydration. "An athlete I coach won the super-humid Ironman Philippines and walked every aid station to get nutrition in and cool core temperature," he adds.
Workouts to prep for the Kona/Nice Ironman World Championship courses
Looking for targeted workouts to help you fully prepare for the conditions at Kona, Nice, or a different "A" race on your calendar? Check out these six workouts that will set you up for success this fall championship season.