Sports Science Update: Do You Need A Pre-Race Warm-Up?
A new study shows no benefit to warming up before a simulated sprint triathlon.
Heading out the door? Read this article on the new Outside+ app available now on iOS devices for members! Download the app.
A new study shows no benefit to warming up before a simulated sprint triathlon.
Take our Triathlete.com Poll: Do you do a pre-race warm-up?
Written by: Matt Fitzgerald
You wouldn't dream of deliberately not warming up before a triathlon. Starting a race with tight, cold muscles would sabotage your performance—at least in the swim—and lessen your chances of achieving your goals. You're much better off doing at least a short swimming warm-up to prepare your body for the first leg of the race. Ideally, you'll throw in a little running too, to get your legs ready.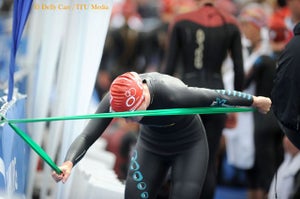 Or maybe not. Researchers at the University of Western Australia recently compared the effects of two different warm-ups to no warm-up prior to both a swimming time trial and a simulated sprint triathlon and came up with results that might surprise you.
Seven age-group triathletes participated in the study. Each of them completed four separate testing sessions: a swimming time trial and three simulated sprint triathlons. The simulated sprint triathlons featured a 750-meter pool swim, a 20 km stationary bike ride, and a 5 km treadmill run. Prior to one triathlon, the subjects completed a 10-minute swim warm-up. Prior to another they completed a 10-minute run-swim warm-up. And prior to the third they did not warm up.
The objective of the study was, of course, to determine whether one or both warm-ups enhanced performance in either the swim leg of the simulated triathlon (compared to the subjects' swim performance in the other triathlons and in the swim time trial), or in the triathlon as a whole, or both. As it turned out, the subjects achieved more or less the same swim times in all three triathlons and in the swimming time trial and they also achieved the same swim, bike, and run splits and overall finish times in the three simulated triathlons. Measurements of swim stroke rate and stroke rate, blood lactate, perceived exertion, core body temperature, and heart rate also came out the same.
The authors of the study, which was published in the Journal of Strength and Conditioning Research, concluded, "The findings of this study suggest that warming-up [sic] prior to a [sprint triathlon] provides no additional benefit to subsequent swimming, or overall triathlon performance."
I would have been surprised if this study had found that either warm-up protocol enhanced performance in either the cycling or running portion of the simulated sprint triathlon. After all, the swim portion of a triathlon itself serves as a warm-up for the bike and the run. But I was somewhat surprised that swim performance was not improved by a warm-up.
One possible explanation is that the athletes involved in this study were not very good swimmers. Past research has demonstrated that warming up is ineffective and potentially even counterproductive if it goes beyond merely preparing the body for fatiguing exercise and actually causes fatigue. Poor swimmers struggle against high levels of water resistance that begin to negatively affect performance fairly quickly. I should know, as I'm a poor swimmer myself. And when I'm in particularly poor swimming shape, I notice that my 50-yard split times actually slow down somewhat over the course of a 200- or 400-yard warm-up at the very beginning of a workout.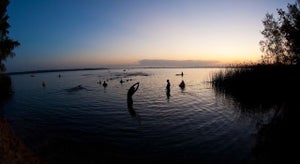 After reading this study I did a quick search through MedLine for previous studies on the effects of warming up on swim time trial performance. I came up with surprisingly little. In fact, I couldn't find a single study demonstrating that any kind of warm-up improved swimming performance compared to no warm-up. But I think any good swimmer would swear up and down that a good warm-up is critical to maximizing race performance.
So, as the saying goes, further research is needed. In the meantime, my provisional interpretation of this study is that triathletes who are not strong swimmers may be able to skip the warm-up before races without suffering any ill consequences. If you tend to get out of the water toward the front of your wave, however, it is not unlikely that you stand to benefit from a non-fatiguing warm-up.
*
Matt Fitzgerald is the author of Iron War: Dave Scott, Mark Allen & The Greatest Race Ever Run (VeloPress 2011) and a Coach and Training Intelligence Specialist for PEAR Sports. Find out more at Mattfizgerald.org.