Operation: Injury Prevention
You won't see any Jane Fonda leg lifts at San Diego's Rehab United. Here's how the RU team's unique approach is redefining physical therapy.
Heading out the door? Read this article on the new Outside+ app available now on iOS devices for members! Download the app.
You won't see any Jane Fonda leg lifts at San Diego's Rehab United. Here's how the RU team's unique approach is redefining physical therapy.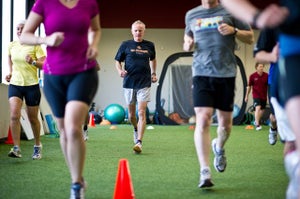 It's a typical chaotic night at Rehab United Physical Therapy and Sports Performance Center. In one corner, an ankle-sprained lacrosse player rolls a boulder-sized lumpy ball across the floor. In the center of the room, a group of middle school squash players hop on one foot through a mock ladder taped on the ground. An older gentleman with a new knee replacement performs walking lunges. On the Astroturf to the right, a dozen triathletes run through eight circuit stations: Some push a 45-pound plate across the "grass," two sumo squat back and forth with resistance bands around their ankles, others scissor kick in the air until they hear "stop!"
Rehab United blurs the line between physical therapy, personal training and sports performance, creating a dynamic athletic environment in all three of its San Diego locations. This isn't a traditional PT office where you'll see patients lying on tables in private rooms or cranking out reps on leg extension machines. This is a place where a soccer player recovering from ACL surgery will jump, shuffle and squat in all directions, fulfilling RU's motto: "Train the Way You Play." To some, the unconventional approach seems a little crazy.
"People expect a PT clinic to be manual," says Justin Robinson, RU's director of strength and conditioning and director of nutrition, among other titles. "You're on the table, having someone do stretches for you. For us, it's the opposite. We have someone standing 90 percent of the time. As soon as we can, we have people doing things that look like their activity, whether it's just walking up and down stairs or racing another Ironman."
Owners and brothers Bryan and Sean Hill were exposed to physical therapy after Bryan, a former all-American soccer player, broke his femur in an indoor game in 1991. They both found their calling during Bryan's rehab process and opened the first RU facility in 2003. Together the brothers built a team of rock-star coaches, physical therapists and personal trainers who hold the kitchen sink of certifications—CSCS, USAC, MPT, USAT, FAFS, RD, ACE and MA, to name a few. What sets RU apart is its functional treatment for both rehab and strength conditioning, using fundamentals of Applied Functional Science taught by the internationally acclaimed Gray Institute.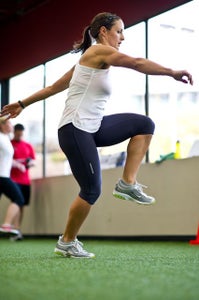 "Functional training" is a term that gets thrown around a lot in the triathlon world, and there's often the misconception that it's certain tools, such as stability balls or resistance bands, that define it. "Our definition of function is purposeful training and purposeful movement," Robinson says. "It's really the strategy of developing exercises rather than the particular exercises that you choose." Whether you're rehabbing, preventing injury or boosting power, RU believes you should do movements that simulate your sport.
Take a typical triathlete problem area: the iliotibial band. Typically you would foam roll it, ultrasound it, massage it and get the Theraband out and do leg lifts—all things Bryan calls "symptom treaters."
"Jane Fonda sets are the go-to in the 30-year-old physical therapy world," he says. "But your IT band hurts when you're running—not when you're sleeping. So why are you doing an exercise that looks like you're sleeping?"
The PTs look at every injury with an emphasis on treating the symptoms, not the causes. Using "Chain Reaction" biomechanics, they analyze everything from the big toe to the head to determine the real source of your injury. By assessing weaknesses and imbalances in different parts of the body, they've been able to design state-of-the-art injury prevention strategies specific to each patient.
"The nice thing about doing resistance training with a functional approach is that you're putting the body in more sport-specific and natural positions all the time," Bryan says. "We break down each body part into planes of motion and assess limitations. You can almost find injuries before they happen."
Although the patients speak the virtues of Rehab's ways, the brothers are still working to change some doctors' mindsets. The typical doctor-to-PT relationship is pretty one-sided: Patient goes to doctor. Patient gets a prescription. Patient goes to therapy. But because RU is heavily involved in the community, word-of-mouth brings many patients to its free injury screenings before they head to the doctor. They can decide whether an injury is treatable by PT or if they should go to a specialized physician.
"We can screen them and say, 'This might be fractured,' and give them options on who to go see and they love it," Sean says. "In an ideal world, we'd like to see that be more reciprocal. We want the doctor to feel more connected to the physical therapy program. We prefer doctors who e-mail or pop into the facility to see what's going on. That's the kind of relationship we're trying to create—a team approach."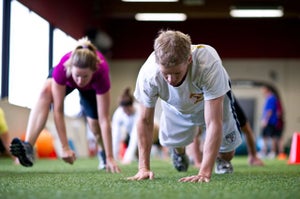 Some doctors are initially scared of RU's methods because, compared to traditional PT, it looks "relatively aggressive," Sean says. But over time, skeptical doctors have gone from prescribing a laundry list of specific exercises to simply writing "evaluate and treat" after learning to trust the team's expertise.
They continue to further their relationship with doctors by holding "edu-mixers," where a physician comes to speak to the staff about a type of surgery or common diagnoses and the medical and surgical implications. The RU team will then share their thoughts on rehab protocols to give the doctors more confidence in their approach.
Although physical therapy was their first love, RU has grown its sports performance programs drastically since its inception. They hold sports-specific conditioning and injury prevention classes for practically every sport, including everything from baseball (B.M.A.C.: Baseball Mechanics and Condition) to skating (Skate Speed) to, of course, triathlon (Tri-Strength).
When designing programs such as Tri-Strength, the RU staff analyze the biomechanics of the sport and decide which movements they want to encourage (or discourage) and create exercises based on those techniques. While a baseball player might do kettlebell swings or shoulder presses from a neutral position, a triathlete will do those movements from a staggered running-like stance.
"We do everything in all three planes," Robinson explains. "I'll exaggerate a running stride—when you step forward, you think of your knee and hip bending [sagittal plane], but you don't think of the rocking your hip does from side to side. There's your frontal plane. Your torso and hips move opposite, so there's your transverse plane. If your body actually moves in all three planes when you're running, why wouldn't you train it that way? Traditional strength training doesn't capture the whole picture."
There's a tendency for triathletes to either 1) be scared to get sore from strength-training while in season or 2) prioritize swim-bike-run workouts when time is an issue. RU encourages year-round strength training to better adapt and improve strength, power and flexibility for all three sports. The therapists' 3-D functional approach aims to prevent the common overuse injuries they see in the tri community (see sidebar for two great exercises you can do to prevent some of those injuries).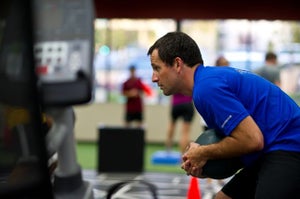 Plus, the team loves to work with triathletes and their coaches to make their strength program match their training plan. (RU also has its own coaching program through a separate company, Catalyst Endurance Coaching.) If an athlete is in a build phase, strength will be in a build phase, and he or she will adjust the reps, weights and type of exercises to correspond. If someone raced a half-Ironman on Sunday, they can come to class on Monday for a mobility and stretching program for recovery.
Triathlete Beth Walsh saw vast improvements in her performance and functionality after going to Tri-Strength. Four months after beginning the program, she went from "nowhere near the podium" to winning her age group at Ironman 70.3 California and a spot to Kona.
"Prior to RU, I had a femoral fracture, illiopsoas tendinitis and several other injuries in the sport due to overuse and muscle imbalances," Walsh says. "After RU, I have been—knock on wood—consistently injury-free. The strength work, plyometrics, explosive movements, etc., gives me the boost to hold more power and better form in longer races." She had the fastest amateur run split at both Ironman St. George (3:23) and the Ironman World Championship in Kona (3:10) in 2010, and directly relates it to all of the work she's done in the program.
RU's programs also focus on mobility and dynamic warm-ups, as Bryan believes that stretching before and after exercise can significantly change what your body responds to during a workout. He says he's been to every group ride in San Diego and rarely sees athletes stretch ahead of time. But that doesn't stop him from going through an elaborate dynamic stretching routine before every ride or race.
"We want to create the most power possible in our sport," Bryan says. "The longer we are, the more powerful we are, the faster we're going to go. But if every time we do a long ride and we sit, eat and we never stretch, we get shorter and shorter and shorter. The shorter we are, the more at risk we are for injury."
At its core, Rehab United is a place where people go to get healthy. Bryan and Sean Hill want it to serve as an umbrella over multiple opportunities.
"Sometimes when you hear 'rehab,' and you're not hurt, you don't want to go," Bryan says. "But we want it to be a place that's welcoming to everyone. If you want to come get a massage to feel good, great. If you have certain goals and want to get personal training, great. And if you want to do a race—whether it's your first tri or you're trying to qualify for Kona—we want you to come to us. And ultimately if you do get hurt, we want you to have a place that feels like family, like your home."