Mental Mastery with Mark Allen Week 4: Finding Your Feel on Land and Water
Six-time Ironman World Champion Mark Allen shares a combo dryland/pool workout that will make you physically and mentally stronger.
Heading out the door? Read this article on the new Outside+ app available now on iOS devices for members! Download the app.
One of the most important types of workouts you can do as a triathlete is not swimming, cycling or running – it's strength work. Increasing muscular strength makes all the motions of your core three sports easier. It also helps make you more resistant to getting injured. When it comes to longer triathlons, muscular strength also gives you that extra deep ability to keep calling up speed, even when tired.
The last three weeks of the Mental Mastery series have focused on endurance; your workouts in the next three weeks are going to focus on strength. As in the endurance phase, each week will be focused on one of the three sports, and today we'll start with swimming strength. Remember, in terms of workouts for your body and mind, there are three key types: endurance, strength and speed. This is the middle, and if you think of these three workouts like a building, the gains you get from strength work will be like the internal beams of support that everything else (endurance and speed) relies on for stability.
There are also three key pillars of Mental Mastery, which we incorporate into every workout:
Body Awareness – Tuning into how you are moving.
Internal Dialogue – Being aware of what you are telling yourself.
Mental Race Prep – Connecting your immediate effort to the outcome you want.
As you've noticed by now, there isn't a "How Fast am I Moving?" pillar. That's because speed comes after you build physical and mental strength. This week's Mental Mastery workout will have a big emphasis on Body Awareness. It pairs nicely with strength work, as it allows you to take the time to pay attention to how you move. But don't worry, there will also be drills within each week to help you work on the other two pillars of Mental Mastery, which are Internal Dialogue and Race Prep.
To accomplish this, we'll use a combination of dryland swim exercises and in-water drills. For the dryland component, you'll need a set of swim stretch cords.
This is a great time in the season to learn how to use stretch cords. I typically used this strength-training tool in the early season, when I wasn't super consistent about getting to a pool to swim. That gave me strength and body awareness, which translated very nicely when I did get back to regular swim workouts. Stretch cords made a big comeback during COVID lockdowns, when swimming pools were closed. Those of you who did a lot of dryland stretch cord work during this time can can attest to how well it translated into good swimming once pools opened up!
RELATED: Ask A Gear Guru: What's The Best Swim Trainer?
Another key element of swim strength training is the fist drill in the pool, which I did over and over. My swim stroke rarely felt smooth and strong when I would warm up, but then if I did a set of 50's with a closed fist, then another with the hands opened, I would immediately get that feel for the water that I lacked, as well as a huge surge of confidence in my ability to swim fast and strong. It was a core drill that made me faster physically and much more confident mentally.
RELATED: Video: 9 Stretch Cord Exercises to Improve Swim Strength and Technique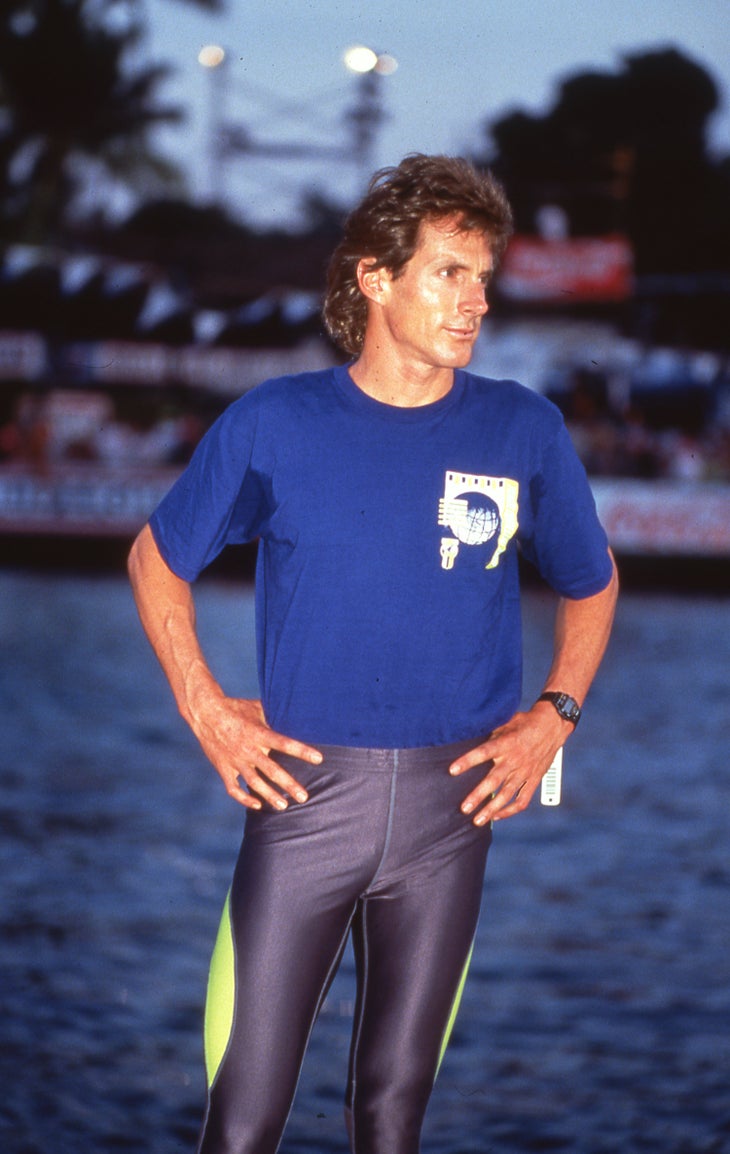 Week 4: Key Endurance Swim Workout and Mental Mastery Drills
The physical goal of the two swim strength drills in this week's workout will be to first activate the muscles that generate power in the water (mostly lats) while also engaging the core for stability. That will take place with stretch cords. Then the second drill, to be done in the water, will take that activation and translate it into rotational power driven by the core, providing a platform for the hips to rotate while the lats generate their power. It sounds more complicated than it is, so don't overthink the physical aspect of it! Instead, focus on the Mental Mastery component of these drills, which will help you retain the awareness of all these components working together. That will help make a strong powerful swim stroke become second nature for you.
This Week's Key Workout Session: Finding Your Feel on Land and Water
Land Drill: Stretch Cords
With swim stretch cords attached to a door or other solid object at approximately waist to chest level (higher is OK if nothing lower is available to attach the cords to), bend over at the hips so that your upper body is fairly close to parallel to the ground. Back up enough so that there is slight tension on the cords with your arms fully out in front of you, but not so much that you cannot pull your arms all the way back to the hips.
Now do 2 sets of 15-20 reps of the "pull" phase or the swim stroke, with both arms at the same time. Make sure to engage the core muscles to help generate the pull power (as opposed to bouncing to get the pull going).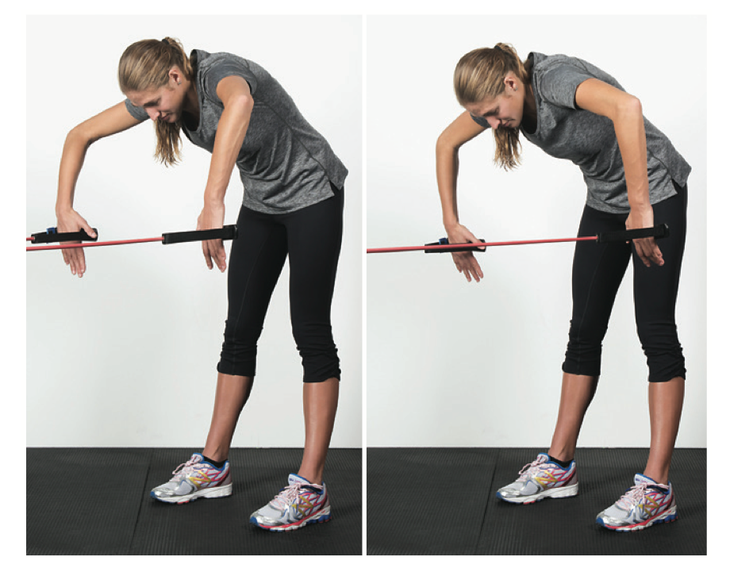 Mental Mastery Focus Cue:
Be very aware of your core. If it goes soft, you'll see that you need more force from the lats and arms, and that the body will start to bounce to generate the power. This awareness will build the Mental Mastery pillar of Body Awareness. It's easy to focus on what is going on at the extreme outer ends of the body and to forget what is happening at the core, which is the fulcrum that allows the outer limits of our levers (arms and legs) to do their thing.
For the next set, back away from the anchor of the cords to make it tighter, and do just the front half of the swim stroke (where the hands enter the water and then pull down just to the middle of the chest). Do one set of 15-20 reps.
Mental Mastery Focus Cue:
Work on your Internal Dialogue by quieting your mind. Do this half stroke with as much quiet as you can. No thought. Just counting.
Now step forward to get closer to the anchor for more slack on the swim cord. Do only the back half of the swim stroke (starting at the mid-chest and pulling to where the hands would exit the water). Do one set of 15-20 reps.
Mental Mastery Focus Cue:
Do exactly the same thing as in the previous set, but this time bring your Body Awareness into the equation. Quiet your Internal Dialogue by being aware of your core.
For the last set, do the full stroke again: one set of 15-20 reps.
Mental Mastery Focus Cue:
Feel the burn and embrace that feeling knowing that this short session is building you into an extremely strong swimmer. This is your race prep drill. Feeling immediate strength being used in a workout is the closest thing to the feeling of getting mentally prepped for a race effort.
Water Drill: Fist Swimming
After you have done the swim cords, it's time to get in the water. You can do the swim cords at home or at the pool – these two drills don't necessarily need to be done back-to-back.
Warm-up:
200 easy swim, 200 pull, 100 swim
Main Set:
6×50 on 20 seconds rest, done with your hands held in a clenched first posture. Clench your firsts like you are going to bang them on a table – don't cheat and slightly open your hands! The first few will feel really weird, but by the last couple 50s, you will start to get the hang of how to propel yourself forward with just your forearms.
6×50 on 15 seconds rest, all open hand
Cooldown
200 easy swim
Mental Mastery Focus Cues:
In the first set, work with your arm position to optimize the pull. If you are leading with your elbows you'll notice that and can correct it, which will reduce slippage. If you are swimming without rotating you will notice that as well as your stroke will have very little power, and you can correct that. If your core is not engaged and solid, there will be little ability to generate forward momentum, even with a good arm position and a roll. You'll be like a wet noodle trying to go forward. Every bit of change you make will add to your Body Awareness.
It will also necessitate bringing your Internal Dialogue to a relaxed concentrated focus. Initially, the dialogue might just be a feeling of frustration at how awkward it feels to swim with your fists closed. Acknowledge it, but don't let it run the show. Soon, you'll kind of just "breathe into the experience" as your mind goes from judging whether you can swim like this or not to being in a place of simply figuring out how to swim with closed fists.
Then in the second set when you go back to open hands, your Race Prep mindset will come back. You'll feel the water like you never have before and suddenly any doubts you had about your race day swim will vanish.