Insight Into Rudy Von Berg's Breakthrough Fourth-Place Finish at the 2023 Ironman World Championships
We talk to the fastest American in Nice at IMWC last weekend to learn about his training this season, his French background, and get six of his top tips on how to descend like a pro.
Photo: Brad Kaminski/Triathlete
Heading out the door? Read this article on the new Outside+ app available now on iOS devices for members! Download the app.
Young Rudy Von Berg's cycling education took place on the roads around Nice, his handling skills honed in the foothills of the Maritime Alps, near the south coast of France—often under the watchful eye of his father.
"Triathlon is something that carried throughout my whole childhood," Von Berg says. "My parents got me into it and are still passionate about the sport."
Rudy Senior and Angela still live in the region, making it a home-from-home training base for their 29-year-old son every time he makes a trip to Europe from his U.S.-base in Boulder, Colorado.
It certainly came in handy last June where he defeated a trio of French triathletes to win Ironman France on the seafront—on a course very similar to the one at the 2023 Ironman World Championships in Nice last weekend.
Having also placed third at Ironman 70.3 Worlds in Nice in 2019 with a breakthrough result, Von Berg knew the course as well as any of the 40 men that lined up last Sunday.
And yet, none of his experience could have prepared him for how it all went down.
"I said in the press conference before the race that we'll have to go much faster," he says after finishing fourth overall and becoming the first American to cross the line—his biggest result to date.
"Last year I was alone the entire way on the bike. This was different. The caliber of the athletes in a world championship gets the best out of us. Plus, of course, we also arrive in better shape."
The numbers prove it: Von Berg swam more than two minutes quicker than at his win in Ironman France and ran a full six minutes faster in the marathon. But it was the bike split that really catches the eye. At 4:37:23, it might only have been a minute quicker on the clock, but with Ironman bringing the course up to the full 112 miles for the world championship – he also pedaled a further 6.5 miles.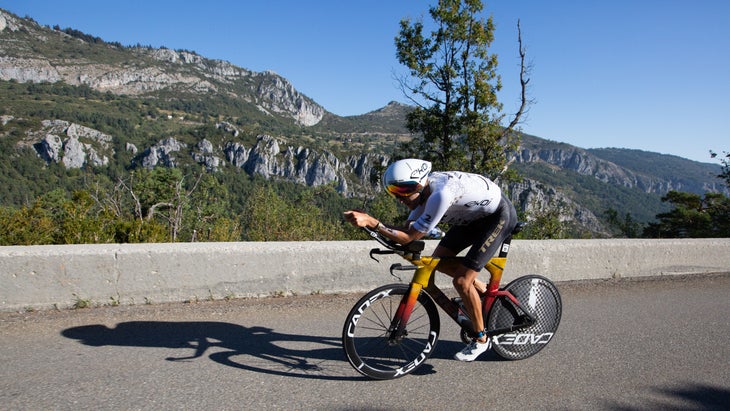 That meant holding a normalized power of 294 watts, including 344 watts for 18 minutes on the Col de l'Ecre, where he successfully stayed in the company of Denmark's Magnus Ditlev, who has built a reputation as the most powerful cyclist in the sport. His split also likely earned him the respect of pro cyclist Cam Wurf, who only rode 1:20 faster than Von Berg.
Von Berg could have pushed even more, but felt he needed to save something to go all-in on the marathon. "I didn't want to go above my threshold, but was prepared to push up to a limit," he says. "I spent the whole ride telling myself to conserve energy: Go as fast as possible, but with the lowest watts possible."
The plan worked, resulting in Von Berg's fastest Ironman marathon to date in 2:42:44. How does that leave him feeling? "Really tired!" Von Berg says, proving it isn't just the age-groupers that feel the post-race fatigue of a 140.6 miles of swim, bike and run. "But I'm not as sore as I was after Texas, where due to the last 3km I could barely walk."
At Ironman Texas in April, Von Berg secured his Nice qualification by winning out in a titanic tussle with fellow U.S. triathlete Matthew Marquardt and Poland's Robert Wilkowiecki, passing Wilkowiecki within a few hundred meters of the finish in one of the closest Ironman finishes on record. For their part, Wilkowiecki and Marquardt finished ninth and 11th in Nice, respectively.
"[My Nice result] shows my muscle endurance is better now," he says about the changes he made to his training since Texas. "Usually the faster you go on the run, the sorer you are, but I also think it's testament to good training. Usually my legs become a bit like bricks, and I feel as if I'm being stabbed in the quads past 28km. But this time it felt ok."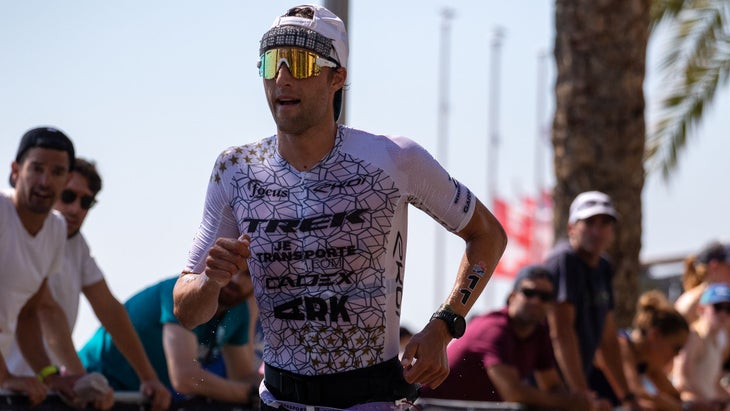 Von Berg said while his long runs topped out at 1hr 40min before racing in The Woodlands, this time he extended it to two hours. "I was running about five times a week, three easy runs, one at LT1 and one at LT2 with the volume around 70km average. Some weeks higher and some weeks lower."
It justified his faith in sticking with Norwegian coach Mikal Iden, brother of 2022 Ironman world champion Gustav, who came under scrutiny after another of his athletes, Collin Chartier, tested positive for blood-boosting drug erythropoietin (EPO) earlier this year.
Iden, whose primary role is with the Norwegian national squad, maintains he was as shocked by Chartier's use of EPO as the rest of the triathlon world in his exclusive interview with Triathlete in May, and now Von Berg is the only long-course triathlete he still coaches, although largely in a remote capacity.
Von Berg's performance is all the more impressive given he missed four weeks of training with a broken collarbone following a bike crash in June. 
Emerging from the water with the front group of 12, his initial tactic was to track three-time Ironman world champion Jan Frodeno through the early stages of the bike leg. Both taller triathletes, with an efficient, fluid style across all three disciplines, Von Berg might not have the titles of Frodeno, but there are similarities in the way they race.
"To emulate his achievements is going to be difficult, but in some sense I suppose we are similar athletes," Von Berg explains. "I guess my run can be a bit weaker, or when the best swimmers are present I'm on my limit, but we're both fairly strong across all three disciplines, which is somewhat rare.
"Most athletes have one sport that is a little weaker. Neither are we the most resilient athletes, so it seems to work better when we take time to prepare for specific races."
It's also not hard to see where Von Berg's graceful biomechanics and raw talent come from. A lean six-foot-plus himself, Rudy Sr. won eight amateur world titles over two decades from 1998 and won the TriFed (now USAT) American Ironman Championship as a pro in 1986 in a race held over three days. Von Berg's mother, Angela is half-American and half-Italian—she took up marathon running at the age of 42 and set a PR of 3-hours 14-minutes while winning her age-group in Prague.
"Since Rudy's crash, we didn't know what to expect," Von Berg Sr. says. "Secretly we hoped for a top five and we are immensely proud of our son and have a great sense of satisfaction and accomplishment due to his work ethic, determination, and coolness under pressure."
When the going got tough in the latter stages, Von Berg also benefited from his local upbringing via the crowds lining the Promenade des Anglais in Nice – "I was treated like a French guy today, which definitely helped!"
As for the event leaving North America for the first time, Von Berg was effusive in his praise. "Everyone thought it was a really good race, a great course, and a great atmosphere, with great weather at this time of the year. We need to have courses like Nice to show that Ironman cycling is more than just TTing on a straight road."
Rudy's tips for descending
Von Berg is recognised as one of the best bike handlers in long-course triathlon: He showed it at the Ironman 70.3 worlds in Nice in 2019 where he led during the bike leg and demonstrated his skills again in the Maritime Alps on Sunday. Here are his top tips when it comes to descending.
Check the course. "If you understand where the slower and faster corners are, when you need to come off the time trial bars and when you can stay aero, it can help you gain a lot of time. You'll also be more confident about what's coming up."
Trust in your equipment. "Especially your tires. You should look to have fairly new tires for racing for safety but also because you never want doubt to creep in. If you're rock solid with your confidence about your equipment, you will descend faster."
Know your tire pressure. "Practice in training to understand the tire pressure you want to ride at depending on the course and the road conditions. Also understand how the temperature on the day can alter the tire pressure."
Know your tangents. "Ideally, you want to take the fastest trajectory through the corner, entering wide, leaning into the apex and exiting wide, but you also need to be safe. Ironman's "no crossing the centerline" rule messes up the ideal line slightly, but we know why they have it in place. Adjust your line to suit and practice."
Shift your weight. "Knowing where to position yourself over the bike will help with your stability when descending. For example, particularly when I'm on the TT bars, I slide my weight back towards the rear of the saddle – maybe 70% over the back wheel, taking the pressure off the front."
Staying aero. "It was often a 'pedaling descent' on the Ironman World Championship course, and this allowed us to stay aero on our TT bars through the sweeping corners. If you know the course, you'll know in advance where you can do this or where you need to be on the base bar to brake. A rule of thumb is never go into a corner in aero if you can't see the exit. Do that and you're asking to crash."