Inside Triathlon Archives: Redefining Hydration
An iconoclastic exercise physiologist is redefining the hydration game.
Heading out the door? Read this article on the new Outside+ app available now on iOS devices for members! Download the app.
An iconoclastic exercise physiologist is redefining the hydration game.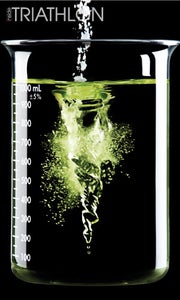 "Spread the idea that water is probably the worst thing you could drink."
These are the words of an exercise physiologist who is challenging conventional wisdom on sodium consumption. This physiologist, Hal Goforth, 66, maintains that the most effective pre- and post-exercise hydration strategy is to drink an electrolyte and carbohydrate solution that is so packed with sodium that it actually tastes salty.
Goforth, who holds a Ph.D. in kinesiology, recently completed two studies that compared the hydration effects of water and several electrolyte drinks with varying levels of sodium. For his first study, which he completed with students at Point Loma Nazarene University in San Diego, Calif., he tested water versus an electrolyte solution with about three times the sodium of Gatorade Endurance. Subjects began the study fully hydrated then drank about 1.5 liters of either water or the sodium solution over 30 minutes.
He found that after three hours of monitoring, the subjects who had consumed water had actually "dehydrated"—on average, they had lost 22 percent more water than they drank. But the subjects who drank the high- sodium solution retained 35 percent of the fluid—they became hyper-hydrated.
For his second study, Goforth compared the hydration effects of three different solutions: one with a sodium level equivalent to Gatorade Endurance, one with twice the sodium of Gatorade Endurance, and one that was three times saltier. He tested against Gatorade Endurance because of its high sodium level for a sports drink.
After three hours, the subjects who consumed the Gatorade Endurance equivalent were dehydrated—on average, they had lost 6 percent more water than they had consumed. But the subjects who drank the mid-range sodium solution retained 25 percent of the water they drank, and the subjects who drank the saltiest solution retained 35 percent.
As far as taste is concerned, the subjects preferred the mid-range solution but were OK with the saltier one.
And while Goforth's results deal with pre-workout hydration, they have been validated by several studies that have looked at post-workout hydration strategies. In fact, the World Health Organization recommends that severely dehydrated patients drink an electrolyte solution with a salt content similar to the high saline solution Goforth tested.
Goforth stresses that his studies deal only with pre- and post-workout hydration and that the salty solutions should not be used during exercise, as they could harm you.
He also stresses that you should use this salty solution sparingly, such as before a big race or special workout, as little is known about the effects of chronic high salt consumption. And sodium sensitive individuals should discuss the protocol with a doctor.
On a personal note, Goforth has been using his hydration strategy for his own important races for many years. He has finished the Boston Marathon 35 times and won his age group in 1998, as a 53-year-old, in a time of 2:42.
To test the strategy yourself, Goforth advises that you mix one liter of Vitalyte with a teaspoon of salt. The solution can also be made by blending half a liter of Gatorade, or a similar drink, with half a liter of water and a teaspoon of salt. The sports drinks' sugar helps the body absorb the water and salt. Then, drink 1 to 1.5 liters of fluid about one- and-a-half to two hours before your triathlon.
Goforth drinks half a liter of his solution before bed the night before a big morning race and then drinks another liter as soon as he wakes up.
[sig:CourtneyBaird]