Inside Triathlon Archives: Heat Training
Hard science, heat labs and custom gear helped one pro finally win a five-year battle against the heat and humidity of Kona.
Heading out the door? Read this article on the new Outside+ app available now on iOS devices for members! Download the app.
The summer is heating up with triathlon's hottest races looming before us. Last year, Inside Triathlon magazine contributing writer Torbjørn Sindballe wrote a story on how he finally won a five-year battle against the heat and humidity of the Ironman World Championship in Kailua-Kona, Hawaii.
The following is his story, printed in full.
For more insight into the sport's top pros, subscribe to Inside Triathlon magazine by clicking here. Follow Inside Triathlon on Facebook and Twitter.
By Torbjørn Sindballe
Photo by John Segesta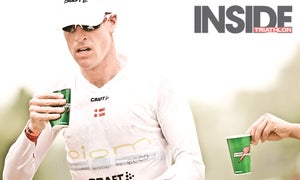 The conditions at Hawaii Ironman are famed for making even the fittest pros crumble toward the line. Mark Allen, Chris McCormack, Normann Stadler and many others have all walked it in, DNF'ed or heavily underperformed more than once because they were unable to transform their excellent performances and victories elsewhere into success in Kona. My own story starts in 2003, when I qualified for my first attempt in Kona on a hot Kona-like day in Wisconsin. Swim and bike were fine, but on the run I was hit in the head with a hammer after the first 10 miles and fought my way home to a 3:15 marathon. Before that I had run 3:02 and 2:57 in my first two iron-distance races and had beaten, among others, Craig Alexander and Tim DeBoom with a 1:12 half-Ironman run split at Ironman California 70.3. So 3:15 felt way off. I felt confident I could run much faster, but still went through the next four years and five Ironmans, all in very hot conditions, with frustrating run splits in the same 3:12-15 range. In summer 2006 even though I hadn't qualified for a slot, I proclaimed that I wanted to win the race that same fall.
Needless to say I was pretty blue, but once I regained my energy only one question pounded my mind until the 2007 race:
What does it take to race well in the heat?
The physiology of heat performance is complex and describes several risk factors that can derail anyone's attempt at racing iron-distance in extreme conditions.
Dehydration.
As the sweat rate goes up we lose fluid at a constant rate. If this fluid is not replaced we will dehydrate, which then leads to a negative spiral of increasing core temperature, increased usage of glycogen from muscles and the liver and a rapidly decreasing performance.
The sweat rate is highly individual and can vary greatly from person to person. Sweat rates are reported from under 0.5 liters per hour to almost 4.0 liters per hour. The upper end of this spectrum requires extreme heat stress and very high work intensity, so at a usual Ironman pace it may vary from around 0.5 liters for the smallest, slowest athletes with a low relative sweat rate to upwards of 2.0 liters for bigger, faster, high sweat-rate athletes.
While we do carry 1 to 3 kilograms of water in our bodies' glycogen stores and can tolerate some dehydration when highly trained, replacing fluids can present a considerable challenge for the fastest half of the field in Kona, as there is an upper limit to how much fluid we can absorb in the gut. Studies suggest around 1.2 liters per hour, but individual cases might go upwards of 1.3 or 1.4 liters in optimal scenarios. This means that sweat rates in excess of 1.2 liters per hour will lead to dehydration over time, and the unfortunate will have to slow down so that fluid intake matches fluid loss.
Hyponatremia.
Sweat consists of more than just water as we lose electrolytes as well, the most important of which is sodium. The electrolyte concentration in sweat is, however, lower than in the blood, so if we replenish sweat with pure water, we will actually face a decreased concentration of sodium in the blood known as hyponatremia, which can be as dangerous and have as marked effect on performance as dehydration. Replacing the electrolytes lost is thus equally important over longer races.
Overheating.
During exercise only about 25 percent of our energy is used for the actual work we are doing, like pushing the pedals. The other 75 percent is turned into body heat. If the body is unable to release all the produced heat, core temperature will start to rise as a measure of the accumulated energy in the body. A team of Danish scientists has shown that under such extreme conditions it is not the usual fatigue markers like low glycogen stores or lactate that come into play. Rather it is an individual upper limit of core temperature where the brain will decrease the number of muscle fibers it's activating. This limit varies from person to person but ranges from around 103 degrees F to 106 degrees F. Individuals differ in how much heat can be stored before performance is radically affected.
The Danish heat scientist Bodil Nielsen published an article before the 1996 Olympics in which she calculated the heat balance for a 70 kg male marathon runner and found that in the 95 degree F heat and 60 percent humidity in Atlanta—conditions very similar to Kona—it would be simply impossible for such an athlete to run a marathon in 2 hours and 10 minutes. She warned the International Olympic Committee of the dangers of such a demanding race under these extreme conditions.
In his book "Lore of Running," avid runner and scientist Timothy Noakes uses the same calculations on runners with different body weights and concludes that only a runner weighing 99 pounds or less would be able to run 2:10 in these conditions. Interestingly the gold and silver medal winning athletes at the 1996 Olympics weighed 95 and 99 pounds respectively!
Looking at Noakes' calculations, one can see that the difference in the speed at which temperature balance is obtained between a 143-pound and a 155-pound athlete is almost a full mile per hour. This clearly indicates that under such conditions, the latter athlete is facing a massive disadvantage. Correlating this to the Ironman in Kona, it seems that athletes at 150 to 159 pounds can run relatively freely at nearly the same speed they can in cool weather while athletes above this weight are unable to run to their full potential because the heat will stop them.
Looking into heat physics and how the body exchanges heat with its surroundings, I developed a strategy to conquer the heat together with Lars Nybo, one of the world's leading heat scientists, and my coach at the time, Michael Krüger.
Movement economy.
Decreasing the amount of energy needed to swim, bike or run at a certain speed is a cornerstone of training for all endurance events. When racing in the heat, this becomes even more important as improved movement economy will directly decrease the overall heat load and double the effect of better economy compared to racing in a cooler climate.
I addressed this from several fronts. One, I lowered my body weight as much as possible. Two, through lots of race pace, technique and hill work, I optimized strength and biomechanics to decrease the energy needed to swim, bike and run. I also headed to the track and wind tunnel, working on better aerodynamics on the bike, which again would allow higher speed while using the same or less energy. Many of these areas are part of a regular performance plan, but in the heat there is an extra incentive to work harder on them.
Fat burning.
We knew we could not rely as much on carbohydrates as in cooler races, both in terms of what could be absorbed in the gut and because dehydration and increased core temperature would chew up carbs more quickly. So we worked a lot on increasing my ability to use fat as fuel. In the preparation, I did many rides drinking water only as this is proven to stimulate all the enzymes in fat metabolism during exercise. We also used a diet rich in fat for days seven to two before the race, which has also been shown to increase the capacity to burn fats for fuel in some cases. The latter worked fine in 2007 but caused constipation before the 2008 race, which derailed my gut and intestines and put me in survival mode after 100K on the bike.
Acclimatization.
Training in the heat before competition has a clear effect on performance. Studies show that exercise time to exhaustion almost doubles after seven days of training in the heat. While optimal acclimatization is achieved after nine to 14 days training in the heat, further improvements are made after 30 or more days, indicating that athletes living in hot climates have a slight advantage over those from cooler climates when racing in the heat.
Several factors contribute to acclimatization, such as lowered heart rate, lowered metabolic rate and utilization of carbohydrates as well as an increased sweat rate and a lower salt content in the sweat. The effect is most pronounced in dry heat but several effects remain important even in humid heat, where sweating is not as effective a cooling mechanism. Research indicates that the increase in core temperature during exercise is the driving mechanism behind these adaptations, so any training, whether indoor or outdoor, that gradually pushes the temperature up will help acclimatization.
In 2007 I spent two weeks in Mallorca doing my peak training camp, totaling close to 80 hours of effective training time in 85 degrees F to 90 degrees F and moderate humidity. After five days at home in Copenhagen, Denmark, and three days in dry Las Vegas with Argon 18 at Interbike, I had two and a half weeks of training in Kona before the race. There, I did several sessions focused on bringing my core temperature up. One of my key sessions was a 12-mile run, the first four at 6:50 pace, the next five at 6:20 pace and the last three at a hard 5:50 pace.
My heart rate soared and we measured increasingly higher temperatures after each section, from 100.4 degrees F to 104.4 degrees F, which is the highest I have ever measured. This training carries a risk of heat stroke, so I needed company on the run and an immediate cool-down in the shower.
Pacing.
The session I did during my acclimatization gave me a good idea of how much heat I accumulated running at different speeds. As my temperature is around 102 degrees F to 102.5 degrees F when I get off the bike, I have roughly only 2 degrees F leeway before I hit the upper limit on the run. Running at a 5:50 per mile pace, I would hit this within four miles. Slowing to 6:20 per mile might buy me an additional three miles or so. Some days later we did the same run with full cooling gear and aid station support, as in the race.
I kept the pace constant at 6:50 to seven-minute pace. My heart rate remained stable and we measured temperature three times during the run, which showed between 102.7 and 102.9 degrees F. After this, I knew that at this pace I would be able to break my 3:15-ish hot marathon spell. I also knew that running even two or three miles at 6:20 pace would ruin my race completely. If I were to take any risk or shake things up at any time during the race, it had to be on the bike, where I could cool down more efficiently and not under the same heat stress.
Nutrition.
My fluid, electrolyte and energy intake during the race was equally important. In the five days I spent at home between the training camp in Mallorca and the trip to Kona, I had lined up a major heat test with Lars Nybo at the University of Copenhagen. In the university's heat chamber we could drive up the temperature and humidity so it matched those in Kona. We could not replicate the sun, so we added a little to the humidity to be on the safe side.
The test was started with two hours on the bike trainer at my Ironman race pace, 300 watts. After the first hour I did a 20-minute surge at 330 watts to replicate what I might need to do to get away on the bike, and then the last 40 minutes at 300 watts. Straight from that I did a 30-minute run on the treadmill at 6:45 per mile pace and then 20 minutes at 6:25. During the test I drank what I planned on taking in during the race and Nybo measured all kinds of parameters. I drank 1.3 liters with 90 grams of carbohydrates in a glucose/fructose mixture each hour, which I absorbed fine. I was a bit high on the salts so we adjusted that down.
We also measured which percentage of carbs and fats I used for energy. From these measurements and my VO2max, Nybo calculated how much glycogen I would burn throughout the race and whether my fluid loss was too great at the given speeds compared to what I consumed. These calculations indicated that I was on track and should be able to do the race at these speeds without depleting my glycogen stores or becoming too dehydrated before the finish line.
Cooling.
For me to achieve this speed without overheating, we also worked out several ways to reduce the heat stress from the surroundings and cool me.
Back in 2005, I had read about a study at Stanford where they had great results cooling the palms on big football players. It seems there was a special mechanism in the palm that was far more efficient in cooling than on any other parts of the body. So before the race in 2005 we tested running with a latex glove that we could fill with ice at each aid station. When putting ice in the glove I could immediately feel a difference and a five- to eight-beat reduction in heart rate. Another good indication that it was an effective cooling technology was that it only took three to four minutes for the ice to melt completely, while in the cap on the head it took 10 to 12 minutes for the same amount of ice to melt. Back home we had even tested this in the lab and found a saving of 0.2 degrees F to 0.4 degrees F per hour.
My coach at that time, Michael Krüger, one day went running in a wet long-sleeved white T-shirt. Usually we ran shirtless, working on the tan (not only for looks, but this is also important as major burns on race days put extra stress on the body). But running in the wet long-sleeved T-shirt felt much better. I immediately called people I knew at Craft, which luckily had the best material on the market for this, and asked them to send me one for race day, and we kept testing. I had the shirt two days before the race and was convinced it worked by reflecting the radiation from the sun, and possibly add a bit to the cooling process as the cold water would stay longer on the body. I also felt the greatest effect from the lower arms, so on the bike I used some white sleeves that I kept wet. The wind-cooling on the bike added to the effect.
The race.
Going into the Ironman World Championship in 2007 I had great confidence in what we had done and in our very clear race plan. I hoped to get up with the group of favorites from the swim and then relax until Hawi, make my move and hopefully build a big enough cushion to win with the sub-3 hour run I knew I had in me.
As we all know, real life often doesn't follow the plan. So after 2.4 miles in the washing machine with arms, neoprene-covered bodies and legs all over, I exited two minutes down on the first big group, a bit off plan. I biked with the guys around me for the first 12 miles but then took off in pursuit. I made contact at Kawaihae and was pretty pissed to see everyone only 4 or 5 meters apart. This was not my ideal scenario, as I had already spent considerable energy and did not feel that fresh. From previous races I knew that my legs often would feel like that the first 70 to 80K, so I stayed with the group until the start of the climb to Hawi and then took off. My legs started to come around and I had good power and rhythm. I gained time on Chris Lieto and passed him at the climb up to the scenic point cruising into T2 with 1.5 minutes on Lieto and 10 minutes on the pack. My bike ride was balanced, splitting the two halves within 6 watts and averaging 311 watts.
After putting on my gear, I hit Ali'i running my comfortable 6:50 pace. Lieto stormed by at Mile 4. I just patted him on the back and said, "See you later," as I knew that any attempt to push it at this time would cause a complete meltdown. At around 9 miles I started to feel a bit off and my head started to cook like it had done so many times. Up Palani, Macca went by, and I needed a trip to one of the not-so-tempting portable toilets in the lava fields next to the Queen K.
While I was in there, Crowie ran by, and when I came out I noticed a guy 50 yards behind me—Tim DeBoom, the two-time champion making his comeback. I started feeling better and got into a solid rhythm. The pace got quicker and quicker and in the Energy Lab I was running 6:40s and 6:30s. DeBoom stayed those 50 yards behind and was constantly trying to close the gap. We overtook a cooking Lieto at Mile 22 and even though I was stripped down and deeply fatigued, constantly switching from belief to doubt over whether I could pull this off, it was still different than all the other hot races I had done. I had some kind of energy, and I was racing, not surviving.
At the hill into town I put in a final surge. I had no intention of sprinting to the line with DeBoom. I was able to lift my heart rate just a little and on the top I had 45 seconds. I kept pushing all the way down Palani, around town and through the finish line [Sindballe earned third place and clocked 8:21:30]. I was overwhelmed by the achievement. Finally making it after five years of hard work cannot be described in words.