Med Tent: How To Avoid Side Stitches
How to avoid this common muscle spasm.
Photo: Andreas Lindlahr +491734558080
Heading out the door? Read this article on the new Outside+ app available now on iOS devices for members! Download the app.
That sharp pain you can get in your side while running can sometimes be severe enough to force you to stop. It can be caused by several things, the most common of which is a diaphragm spasm—especially for runners who are just starting out or pushing a run beyond their current capability. The diaphragm is the muscle that separates the lungs and chest cavity from the abdominal cavity, and it expands and contracts with every breath. When it has to work too hard it can spasm, causing a pain that feels like a knife in your side.
Another common scenario: The diaphragm is working fine, but the breathing effort is excessive due to panting, and the accessory muscles of breathing, the obliques, spasm.
Triathletes face a cause specific to their sport: the stress of transitioning from cycling to running. If the core muscles aren't stretched after a long bike leg, they may spasm.
Fix It
Stretch it. First, try to relieve the side stitch without stopping your activity.
Raise your arm on the side that hurts and place that hand on the back of your head. Continue the activity. The idea is to allow those side muscles to stretch, hopefully relieving the spasm and, of course, the pain. Try this for 30 to 60 seconds. Repeat if the side stitch returns or doesn't abate.
If this is ineffective, take a break and stretch those side muscles as you rest. This is a two-pronged attack. One, you stretch the spasming muscles. And two, you rest your diaphragm and obliques, which should solve the problem.
Prevent It
Strengthen your core. Since the most common causes of side stitches are muscle related, increasing core strength with exercises like planks and crunches—especially with rotation (see at right)—often fixes the problem.
Try Pilates. I'm a big fan of Pilates classes for core reconditioning. Adding just two sessions a week to your normal regimen will give you incredible results. No more side stitches is one benefit, but the benefits to your sports performance will be even bigger.
RELATED: Triathlon Troubleshooter

Exercise #1: Rolling Side Plank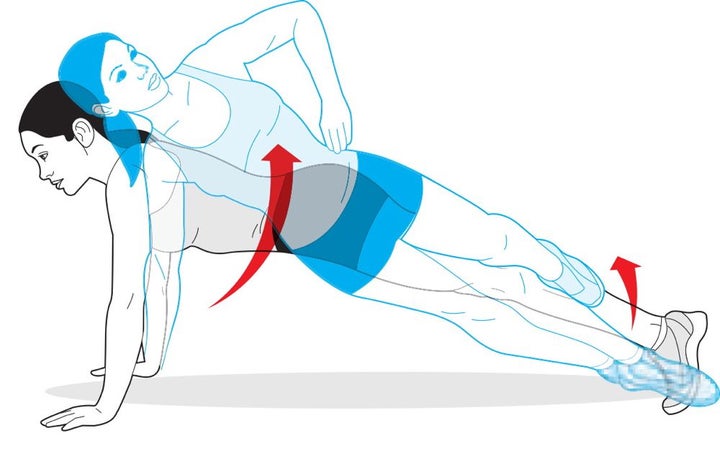 Start by performing a side plank with your right side down. Hold for 1 or 2 seconds, then roll your body over onto both elbows—into a traditional plank—and hold for 1 or 2 seconds. Next, roll all the way up onto your left elbow so that you're performing a side plank facing the opposite direction. Hold for another second or two. That's 1 repetition. For an added challenge, try it on your hands, starting from a high push-up position. Make sure to move your whole body as a single unit each time you roll.
RELATED: 7 Plank Variations For A Stronger Core

Exercise #2: Wrist-To-Knee Crunch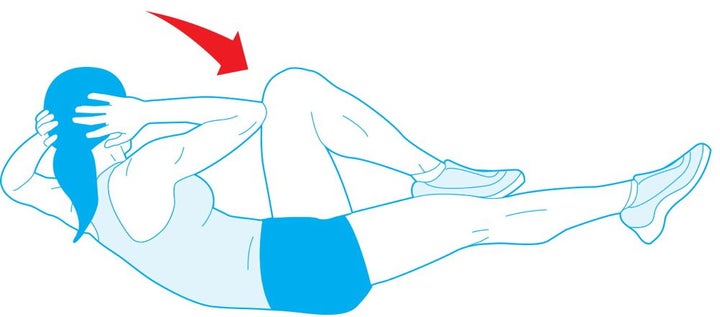 Lie faceup with your hips and knees bent 90 degrees so that your lower legs are parallel to the floor. Place your fingers on the sides of your head. Lift your shoulders off the floor as if doing a crunch. Twist your upper body to the left while bringing up your left knee to touch your right wrist. Simultaneously straighten your right leg. Return to the starting position and repeat to the other side.
RELATED: 6 Exercises To Build Core Strength
From The Athlete's Book Of Home Remedies by Jordan D. Metzl, M.D. with Mike Zimmerman. Copyright 2012 by Rodale Inc. Published by arrangement with Rodale, Inc., Emmaus, PA 18098.
New York City sports medicine specialist Jordan D. Metzl, M.D. is a 29-time marathon finisher and 10-time Ironman. His book, The Athlete's Book of Home Remedies, has more than 1,000 tips to fix all types of injuries and medical conditions.