The Benefits Of A Strong Core
The real reason to strive for the elusive six-pack.
Heading out the door? Read this article on the new Outside+ app available now on iOS devices for members! Download the app.

The real reason to strive for the elusive six-pack.

Before Lesley Paterson became a three-time Xterra world champion, there was a time when she finished races feeling weak. "I used to fall apart at the end because of a lack of efficiency and my form wasn't good enough," Paterson says. "I was cardiovascularly and muscularly strong, but I didn't have the core strength to support those muscles to allow them to work as hard as they could."
After putting a focus on core strength, Paterson found improved strength and efficiency in all three sports. Using what she's preached and practiced over the years, she put together a new "6-Minute 6-Pack" video series, with short, functional core exercises that even the busiest of endurance athletes can do.
Each sport uses the core in a slightly different way, but they all come back to the origination of power. "When you have three different sports that require multiple planes of motion, your core acts as a stabilizing pillar point from which all your power is generated," Paterson says. "If your core isn't strong, other stuff around it will overcompensate, and that's when injury and inefficiency can occur."
RELATED – Core Exercise: Oblique Abs with Lesley Paterson
In the swim
Every time you rotate while swimming, your core muscles (particularly your obliques) are put to work. Without that stability, Paterson says, you risk becoming hideously inefficient, especially while breathing. "Whether power is coming through your hips or shoulders, you need that long, strong core to generate power and keep things stable," she says.
On the bike
Every pedal stroke requires power from your hips and glutes. Without a strong core, "your lower back and shoulders will pick up your slack and you'll create a lot of unnecessary movement as you rotate through the pedals," Paterson says. "Other ligaments and tendons will do the work they're not supposed to, and you could get overuse injuries really quickly."
During the run
Because there's so much force driving down into the ground with every foot strike, your stabilizing muscles are hugely important. "If you don't have those stabilizers, one tiny incremental change in your biomechanics will have a massive consequence on your stride," Paterson says.
How to build a core routine
Get in the habit of doing 5–10 minutes of core work 5–6 days per week. Choose exercises that work in multiple planes of motion. "If you overdevelop muscles in any one direction, they'll do the work that other muscles are supposed to be doing," Paterson says. "You're going to create an imbalanced chain of events."
Buy It: $24,95, 6min6pack.com

Exercise #1: Scissor Jump With Twist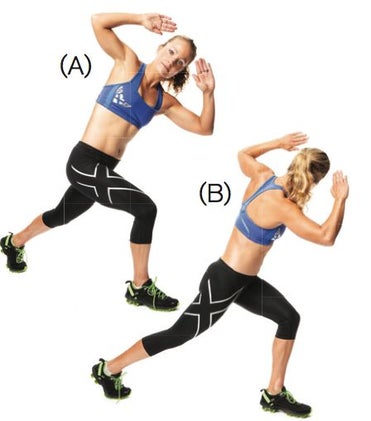 (Do for one minute)
Starting in a split stance with hands behind your head, lunge down and twist core in the direction of your front leg. Jump to alternate legs.

Exercise #2: Split Stance Lateral Bend
(Do for one minute)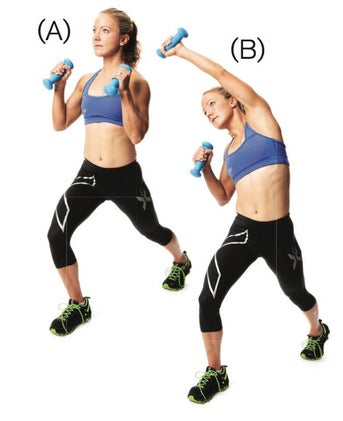 Starting in a split stance with light dumbbells at your shoulders, lunge down, then reach overhead to the opposite side, lengthening the core. Alternate arms.

Exercise #3: Swiss Ball Roll-Out
(Do for one minute)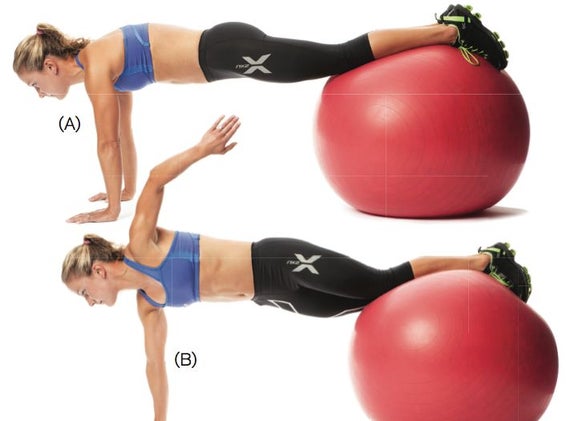 Roll out to a plank position. Alternate bringing each arm around in a broad swimming motion, keeping the core tight and hips raised.