How Tim O'Donnell Won 70.3 Peru at Age 42
O'Donnell's win is his first since overcoming a heart attack dubbed "the widowmaker." He reveals how he's been managing his condition and what workouts helped him break the tape.
Heading out the door? Read this article on the new Outside+ app available now on iOS devices for members! Download the app.
Tim O'Donnell has long come across as the most genial of professional triathletes. The former Naval Academy graduate shows up for his sessions with coach Julie Dibens and the eponymous "JD Crew" and dutifully gets the hard work done.
But now, turned 42, the dad of two has introduced one golden rule that shall not be broken: Tim is having Sundays off. "It's a day for recovery, mentally and physically, and a chance to make pancakes with the kids and enjoy being with Rinny," the six-time top-10 finisher in Hawaii says.
As he takes to the home gym for another intense session on the cycling trainer (O'Donnell has only biked once outside so far this year. Ok, twice, if you count the race win that prompted this feature.), Mirinda Carfrae, the three-time Ironman world champion who called time on her own illustrious triathlon career in March, provides a glimpse into O'Donnell's future.
"It's great to see her so happy," O'Donnell says from the family home in Boulder, Colorado, he shares with Carfrae and their children, Izzy and Finn.  "A lot of people say it must be really sad to retire, but Rinny did what she wanted to do in the sport and now she wants to put her energy into the kids. I want that freedom too, but I am not quite there yet."
O'Donnell concedes that retirement isn't too far away and if the men's professional field were racing in Kona this year, it would have presented a perfect farewell opportunity. (He sees no sense in heading to Nice.)
As such, the grind might extend into 2024, although he's not out to garner sympathy because not only does he still love the competition, but when he stood at the start in Peru the weekend before last, he could glance across to an evergreen 46-year-old Andy Potts.
"I joked with Andy that I should only go to races he's at so I still feel like the young guy," O'Donnell says. "We mainly meet in Kona [where O'Donnell leads 4-3 in the head-to-head] and I don't think I've beaten him in that many 70.3s, although I remember getting him at the 2012 worlds." (O'Donnell finished one place ahead of Potts in fourth.)
More than bragging rights for the over-40 crowd the recent victory in Lima represented O'Donnell's first triumph since suffering a heart attack when racing Challenge Miami in 2021—a near-fatal incident that has left him fitted with a stent and a crash course in education on heart health.
More on the recovery to follow, but first he breaks down what looked like a trademark "TO" performance; consistent over all three disciplines and controlling it to the tape.
The Race
"I was just happy to get a win, it's been a long time," he says. Originally planning to start the season in May, O'Donnell only added the race to his schedule because training had been going so well. Which makes the final part of the build-up somewhat ironic.
"I got a stomach bug from Isabelle the Monday after Easter and then got a head cold, so almost didn't get on a plane," he says. "But that's life with kids. As a parent there are probably not going to be any more perfect lead-ins to races any more so you have to make the best of what you have."
The favorite on paper, O'Donnell still had to deliver on the course, and after a solid swim and "blitzing" transition he headed out in the lead on the bike before being caught by 30-year-old American triathlete Dylan Gillespie at the end of the first lap of three.
"That was the dream scenario for me," O'Donnell explains. "Dylan's a great up and comer, but his run is not yet at the highest level." From T2, O'Donnell posted a 1:17:20 half-marathon, holding off Brazilian Igor Amorelli by over a minute, despite tripping on a speed bump as he ran past an aid station. "I was a little rusty, for sure," O'Donnell admits.
Adapting
O'Donnell guesses it was his 24th professional win and while a potential faceplant into the asphalt could have been an ignominious, it would have paled against the trauma in Miami, where O'Donnell started experiencing chest pains and a locking jaw on the bike, still finished in 11th place, and was then told in hospital that a blockage in the left anterior descending artery of his heart had led to a rupture.
"I have several genes that make me predisposed for this issue," O'Donnell explains. "The plaque built up over years, the arterial wall failed and it burst like a pimple. There could also be some correlation with increased blood flow from training compromising the interior lining of the arteries, but there's a big ol' stent in now so that the artery is stronger than it's ever been."
As rehabilitation continues, finding out that there isn't plaque build-up elsewhere has boosted O'Donnell's confidence, as has the dietary changes he's made, his monitoring protocols, and own education into heart health – particularly cholesterol-rich, apolipoprotein B (apoB)-containing lipoproteins, seen as a chief cause of atherosclerotic cardiovascular disease.
"When you look at cholesterol, it's not just your LDL [low-density lipoprotein] levels that might put you at risk, it's a little more intricate than that," he explains. "Looking at ApoB is getting into the weeds in finding out what really has an association to potential plaque build-up. "
O'Donnell uses InsideTracker, a personal health analysis app, to keep on top of his biometrics and visits a local clinic to have a blood draw about once a quarter. "Until now, medicine and health care has been retroactive," he adds. "We found out there was something wrong, and then we worked out how to extend our lives by treating it.
"Now we're at a stage where through genetic testing we can find out what we're predisposed to and how we get ahead of it. It expands the quality of life, not just how long we live for."
It's testament to his fortitude that O'Donnell even returned to professional racing, let alone qualified for last year's Ironman World Championship where he joked in the pre-race pro press conference that he thought he'd be invited to the special interest athletes Q&A instead.
In the fastest race the Hawaii Ironman had ever seen, O'Donnell stuck it out for a more than commendable 13th place in a time of 8:02:57 that was only three minutes slower than when he'd finished runner-up to Jan Frodeno in the last race on the island in 2019.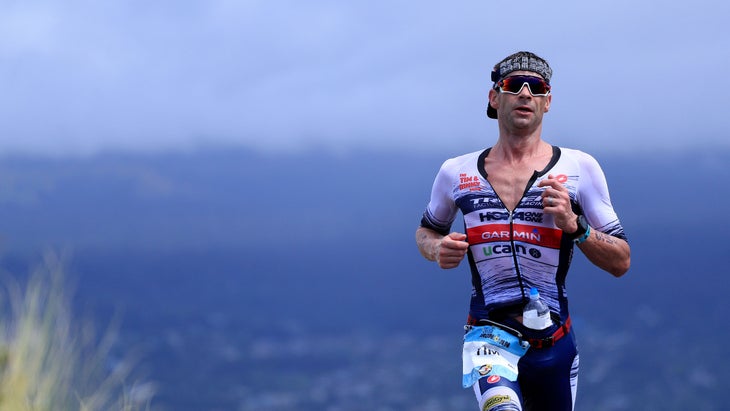 "There were a lot of questions as to whether I'd be ok, and getting to that finish line in Kona was a big burden taken off my shoulders," he says. "I've noticed that afterwards I've been more relaxed and enjoyed training and have been able to get my heart rate a lot higher – even to 180 in the race in Peru, which I haven't seen in a long time.
"The confidence is knowing we took care of the heart issue. Of course, there is still a long-term strategy and I'll have to put a lot of effort into preventing it from happening again when I stop racing, but the doctors are happy with where I am right now."
With no Hawaii on the agenda for this year, a target Ironman could become Maryland in September. A strong result would earn early qualification for when the World Championship returns for the men to the Big Island in 2024, but it's also a race not far from the Naval Academy where O'Donnell started his triathlon career.
Until then, the focus will be 70.3 racing. "It's a training load that is so much easier to manage in terms of balancing the family life. I talked to Julie and Matt Bottrill, my cycling coach, and said I'm all-in when we do sessions and we'll nail them, but I'm not interested in doing a lot of extra stuff, and I'm taking Sundays off! It gets harder as you get into your forties and there are a lot of studs training in Julie's group that I'm trying to keep up with."
Training tops out at 25 hours a week as O'Donnell has noticed physiological changes creeping in as he moves through his fifth decade. "The quality runs are the hardest thing to digest in terms of recovery and how they affect my other sessions," he says. "At the end of the year we were in Australia, and I focused on swimming for a couple of weeks. Back in Boulder, I brought more quality cycling in, but once I started bringing the quality runs in too I noticed that it was a little harder. I'd been slacking with my body work so once the quality runs came in, I was back on the massage table, strength and conditioning and active recovery."
Next up is Gulf Coast 70.3 on May 13. "It was my first 70.3 in college in 2001, I think. I was in my sophomore year and I remember crashing and having massive road rash. I went back the next year and won the age-group race!" More than two decades on, O'Donnell is now looking to back it up with a pro win. It could hardly be more TO.
Dialing in the TT power
Tim admits to being a trainer fiend over the winter, having rarely ventured outside on two wheels and using the trainer to deliver time-efficient sessions under the guidance of the wily Matt Bottrill. Here, Tim shares two of his top tips for making the most out of cycling indoors.
Over-unders to trick the mind
Tim says: "Matt loves an over-under set, which might be a 10-minute block of 30 seconds at over 400 watts and then 30 seconds at 210 watts. It gives me the spike in effort, but also means that by the end of the session I've ended up with the same time at threshold as I would have with a longer, steady interval yet in my mind it's been much easier."
Aero drills to save the watts
Tim says: "Concentrate on not only pushing the pedals but perfecting your form, such as narrowing the shoulders and tucking the chin. Have a mirror in front of you if it helps. It can be hard to focus on holding your aero position on the road with so many hazards, but there's a difference between getting into aero position and holding it for a long-course race so it needs work. You can practice this on any bike session on the trainer."