(Embarrassing) Lessons From The Pros
Even the pros—Chrissie Wellington included—had to start somewhere. We polled some of the pros to get them to share some of the lessons they've learned (often the hard way). Learn from their mistakes so you don't make the same ones.
Heading out the door? Read this article on the new Outside+ app available now on iOS devices for members! Download the app.

Even the pros—Chrissie Wellington included—had to start somewhere. We polled some of the pros to get them to share some of the lessons they've learned (often the hard way). Learn from their mistakes so you don't make the same ones.
Chrissie Wellington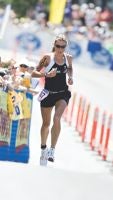 This is what some people might call a 'bad' race, but I believe it was the springboard to bigger and better things, as your supposed 'bad' races are the ones where you learn the most and which are actually the best races for each athlete in enabling them to grow and develop. Like injuries, positive things can come out of misfortune. It just depends on your perspective. Anyway, I returned to the UK from living and working in Nepal in May 2006 and within a few weeks I found myself on the start line at the National Sprint Championships near Birmingham. I didn't own a wetsuit so I borrowed one. It didn't fit. I got in the 14-degree Celsius water. The gun went off. My wetsuit flooded. I couldn't get my arms out of the water–let alone swim–and had to be rescued by a kayaker! Not the most auspicious start to an age group triathlon career! My next race was the Shropshire Olympic Distance triathlon, which went a darn sight better and I managed to qualify for the World Age Group Championships being held in Lausanne in September that year, and the rest, as they say, is history!

Tyler Stewart
Even with all the training and racing I have done over the years, I still often feel like a beginner out there! I thought these anecdotes hopefully illustrate the trials and tribulations all of us go through on the way to the finish line.
Don't decide to start a diet the day you do your first Ironman. This may seem pretty obvious but it was a lesson I learned the hard way. My first Ironman was Kona in 2004 and I really had no idea what I was getting myself into. Between the pre-race nerves, the excitement of having my family and friends out there and just my lack of knowledge, I never felt hungry out there so I just never ate. Oops! I raced for 11:23 on a slice of orange, 1/2 a Clif Bar and some water. Let's just say it was not a pretty picture! Even if you're not hungry or you don't think you can stomach another gel, finding a way to get calories in your body is the only way to avoid disaster out there. Again, it seems pretty obvious now but I'm proof that beginner athletes make MAJOR mistakes on race day.
Never let a "roadie" glue your tubular tires! As a newbie, I was just happy that someone was gluing my tires but what didn't occur to me was that pro bike racers get to switch wheels when they get a flat while triathletes need to change our own tires and get going again. For some roadies this means they'll used twice as much glue on tubulars, but I didn't know that. So when I got a flat out on the racecourse in St. Croix during my first 70.3 race, they were impossible to get off. Out of desperation, I even resorted to using my teeth to try to get them off. It was 26 minutes later before I was back on my bike and I had wrenched my back from trying to get that tire off. Lesson learned!
Always check your own nuts and bolts…and never trust a torque wrench! The 2008 Hawaii Ironman was my first time in Kona as a pro. On my way over to the race that year my seat post had cracked in shipping. I was lucky enough to get a new seat post expressed over, a local bike shop set it up on my bike and I thought nothing of it again. Race morning my bike was ready and I was fired up and ready to race. Out of the water and onto the bike I was just starting to get into a real rhythm when at mile 70 my bike seat started shaking and by mile 80 the seat had completely come off. I rode for nearly 20 miles without a saddle, until I got tech support. Funnily, the same guy who put the seat post on days earlier was the tech guy out on the course who helped me duct tape my seat onto my bike for the last 12 miles. Let me tell you that standing for 20 miles out of the saddle before a marathon does not lead to your best time.

Dede Griesbauer
My first race was an Ironman (not recommended). I raced in a pair of Lycra shorts that were not proper tri shorts. No bike pad, no leg grippers…nothing. I managed to survive the bike, and am happy to report feeling has finally returned to "the area" some 14 years later. I set out on the run, and the shorts rode up so badly; there was mega chaffing in Wedgie City from the first step. About 6 miles in, I had a few friends cheering. One had run shorts on and I begged her to change shorts with me. We ran off course, into a parking lot and dropped trou right there, swapping shorts. Now THAT is a good friend! (In this day and age, that would be considered outside aid, and you shouldn't do it, but "back in the day" it was a small Ironman race, and I was far from the lead….no harm, no foul!)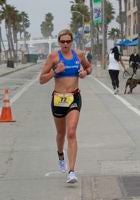 The second lesson: Spend some time with a good mechanic before your first race and learn some basic bike mechanics. At minimum, LEARN HOW TO CHANGE A FLAT! During my second season of racing, I was racing a half Ironman. I was a good swimmer, and exited the water first overall. I set out on the bike course, and about 3 miles in, I got a flat. I didn't have supplies to change the flat….Why carry that stuff if I don't know how to change one? I stood on the side of the road for over an hour until support arrived. The entire field passed me by. I went from first place to dead last. The support vehicle helped me change the flat and I started to soft pedal back to transition. The mechanic said, "Where are you going?" I said, "I'm in last place. I was in first. I am going back to transition and going home." Nicely, the mechanic said to me, "Look, you paid your money. You might as well finish it!". Guilted into it, I re-righted my bike and pressed on. It wasn't a stellar finish, but I finished never the less….and felt pretty darn good about it. Lesson learned. Learn to change a flat so you are self sufficient, and never give up…..even when things don't go your way.

Sarah Haskins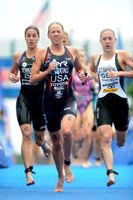 Back in the summer of 2003, I was gearing up to compete in one of my first triathlon races. Not having any mechanical experience, figuring out even the simplest modification on my borrowed bike was quite the challenge. I had to take the front wheel off of my bike to fit it in my car on race morning. When I got into transition, I was not quite sure how to put the wheel properly back on my bike. Probably the smart thing to do would have been to ask someone to help me put the wheel on instead of me attempting a haphazard job. Once I started the bike portion of the race I noticed that the front skewer was spinning around and yes, my front wheel was falling off! Only a mile or so into the ride, I stopped at the side of the road and in a panicked state saw a cop who was monitoring the traffic. I asked if he could put the wheel back on for me (I can't imagine what he thought), and he put the wheel back on and I was on my way. The entire rest of the ride, I was terrified it was going to fall off again and even asked a few triathletes during the race if it looked as if my wheel was okay. Let's just say I had a huge weight lifted off my chest once I got my feet on the ground running.

Nathan White
My very first Olympic distance race was in 2008 at the Wildflower triathlon. On the run, each kilometer was marked and I mistook the signs for miles. I got to 4 "k" into the run thinking it was 4 miles. Perfect, 2 miles to go. I ran hard for 3 more k's and saw 7 and finally realized they were kilometers instead of miles. At that point I figured I might as well finish the run out hard. I ended up having the fastest run in the field by over a minute, by "accident." Adapting to different courses and scenarios is a key part to competing well and being prepared for anything.
Jessica Jones
I always get done swimming and head to the individual showers in the locker room. Of course this is where I take off my suit and shower. Once in a blue moon I swim at a local Christian University. This place has public showers literally right next to the pool to rinse off. So I get done swimming and start to rinse off. Without even thinking I start to take off my suit. Suddenly I realize my mistake and I'm trying to get my wet suit back on (not easy as you can imagine!) I definitely got some harsh (and very happy) looks! So what advice can I give about this? Situational awareness!
Jim Lubinski
My first triathlon, I was standing on the beach staring out at the ominous Pacific Ocean, ready to conquer. I was wearing my brand new wetsuit (never been worn), I had done a bunch of laps in the pool, and I was confident I was going to WIN the race. The gun sounds, I jump in the water with 100 other savages, I get punched, kicked, elbowed, etc and I start swimming as fast as I can. I made it about 50 yards before I was spent. I started to hyperventilate and I thought I was going to die. I breast stroked for a few minutes, caught my breath, finished the swim and eventually the race, but I learned a ton from that experience. First, practice in your wetsuit; it is tight, constricting and uncomfortable at first. You need to get used to it. Next, get in with a group swim. There is nothing like the mass start of a triathlon. Jumping in the water with 99 of your closest buddies could also be called water boarding, so get used to it BEFORE the race. Third, pace yourself. Your adrenaline will be sky high, recognize that and try to keep it in check. And lastly, have fun and don't take it too serious.
Joe Munchak
I'm not sure how this ranks but I remember it pretty clearly all of 7 years later so here it is:
I think I was in the 3rd or 4th out of around 7 waves, which were spaced 5 minutes apart. A few minutes before my wave goes off, as I'm standing in the crowd on the beach, I felt an urge (you know, that urge). The nearest facilities had a long enough line to ensure that I wouldn't make it back in time for my wave to start, so I did what every man would do in that situation…held it in. Soon enough the gun went off and once I went horizontal, so to speak, things felt fine. In the ensuing thirty minutes it took me to complete the 1500m swim, I felt all sorts of strange sensations from being in the middle of the starting frenzy, being disoriented from the murky tea-colored water (and slightly afraid of alligators, after all, this was Florida)–all typical for your first open water swim, or so I was told. But the urge to go was not amongst these sensations, until I came out of the water. As soon as I stepped upright it came back with urgency and I had little time to spare. I recalled there being a few port-a-johns inside the transition zone, so I made a beeline towards them and managed to take care of business with a sub-3 minute T1 split (no small feat as this was a rather long transition zone). A buddy of mine doing the race, meanwhile, took about 6 minutes to carefully rinse and dry his feet, put on some more sunscreen and tie a bandana on his head. But at the end of the day, as long as you're having a good time out there, that's what really matters!
Christoper Bagg
The dumbest thing I ever did was during a sprint in Massachusetts. The distance was a little weird: 800m swim, 15-mile ride, and a 5-mile run. Then as now, my strength was the bike, and Tony Delonge was in the field. He was coming off a Lake Placid victory, and I knew I'd need to have a brilliant run to have a chance of beating him. Trying to keep my transition area "neat" I put my gel flask in one of my shoes (why did I think I needed a gel flask for a sprint?). When I came in off the bike, trailing Tony by a little less than a minute and within striking distance, I discovered a shoe full of Hammer Gel. It may not have affected my speed, but it sure was uncomfortable, and I ended up with some ugly blisters. Tony held me off anyway.

Charisa Wernick
A funny story: My first tri was in Chicago. I racked my bike and was sure I knew right where it was (at 6am when nobody else's bike was there). After the swim I spent AT LEAST 10 minutes searching for it (somehow it looked different with hundreds of other bikes around). Also, wearing soccer shorts on the bike is not very aerodynamic!

Tommy Zaferes
In my second triathlon ever I ran into the back of the pace van about 1 mile into the bike because a cop, who was blocking off an intersection, thought the lead out pace van was a pedestrian vehicle and stepped into the middle of the road to stop it. The van came to a screeching halt, and I ran into the back of it going about 29mph.

Damon Barnett
In one of my first triathlons, I came into T2 so flustered, I parked my bike in the completely wrong rack. I thought it was my spot because the person had the same running shoes. I didn't notice until I got to mile 1 and started to get blisters from shoes that were 3 sizes small. After that I started using a bright colored transition mat, and walking the path of the transition for T1 and T2.