Can Yoga Benefit Triathletes?
Heading out the door? Read this article on the new Outside+ app available now on iOS devices for members! Download the app.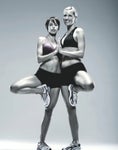 By now, most of us have heard about the many benefits of yoga. We know it's a great way to increase flexibility, reduce injury, gain balance and calm the mind. So, why are so few of us actually incorporating it into our training regimens? The answers range from "I don't have enough time," to "I'm doing too much already," and my favorite, "I'm not flexible enough."
The beautiful thing about yoga is that with the right combination of poses, it doesn't have to take a long time. If you have 10 minutes to stretch before and after your workouts, you have enough time to get in an effective yoga session. And the results are almost immediate, which is sure to please the typical type-A athlete!
The following sequence coordinates breath and movement with an emphasis on opening the hips and hip flexors, stretching out the backs of the legs and relieving pressure in the lower back. It is short and sweet, requiring no more than 10 to 15 minutes to complete, and appropriate for before and/or after a workout. Focus on taking long, deep breaths in and out of the nose to steady the nervous system as you fall deeper into each pose.
The rewards of incorporating a simple yoga sequence into your routine are well worth the 10 to 15 minutes it requires a few times a week. So close your eyes, take a deep breath and feel the gratitude of your newly limber limbs.
Click on each picture to learn more about each pose. Photos by John Segesta.
[nggallery id=9]