Andy Potts on Why the Swim (Still) Matters
Olympian and world champion Andy Potts talks about why the swim is still a huge part of any triathlon, and gives a five-day plan to rekindle your focus on the oft-neglected first leg.
Heading out the door? Read this article on the new Outside+ app available now on iOS devices for members! Download the app.
Swimming was my life for the better part of two decades before I turned myself into a triathlete. Like many, I came from a single-sport background that defined how I saw myself, how I trained for triathlon, and who I was. My swimming career took me around the world with the U.S. Swim Team, the University of Michigan, and my club teams; I saw life one black line at a time.
Swimming can get a bad rap in triathlon—mostly from those who weren't swimmers to begin with. And it doesn't help that, proportion-wise, it's the shortest leg of the three sports at every standard triathlon distance. In an Olympic-distance race, someone might spend 25 minutes in the water, but easily over an hour on the bike and then probably about half that or more on the run. The math gets even worse for swimmers as the distances get longer!
But as someone who used a strong swim to their advantage (which I'll get into below), I can tell you it does matter. Most recently, in pro races over the last two weeks, we've seen that the swim matters a lot.
Back at the European Open at the beginning of May, eventual winner Max Neumann put 49 seconds into runner-up (and world champion) Kristian Blummenfelt on the swim. How much did Neumann win by at the end? Twenty-seven seconds. That might not seem like a lot, but it ended up being worth $50,000 in prize money, and who knows how much in sponsor bonuses and opportunity profit to Neumann.
But of course, that's at the very front of the pro swim pack—what about the middle of the pro swim? To prove the point, on the same day, but thousands of miles away, American pro Sam Long swam well (for him) and put two-and-a-half minutes into eventual second-place finisher Trevor Foley. Similar story: The swim mattered there too. Long isn't known as a strong swimmer by any means, but he's worked on it; Foley's swim was substantially slower than the rest of the field, and—like many triathletes—has tons of potential upside. And it's more than just seconds or minutes lost in the water.
Let's look at three myths with lessons we can learn about the oft-ignored swim, and then below I'll share a five-day swim focus that'll help jumpstart your time in the water.
RELATED: A Complete Guide to Triathlon Swimming
Section divider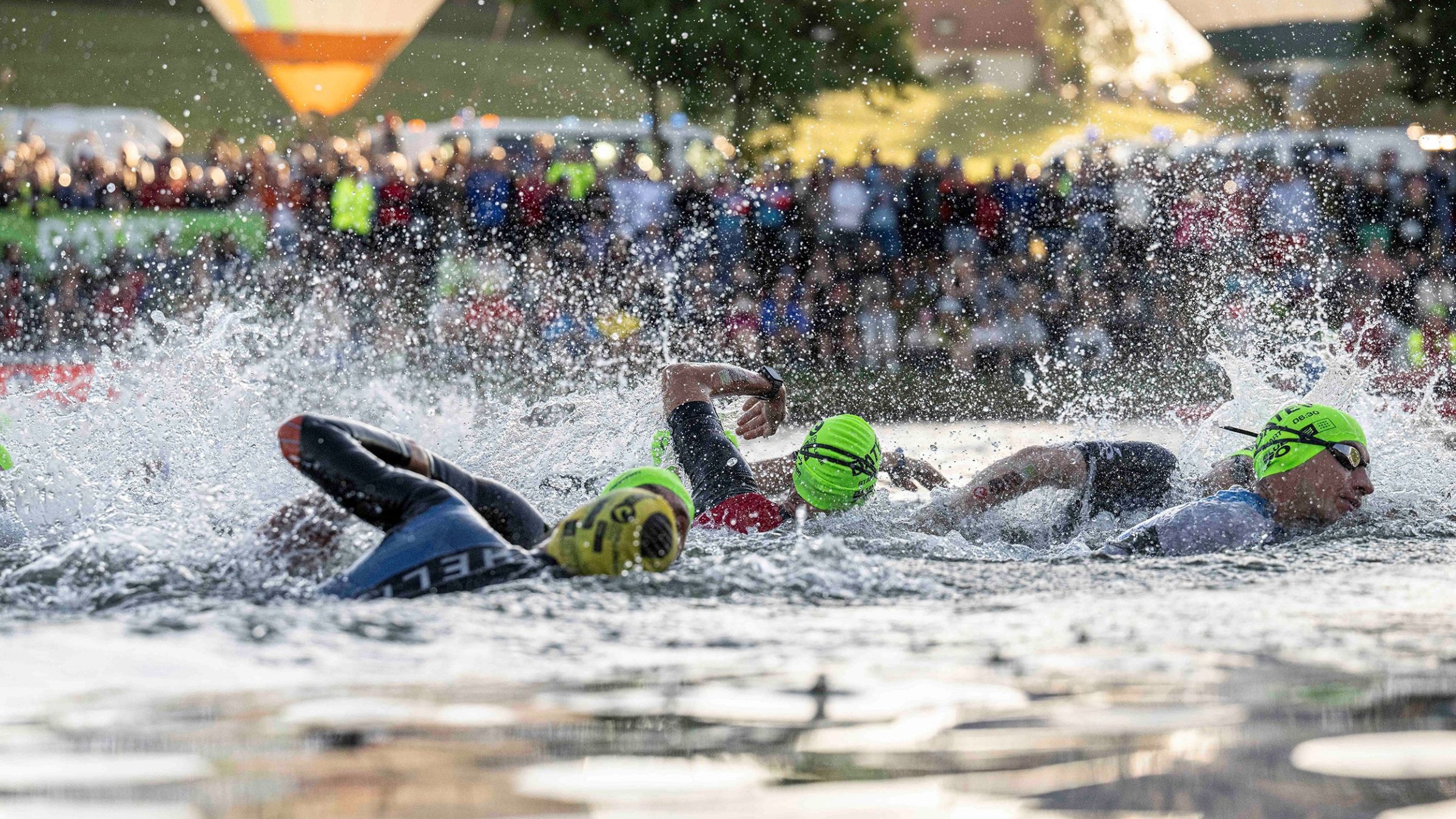 Myth #1: "The swim is less than 10% of your race, you don't need to train it."
In training—running and biking are weight-bearing sports and the run really punches back. Further, your heart and lungs do not know the difference between swimming, biking, and running. So, mitigate injury risk by swimming instead of biking and running. This is especially true early in the year, as you are starting to develop your aerobic engine and neuromuscular connections.
RELATED: Training Plan: Returning to Swimming After a Break
Myth #2: "Just survive the swim."
I hear this all of the time at races: "I just need to survive the swim," or, "I am just going to hang on to try and make the front group."
Wrong! It's race day, This is something you prepared for. Survival is not the way you should be thinking or the type of language you should be using for yourself on race day. You train so you can "control" race day and execute.
I cannot tell you the number of times that I both won and lost races because of the swim. At Escape From Alcatraz a few years ago, I took a left toward shore while the group took a right route, and that was the difference between vying for the win and taking fourth place. In Kona and other races, I have tried every strategy—such as lead from the front, swim hard, stay with the group, even backstroke half of the swim, and I can tell you this: You might not want to "over-swim" but you want to prime your body to stay both mentally and physically engaged as you come out of the water.
In the races that I was not engaged during the swim, I was flat on the bike and run. Furthermore, having a good swim can put you in a good position to execute your race strategy: If you look at racing right now, the margins between first and tenth place are slim; and the swim really is a big factor in how your race strategy plays out, like we've seen in recent pro races.
RELATED: Executing Your Race Strategy: The Swim
Myth #3: "I'm just not a swimmer, I can't change it."
What are the ingredients for success in triathlon swimming? Simply put—solid technique, comfort in the water, and strength swimming with the ability to change paces, effort, and turnover.
When I work with athletes at Andy Potts Racing, we focus on all of these aspects of swimming, weighing the areas that an individual swimmer needs the most to improve. Here is a sample week of Ironman swim focus training that you can scale based on your ability, stage of training and ability level.
Section divider
Five-Day Ironman Swim Focus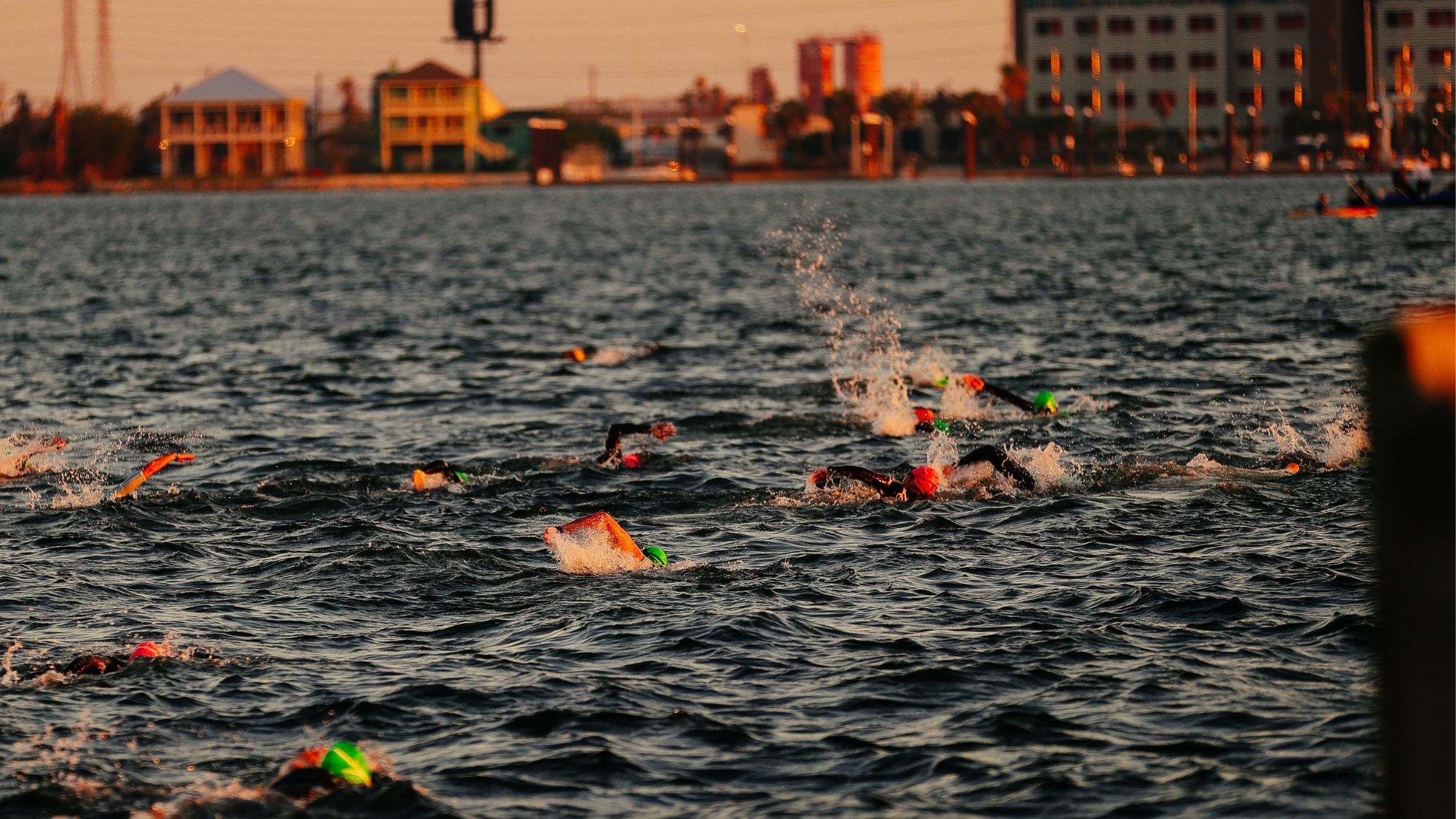 Note: These workouts use base pace, functional threshold speed, and pace zones to be most effective. Do the Day 4 test set at some point in the week or two prior to beginning the swim focus to learn your pacing.
Day 1
Day 2
Day 3
Day 4
Day 5
Punch & Settle
Sub-Threshold Aerobic Grind
Threshold Swim
Test Set
Recovery & Drill Work
Goal:
Improve your ability to respond to changes in pace, bridge up to a group, or "get away" from people in a crowded swim and then settle back in at race pace.
Goal:
Improve aerobic capacity and ability to swim at sub-threshold for extended periods of time. As the season progresses, adjust Work:Rest ratio.

Goal:
Increase ability and volume at threshold while adjusting Work:Rest ratio.
Goal:
Asses swim fitness and define base pace, FTS, and pace zones.
Goal:
Focus on technique and recovery from the heavy week of training.
Workout #1: Punch & Settle
Warm-up:
400 swim mixed stroke
Pre-set:
6 x 75 as
Odds: 25 kick on side / 25 backstroke / 25 build to z4
Evens: 25 at z4+ / 25 backstroke cruise / 25 @ z4+
Main Set:
1 x 400 as:
25 fast / 75 z3, repeat
1 x 400 as
50 fast / 150 z3; repeat
1 x 400 as
100 fast / 100 z3; repeat
1 x 400 as
150 fast / 50 cruise ; repeat
Cooldown:
300 WITH FINS as
25 single arm, breathe opposite side
25 swim
200 WITH FINS as
25 finger tip drag + catch up drill
25 swim
100 WITH FINS as
25 backstroke / 25 catch up drill
Workout #2: Sub-Threshold Aerobic Grind
Warm-up:
1 x 300 free
3 x 100 pull
2 x 100 as 50 kick/ 50 drill
Pre-set: :
8 x 50 as 25 kick on side/25 catch-up R=:10
Main Set:
All swims are z3. Base pace for rest interval.
1 x 500
1 x 250
1 x 400
1 x 200
1 x 300
1 x 150
1 x 200
1 x 100
1 x 100
1 x 50
Cooldown:
300 swim w/fins as 50 swim/50 catch-up drill
Workout #3: Threshold Swim
Warm-up:
3 x 50 kick w/board; r = :05
50 swim, build by 25 to z3/z4
3 x 50 kick w/board; r = :05
100 swim, build by 25 to z3/z4
3 x 50 kick w/board; r = :05
150 swim, build by 50 to z3/z4
3 x 50 kick w/board; r = :05
200 swim, build by 100 to z3/z4
r = :10 on kick / :20 on swim
Main Set:
2x
1 x 150
1 x 300
1 x 600 @ z4; @ base, 1min between rounds
Cooldown:
600 with fins as
50 kick on back, dolphin kick
50 kick on side or single arm drill BOS
50 kick on side or single arm drill BOS
50 best swimming- pretty swimming
*repeat throughout 800
Workout #4: Test Set
Warm-up:
300 choice
300 as 50 kick / 50 swim
4 x 50, build each 50. R=:20
*Make sure you are warmed up and your body is primed before starting.
Test Set:
3 x 300 at fastest sustainable pace; r=3:00
*FTS(functional threshold speed) = your average 100 pace
Cooldown:
500 easy fins and paddles
How to Calculate Your Swim Zones
Calculate your FTS (Functional Threshold Speed) FTS = Average 100 time for all 3 rounds.
Set your base pace:
Base pace = 115% of FTS = (1.15)*FTS
Set your pace zones:
EZ: 115% FTS / Base pace
z1- 110% FTS
z2- 107% FTS
z3- 100% FTS
z4- 93% FTS
z5- 90% FTS
Read more here
Workout #5: Recovery / Drill Work
Warm-up:
3 x 200 as
1- 25 kick, 25 backstroke
*repeat
2- 50 Catch Up Drill (11-1) / 25 up-tempo Stroke Rate / 25 backstroke
*repeat
3- 25 Fast / 25 Cruise
*repeat
R = :20
Main Set:
3 x 400 as
1- 25 kick, 25 backstroke
*repeat
2- alternate pull and single arm pull drills with swim
3- Fins: alternate kick or drill/kick and swim by 25 or 50
4- fins + pads: Perfect stroke. Alternate 'fast + cruise"
Cooldown:
100 easy as 25 scull / 25 cruise
RELATED: Faster Swimming Can Be Simplified Into One Equation