8 Rules For Running Safely On The Road
The pedestrian's playbook for sharing the road.
Heading out the door? Read this article on the new Outside+ app available now on iOS devices for members! Download the app.
When it comes to sharing the road, most of the conversation focuses on the safety of cyclists. But runners, too, should be part of the conversation. According to the National Highway Traffic Safety Administration, a pedestrian is killed every 88 minutes in traffic crashes. That's more than 16 people per day, and almost 115 people each week. Additionally, an estimated 137,000 pedestrians were treated in emergency departments for nonfatal crash-related injuries in 2017. Distracted driving is rampant, and though automakers are rolling out new safety features to keep drivers from hitting pedestrians, they don't always work, says a study by AAA. That's why it's important for pedestrians, which include runners, walkers, and wheelchair users, to take protective measures while running on or alongside the road. Here are some running safety tips to know.
RELATED: What To Do If A Dog Chases You
Remember: "Bike With, Run Against"
When you ride a bike, the rules dictate you do so in a bike lane, moving in the same direction as  the flow of traffic—because bikes, technically, are traffic. But when it comes to running, safety experts recommend following the opposite rule: walking and running against direction of traffic. Research shows there are significantly fewer car-pedestrian collisions when pedestrians walk facing traffic, whether on a sidewalk, in a bike lane, or on the shoulder of the road. When pedestrians see oncoming traffic, they are able to quickly and safely take evasive action, like coming to an immediate stop or jumping onto a curb. Pedestrians are also moving slowly enough to make eye contact with a driver to ensure they are seen before entering an exit or intersection; bikes, moving at a higher speed, don't have that luxury.
Stick to Sidewalks (When You Can)
"We know that having sidewalks in place is safer for pedestrians, with studies showing that sidewalks reduce pedestrian-vehicle crashes by 50 percent or even more," explained Katie Matchett, transportation planner and pedestrian advocate at Where The Sidewalk Starts. In some states, it's also the law – when there is a sidewalk available, it's illegal to walk or run in the street.
But just having a sidewalk doesn't mean everyone can access it, explains Julia Reitan, director of pedestrian advocacy group Feet First: "Sidewalks can be uneven, dark, narrow, temporarily blocked, or otherwise dangerous for someone running, walking or using a wheelchair. Someone walking alone may not feel safe if the sidewalk ahead is closed-in and dark; the wide open, well-lit street could be safer. Same for a runner faced with broken, uneven sidewalks, or someone in a wheelchair where the sidewalk has been carelessly blocked, or those trying to keep their six-foot COVID-19 social distance." In these cases, it can be smart to move off the sidewalk into the street, so long as there is room to stay clear of moving vehicles. 
Be Road Safety Wise
If you take to the bike lane or shoulder of the road, do so safely: run against the flow of traffic, as far off the side as you possibly can. For added protection, consider moving up to the sidewalk (if possible) when you see a vehicle approaching in your lane.
Additionally, choose roads where vehicle speeds are low and traffic-calming measures are in place. When drivers hit a pedestrian with a vehicle, injury and fatality rates increase exponentially with vehicle speed. "As an avid runner myself, I always look for the routes where drivers will be less likely to speed," said Matchett. "If I can't run on a separated trail or sidewalk, narrower roads with fewer lanes, medians, and other visual cues that tell drivers to slow down are my choice."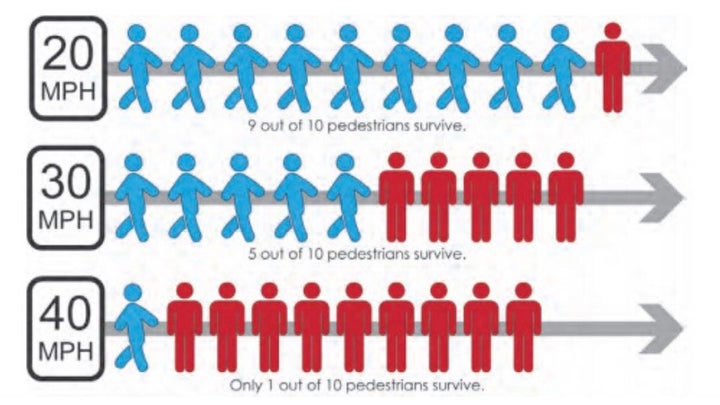 Position Wisely on Blind Curves and Hills
Occasionally, you may find yourself on a road with lots of hills or turns, which can make it difficult to see oncoming cars when running against traffic. If you are about to go over a hill or around a blind curve and there is no separation from the road, it can be safer to cross to the other side of the road, where you can see traffic as it goes around the curve.
Use The Crosswalk
Be predictable, and cross streets at crosswalks or intersections when possible. This is where drivers expect pedestrians. Some crossings, particularly on high-speed, multi-lane roadways, are especially dangerous and require extra caution. "Roadways don't always have the types of improvements needed to keep pedestrians safe, like high-visibility crosswalks, medians, or traffic signals)," explained Matchett. If a crosswalk or intersection is not available, locate a well-lit area and wait for a gap in traffic that allows you enough time to cross safely.
Also, look both ways before crossing. This might be a no-brainer, but it's a common running safety rule to forget when you're caught up in the scenery or the data on your watch. Make sure to look left and right before crossing—then do it again, to confirm there are no approaching vehicles that you missed the first time.
See and Be Seen
Whether on the sidewalk or the road, visibility is key when it comes to running safety, said Reitan: "Make eye contact with the driver, make sure the driver sees you. If you won't be able to see the drivers, make double-sure they see you. Yes, it's their responsibility to see you, but if they don't, it's your life." To boost your visibility, wear bright colors and don a running vest with lights or reflectors. If you're running at dawn, dusk, or when it's dark out, take a headlamp along for extra shine.
Run Single File
On the sidewalk, it's a courtesy to run single file, which allows space for other runners & pedestrians. On the road, single-file is also a safety measure to keep you and your training buddy from straying into traffic. For additional safety, use hand signals (like you would in a group ride) to communicate with the person behind you: point down for trip hazards, point to the side before turning, and wave your hand behind you to move aside for oncoming traffic.
Use All Your Senses
Safety requires vigilance, so don't do anything that could take your eyes or ears off the road. Wear sunglasses if it's bright out, and avoid headphones, especially when running on roads. If you absolutely must run with music, keep the volume very low or run with one earbud out, so you can still hear oncoming cars, cyclists, dogs or any other potential threat.