6 Exercises to Help You Have a Stronger, More Flexible Neck
Fix and treat the imbalances that are causing you neck pain or mobility issues.
Heading out the door? Read this article on the new Outside+ app available now on iOS devices for members! Download the app.
You would think that focusing on neck-strengthening exercises would help ease neck pain, but athletes should often begin elsewhere, explains New York-based Steve Gonser, a physical therapist, and creator of RunSmart Online. "The sore area is rarely the true cause of the injury. Instead, focus on fixing and treating the imbalances."
In addition to neck stretches, Gonser suggests zeroing in on the root of the problem by making sure you have good mobility in rotation and extension in your mid-back (thoracic spine). Next, you need to strengthen those muscles.
"Improving postural strength and shoulder blade [scapula] strength is critical to having a healthy neck," he adds. In fact, neck inflexibility and weakness can even be a source of issues in your swim.
If you're experiencing neck discomfort, Gonser recommends doing the following six exercises three times a week (extra core work helps too).
Standing Single Arm Row with a Twist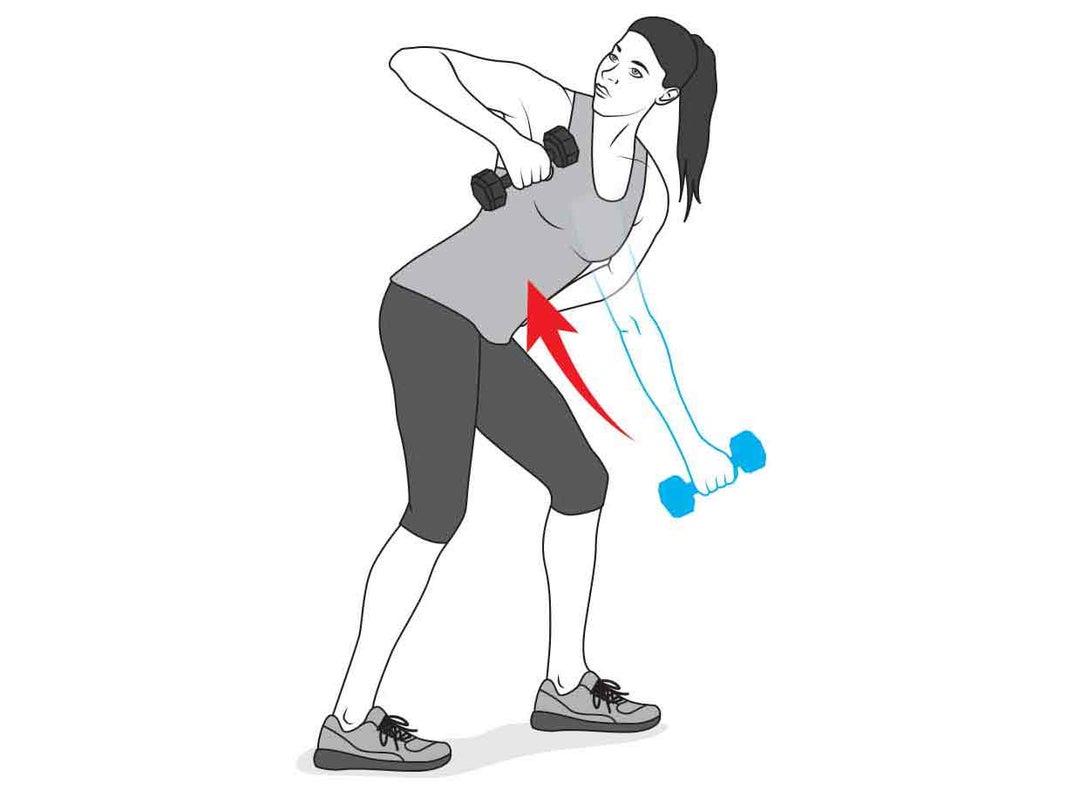 Helps: scapula strength and hip mobility
Holding a dumbbell in your right hand, place your left foot forward, bend your knees slightly, and hinge forward at the hips. Allow the dumbbell to hang at your side, bend your elbow, and pull it toward the left side of your body as you rotate your torso. Repeat 10-15 per side.
Trunk Rotation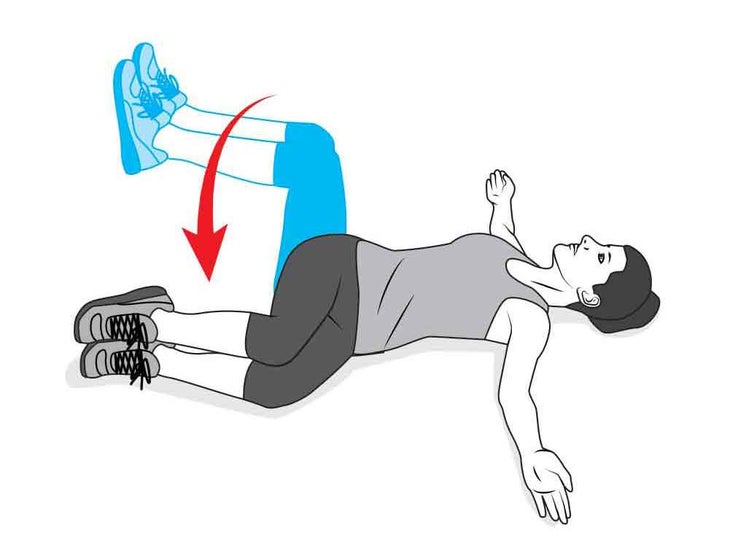 Helps: neck and back mobility
Lie on your back with your knees bent and feet raised. Carefully rotate your legs together to the left all while keeping your right shoulder blade at on the ground. Pause for 1-2 minutes and switch sides.
Neck Sit-Ups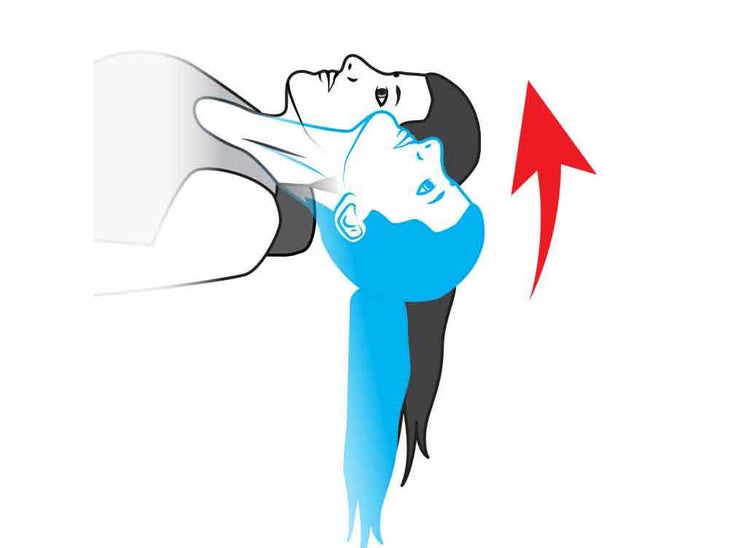 Helps: neck strength
Lie at on your back on a raised and soft-yet-firm surface that allows you to hang your head o the edge. Raise your head up just past neutral, use the weight of your head to create muscle contraction in your neck, then lower back down. Flip over onto your stomach, and do the same movement. Repeat 5-10 times front and back.
360-Degree Flexion and Extentions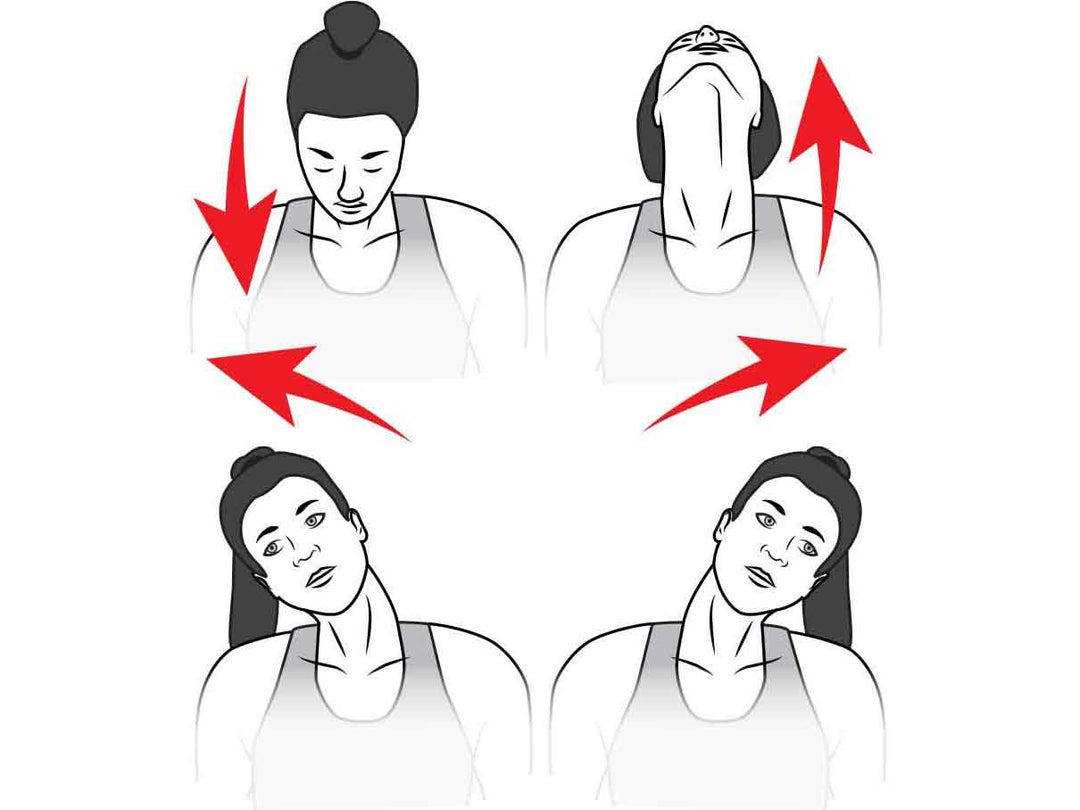 Helps: neck flexibility
Stand with good posture, shoulders relaxed. Tilt your
head forward, chin to chest, and hold for 20 seconds. Then tilt your head back, looking up at the ceiling, and hold for 20 seconds. Next, tilt your head left, ear toward shoulder, and hold for 20 seconds; same for the right. Repeat 2-3 times.
Child's Pose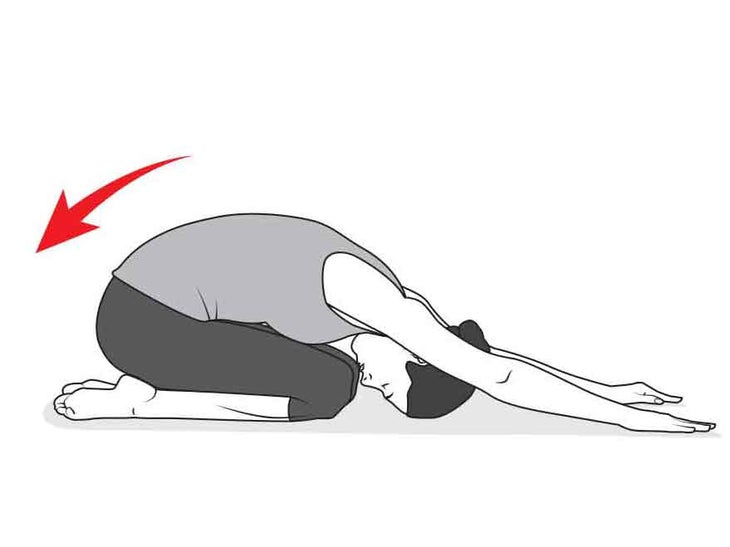 Helps: overall flexibility
Start on all fours with your feet together and knees apart. Bring your backside down until it's resting on your heels; bring your chest toward your thighs with arms extended straight ahead, palms down on the ground. Relax, hold, and breathe deeply for at least 1 minute. Try the same position, this time with arms straight back at your sides, elbows relaxed, and palms facing up.