5 Cycling Tips from Uberbiker Michi Weiss
The second fastest rider from last year's Ironman World Championship shares tips on getting from T1 to T2 as fast as possible.
Heading out the door? Read this article on the new Outside+ app available now on iOS devices for members! Download the app.

The second fastest rider from last year's Ironman World Championship shares tips on getting from T1 to T2 as fast as possible.
1. Simulate race conditions.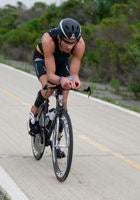 Prepare yourself for race conditions by training in similar situations. Weiss says, "I never go on a ride without bringing my drinks" and he makes a point to train in the hottest weather possible to prepare for the heat and humidity on the Queen K and Ali'i drive.
2. "I race my lonely race."
Weiss believes in using a power meter to control effort on the bike to ensure he's ready for a solid run. Instead of making dramatic adjustments based on the other racers on the course, Weiss says to ride your own pace and your own race. He says, "there are no tactics" for him on race day. Just his own effort.

3. Control your effort in the first hour.
Weiss typically comes out of the water behind his competition and rides straight through the field. He has a tendency to get too jumpy, however, during the first half of the race. To control his effort, Weiss consults his SRM power meter to look at his average power. Weiss says he, "always trains with watts and I really have to check my average watts during the first hour because I have to slow myself down. Otherwise I would have too much adrenaline and motivation coming from the swim and I would go too hard."

4. Feel your effort.
Although Weiss is a firm believer in power meters, he has developed a keen consciousness for his own effort level on the bike and doesn't change his effort with every glace at his computer. "I check my average watts every 10 to 15 minutes," says Weiss. "I don't check my power and then shift. It's all about the feeling but I know because I have the experience using the power in training and racing, but most important is still the feeling. Average watts counts for me, [not instant looks at the power meter]."

5. Train specifically.
Weiss recommends that age groupers looking to improve cycling performance "get in the race position on the triathlon bars and do pacing efforts. You really have to know what you're able to ride in the race. Some age groupers cannot tell you what they will ride. You should be able to calculate the bike leg and say, okay, that's my goal watts or my speed. It should be a controlled thing and practice that in training with 3×20 minute and 3×30 minute efforts.
Written by Aaron Hersh. Follow him in Kona @triathletetech.