3 Ways to Improve Your Swim Posture
Key in on these focus points to get the most out of your stroke.
Heading out the door? Read this article on the new Outside+ app available now on iOS devices for members! Download the app.
Key in on these focus points to get the most out of your stroke.

Growing up, you likely were told to stand up straight or not to slouch. That same advice should be carried to the water, where your posture significantly affects body position. Pay attention to these key postural focuses to help reduce excess drag and increase lift and speed. Use the concepts below to help create better posture in the water. Have a friend or swim coach video your stroke. You may be humbled by what you see, but you will have an honest look at how you're moving in the water and the areas that need the most focus. Remember, swim proud!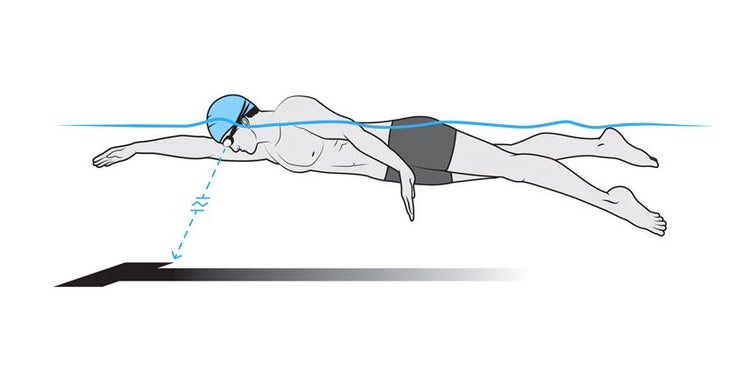 1. First, pay attention to your head position. If your head is too high or too low, your hips and legs will drop and cause drag. You'll find the sweet spot while gazing underwater a few feet in front of you at the black line until the waterline breaks at the top third of your head. This creates a bow wave off of your head and a subsequent pocket of air to easily breathe into. With the visual reference point on the black line, you can now create consistency and keep your head position in check.
RELATED: Two Simple Ways to Strengthen Your Swim Catch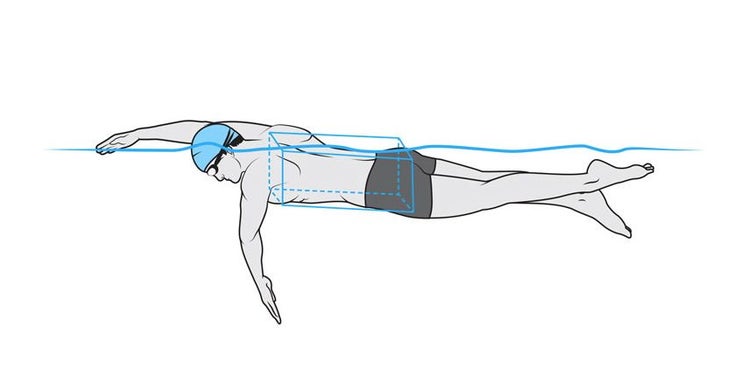 2. It's easy to unintentionally roll your shoulders forward and "slouch" during freestyle. Focus on drawing your shoulder blades back and down as your arm extends forward at the front of the stroke. This not only recruits the bigger muscle groups of your back for the entire pull, but it also helps to eliminate an arm cross-over in front of your head. Among many things, a cross-over can cause your legs to scissor open wide or fishtail in an attempt to counter-balance your body. Imagine you have a box framing your torso and the goal is to keep all of your body inside of it symmetrically. This will help to remove any lateral movement in the torso or fish tailing, as well as keep the shoulders square.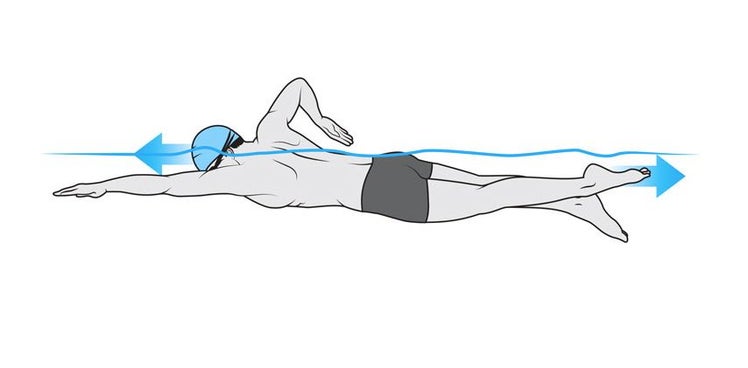 3. Let's look closer at the role of your core in the water. If your core lacks engagement during freestyle you will likely feel a disconnect in your stroke. Your core should function as the connecting piece of your upper and lower body, allowing for symmetry in which your shoulders and hips are rotating together on the same plane. Imagine extending the crown of your head toward the wall ahead, while also extending your toes to the wall behind you. This helps to create length in the torso and tautness in the core to stabilize the spine.