TriathlEats: Winter Turkey Burgers
The outdoor grill might be retired for the season, but you can still get your home burger fix with this flavor-packed recipe.
Heading out the door? Read this article on the new Outside+ app available now on iOS devices for members! Download the app.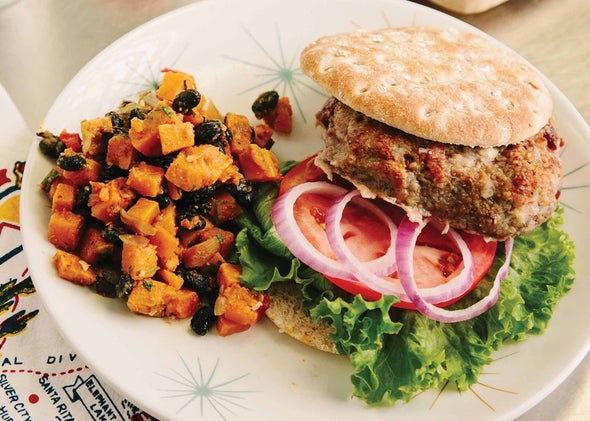 The outdoor grill might be retired for the season, but you can still get your home burger fix with this flavor-packed recipe.
Ingredients
1 onion, finely diced
½ cup celery, finely diced
3 pounds ground turkey
1 6-ounce packet gluten-free chicken-flavored stuffing mix
2 eggs
½ cup dried cranberries, finely chopped
½ cup walnuts, finely chopped
½ cup bacon, finely diced
½ cup crumbled feta cheese
Directions
Preheat oven to 350 degrees F. Heat a skillet and cook the bacon until the fat renders out, then add the onion and celery and cook until opaque and soft. Remove from heat and allow to cool. Place ground turkey, feta cheese, bacon, onion and celery mix, stuffing mix, cranberries, walnuts and eggs into a bowl and mix thoroughly. Form mixture into approximately 16 patties. Note that these will not shrink like beef patties, so ensure they are the size you require. Place on a greased baking tray and spray the top with olive oil spray. Bake until clear juices run from the burger, approximately 15 minutes, depending on thickness. Ensure they are cooked through by testing one—internal temperature should read 165 degrees. Serve with a grilled bun, lettuce, tomato and red onion, or as desired.
RELATED: Feta And Sun Dried Tomato Stuffed Turkey Burgers Recipe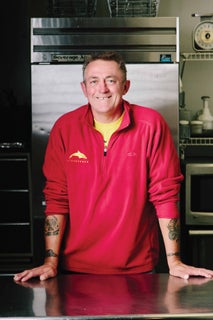 Meet the Triathlete-Chef
British expat Nigel Jenkins has been cooking for more than 3½ decades, most of which he spent as a cook in the British Royal Navy. He came to Virginia Beach, Va., 13 years ago to work as an admiral's personal chef, and he stayed after retirement. "Cooking-wise, it was a great education," he says. "A lot of [admirals] wanted good healthy food, and I got the opportunity to use a lot of fresh ingredients." It was in Virginia that he first met a group of triathletes (including his now-wife), so in an attempt to get fit and lose weight, he started training with them. In his first season, he raced two Ironmans and two half-Ironmans ("Yeah, I went crazy," he says). Since retiring in 2004, Jenkins has stayed busy with projects like his most recent venture, a private chef business called Food on the Run, where he cooks healthy ready-made meals. For the past few years, Jenkins has also been fighting a battle for his health—he was diagnosed with stage four liver and colon cancer, and he's undergone several rounds of chemotherapy and surgeries. He's currently in another six-month stint. "When I got diagnosed, I vowed that I would complete another Ironman race," Jenkins says. "It's put a sort of damper on my working out … however, I'm doing my best to stay fit and keep working. My goal is still to do another Ironman—I'm always going to have that goal."
Are you a triathlete who's also a chef? Email Fuel@competitorgroup.com and you could be featured on this page.