Recipes For Recovery
Boost immunity and eat well with these tasty dishes.
Heading out the door? Read this article on the new Outside+ app available now on iOS devices for members! Download the app.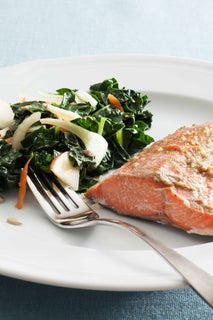 Boost immunity and eat well with these tasty dishes.
Pro triathletes don't just focus on their training regimens; they also carefully plan their post-training or race nutrition to maximize their ability to recover and boost their immune systems. As cold season approaches, pay special attention to your nutritional choices to help your body fight off small bugs and keep your energy up for racing, training and life. Try these recipes filled with foods that will help you recover like a pro.
Ginger, Honey and Curry Salmon
Omega-3-rich foods have been linked to decreased inflammation, muscle soreness, colds and upper respiratory infections. Salmon, halibut, flaxseeds, walnuts and edamame are popular sources of omega-3s. Tumeric, found in most curry powders, and ginger are natural anti-inflammatories and add great flavor to this recipe. Honey, also known as an anti-inflammatory, contributes muscle-repairing carbohydrates.
In a small bowl, whisk together 1 tablespoon honey, 1 tablespoon fresh crushed ginger, 2 teaspoons curry powder and ½ teaspoon salt. Rub this mixture over 20 ounces of salmon with the skin on, then wrap in foil and let rest for 20 minutes. Skin side facing down, grill on medium-high heat or bake at 400 degrees for 20–25 minutes until the salmon is just underdone. It pairs well with the kale salad (see next page).

RELATED: Grilled Wild Salmon Recipe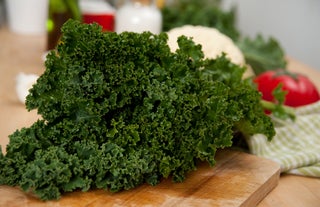 Warm Kale, Apple and Fennel Salad
Kale is a super-green with a grocery list of health benefits: It's packed with fiber, which helps the body lower cholesterol and detoxify, and is full of vitamins, as well as antioxidant, anti-allergen, anti-inflammatory nutrients called flavonoids. Most significantly, kale contains glucosinolates, which have been linked to cancer prevention.
In a large steamer pot (create your own by placing a colander in a large pot and cover with a lid), bring 2 cups of water to a boil. Cut kale and stems into ½-inch pieces, yielding 5–6 cups, and toss with the juice of one lemon. Steam for 5 minutes and remove from the pot into a large bowl. Clean one fennel bulb, removing the fronds and core, and slice half of the bulb thinly. Chop one large Gala or Braeburn apple. Add the fennel and apple, along with ½ cup grated carrot and 2 tablespoons sunflower seeds to the kale. In a small bowl whisk together 1 tablespoon olive oil, 1 tablespoon balsamic vinegar, 1 teaspoon agave, 1 teaspoon salt and ½ teaspoon pepper. Toss the dressing with the kale salad.

RELATED: Kale Recipes And Benefits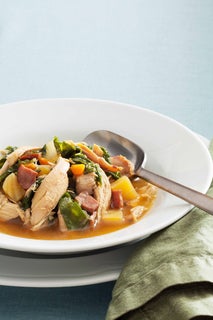 Anything But Ordinary Chicken Soup
There's more to chicken soup than that warm, soothing and comforting flavor that makes us feel better when we're sick. The warm broth, created by an amino acid released while chicken cooks, can reduce cold symptoms. Chicken soup is a great vessel for a variety of unique vegetables and ingredients. This recipe features Swiss chard and beets, which contain many of the health benefits of kale. Beets also have phytonutrients known to support the nervous system and eye health. Garlic is key to flavoring soup but also battles infection and bacteria. The secret flavor weapon in this soup is turkey bacon. Turkey contains selenium, which is known to decrease recovery time and muscle weakness by fending off the harmful byproducts of strenuous exercise.
In a large stockpot, sauté ½ cup, each, diced onion, celery and carrot with 1 tablespoon olive oil. After 5 minutes, add 1 tablespoon fresh minced garlic, 1 teaspoon fresh chopped thyme, 1 teaspoon fresh chopped rosemary, 5 slices diced turkey bacon and 1 tablespoon whole-wheat flour and sauté for another 2–3 minutes. Add 2 cartons (8 cups) low-sodium chicken stock and bring to a low boil. Next add 2 heaping cups red and/or yellow beets, cut into 1-inch cubes, along with the meat picked from one rotisserie chicken. Cover and let simmer for 30–40 minutes until the beets are cooked through. Lastly, add 6 cups chopped Swiss chard, including thin stems, turn the heat off and let sit covered for 10 minutes before serving. Season with salt and pepper to taste. Customize this recipe by adding other veggies, wild rice, beans or lentils.
RELATED – Eat Right: Five Nutritious Soup Recipes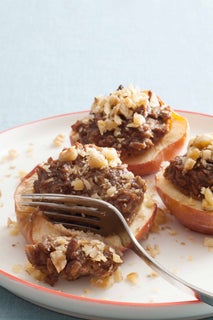 Oatmeal-stuffed Baked Apples
Oats are best known as a whole grain and healthy source of carbohydrates, but they are also immunity boosters, which can speed the injury-healing process. Plus oats are especially cost-effective, easy to prepare and taste delicious when sweetened with molasses. Molasses adds a big dose of iron to this recipe, and replenishing iron stores is important for keeping energy levels high. This recipe is great to have pre-made for a quick breakfast, snack or post-workout meal (add a cup of Greek yogurt for extra protein).
In a large pot, add 2 cups whole-rolled oats, 4 cups unsweetened almond milk, 2 tablespoons blackstrap molasses, 1 tablespoon agave, 2 teaspoons cinnamon and ½ teaspoon salt. Bring to a low boil and reduce to a simmer. Cover and let cook for about 10–15 minutes, stirring occasionally (the oatmeal should cook until it has enough form to be scooped into the apples). Cut 4 large apples in half. Using a tablespoon, scoop out the core and a small amount of the apple meat to create a space for the oatmeal. Line a baking sheet with foil and set the apples on the baking sheet. Scoop ½ cup of the oatmeal into each apple half. Sprinkle the apples with chopped walnuts and bake at 375 degrees for 30 minutes.

RELATED – Multisport Menu: Oats In An Instant