Pro Recipe: Melanie McQuaid's White Bean And Kale Soup
Heading out the door? Read this article on the new Outside+ app available now on iOS devices for members! Download the app.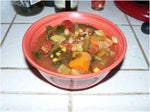 We've heard a lot recently about the many health benefits of kale, so when we heard that XTERRA champion and frequent Triathlete contributor Melanie McQuaid was a big fan, we asked her how she likes to prepare this vitamin-rich vegetable. This hearty soup is her favorite way to eat kale. The basic recipe below is vegetarian, but she suggests adding low-fat Italian sausage if you want to add protein and a more meaty flavor. She recommends serving this soup topped with shaved Parmesan cheese and black pepper and some crusty multigrain bread.
Ingredients:
•    2 cups of white beans, soaked overnight (or 2 15-ounce cans of salt-free white beans)
•    10 cups of water (If using canned beans, substitute 2 cans of broth in vegetable, chicken or French onion varieties and 2 cups of water.)
•    4 bay leaves
•    1 tablespoon coarse sea salt
•    3 tablespoons minced fresh rosemary (or use 3 teaspoons of dried rosemary)
•    2 tablespoons olive oil
•    1 yellow or sweet onion, diced
•    1 leek, chopped and rinsed well (white part only)
•    2 stalks celery, diced
•    2 carrots, diced
•    8 cloves garlic, pressed
•    1 teaspoon red chile flakes
•    6 Roma tomatoes seeded and diced (You can substitute a large 28-ounce can of diced tomatoes if you need.)
•    1 teaspoon cracked pepper
•    2 tablespoons balsamic vinegar
•    2 bunches of kale, any variety, chopped coarsely
1.        If cooking dry beans, place all of the beans in a pot with bay leaves, 2 teaspoons of rosemary and cold water. Bring to a boil and simmer until the beans are tender. In the last 15 minutes of cooking, add a teaspoon of salt.
2.       Sauté the onion in 2 tablespoons of olive oil until translucent and golden. Add the leek and continue to cook over medium heat until soft and translucent. Add the red pepper flakes, salt, garlic and rosemary and cook for a few more minutes. Add the tomatoes, liquid and beans and simmer over medium heat for 20 minutes.
3.       Add the washed and chopped kale to the soup and simmer until tender. The soup is ready to be served with a drizzle of balsamic and shaving of Parmesan sprinkled with black pepper.
Alternative options:  Adding Italian sausage to the soup, broiled in the oven and chopped into bite-sized bits, can make it quite spicy. If adding sausage, be careful with how much of the red pepper flakes you add. This soup is very hearty, but for the bigger appetites you can also add some rice pasta (rice holds its shape in soup a bit better in my opinion) or orzo to turn this soup into a minestrone. Also, if you really love rosemary, putting a few stalks into a tea ball and suspending it in the soup adds more rosemary essence. Kale is not the only green, leafy vegetable that would work in this recipe. You can use any variety of kale including green, purple, curly and flowering, but also you could substitute Swiss chard or spinach if you prefer.
—Compiled by Ashley Slaney