Grilled Wild Salmon Recipe
Massachusetts chef and triathlete Rich Perna shares a favorite savory salmon dish.
Heading out the door? Read this article on the new Outside+ app available now on iOS devices for members! Download the app.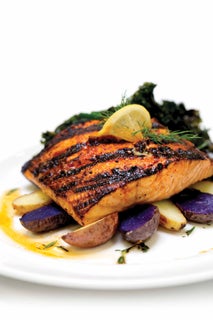 Massachusetts chef and triathlete Rich Perna shares a favorite savory salmon dish.
Ingredients
Salmon:
16 oz Wild Alaskan salmon fillet, skin on
½ tsp sea salt
½ tsp smoked Spanish paprika
Juice of ½ lemon
2 cloves garlic, minced
½ tsp of lemongrass, minced fine
Ground pepper, to taste
2 T olive oil
Kale chips:
Small bunch of kale
(dinosaur or Siberian are best)
Sea salt, to taste
1 T olive oil
Potatoes:
1 pound fingerling potatoes
Sea salt, to taste
2 T olive oil
2 cloves garlic, minced
1 tsp fresh rosemary, chopped
Directions
Cut the salmon into 2–3 equal pieces and place in a bowl. In a separate bowl, whisk together the ingredients for the salmon. Pour mixture over salmon, cover and marinate in the refrigerator for 2–4 hours. To make the potatoes, preheat oven to 375 degrees. Thoroughly wash and dry the potatoes, cut into halves, then toss with sea salt, olive oil and garlic. Place them in a pan and cook for approximately 45 minutes or until they are fork tender. Meanwhile, prepare the kale by carefully removing the leaves from the thick stems with a knife, then tearing into 1-inch pieces. Wash and dry with a salad spinner. Toss kale with sea salt and olive oil, then place on a cookie sheet. After the potatoes have been cooking for about 20 minutes, place the kale in the oven and bake until the edges are brown but not burnt, approximately 15 minutes. To cook the salmon, preheat grill or grill pan to medium-high heat. Place salmon on grill with skin side up and reduce heat to medium. Cook for 5–7 minutes, then flip salmon so the skin is down. Cook another 5–7 minutes or until desired rareness. After removing potatoes from oven, sprinkle with fresh rosemary and place in the center of plate. To serve, place the salmon over the potatoes and the kale chips off to one side.
Meet the Triathlete-Chef
After working as a chef for several years, Rich Perna retired his toque to become the director of dining services at Worcester State University, located about an hour west of Boston. He now oversees the entire food service department, which feeds about 6,000 students. While he isn't cooking daily, he's in the kitchen every day, tasting the food and helping to create the menus. Perna likes to make sure his ingredients are seasonal and local whenever possible. "We're in Massachusetts, so we do have a lot of farms in this area," he says. Triathlon was a longtime goal for Perna, who started racing in 2010. "I wanted to do it but I never dreamed I would," he says. "I became addicted right after the first one." Since then he's raced several sprints and Olympics and will be doing his first half-iron-distance race, the Patriot Half in Massachusetts, in June, with a potential Ironman on the horizon. "It's really about staying healthy," he says. "I want to be in optimum shape."

RELATED RECIPE: Citrus Grilled Salmon With Quinoa And Vegetable Salad