Four Ways To Use… Brussels Sprouts
Brussels sprouts are one fall and winter vegetable that doesn't ever seem to lose its appeal.
Heading out the door? Read this article on the new Outside+ app available now on iOS devices for members! Download the app.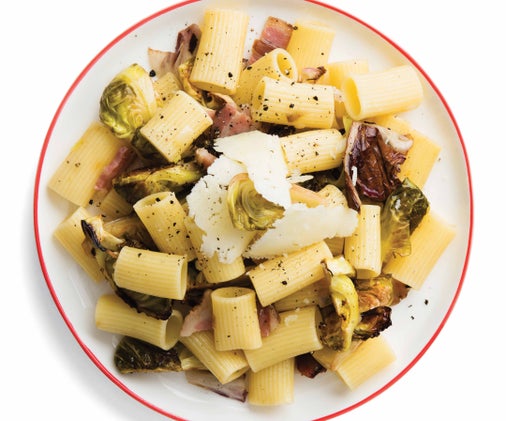 Brussels sprouts are one fall and winter vegetable that doesn't ever seem to lose its appeal. And why should they when they provide a long list of health benefits? Most notably, they are loaded with antioxidants and vitamins C and K, making them powerful immunity boosters and recovery aids. They also contain a significant amount of fiber, which helps to keep hunger away, promote digestive health and lower cholesterol. Simply roasting Brussels sprouts, bringing out their hearty flavor and crispy golden leaves, is a great way to spruce up your plate, but try experimenting with them using these recipes.
Balsamic Roasted Brussels Sprouts, Radicchio and Pancetta Rigatoni
Roasting Brussels sprouts and radicchio with balsamic vinegar caramelizes and brings out some sweetness in these typically bitter veggies.
Heat oven to 450 degrees. Line two rimmed baking sheets with foil and non-stick cooking spray. Cut 1 large head of radicchio into 6 wedges (keeping the cores intact) and 8 ounces Brussels sprouts into quarters and combine in a large bowl. Toss with ¼ cup balsamic vinegar, 2 tablespoons olive oil, 1 tablespoon chopped fresh thyme, 1 teaspoon sea salt and ½ teaspoon pepper. Spread evenly on baking sheets and roast for 10 minutes, toss and roast 5–10 minutes longer, until golden and starting to soften. Once roasted, roughly chop the radicchio wedges. In the meantime cook ¾ pound rigatoni according to package directions, drain and place back in pot. In a large saucepan, sauté 6 ounces diced pancetta for 5–6 minutes, until crisp and golden. Transfer to a paper towel-lined plate. In the same pan, immediately add 2 large sliced shallots and sauté 2 minutes. Add 1 cup low-sodium chicken broth and simmer for 5 minutes, until reduced by half. Pour this mixture, along with the sprouts, radicchio and pancetta, into the pasta pot and stir until well combined. Top each serving with 3–4 large shavings of pecorino Romano cheese.
RELATED: Corn, Basil And Arugula Salad With Roasted Shrimp Recipe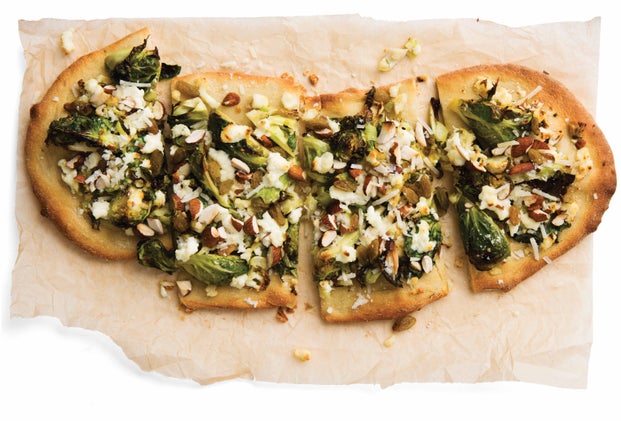 Brussels Sprouts Flatbread
Serve as a flavorful appetizer or fuel up with this meal before a hefty training session.
Heat oven to 425 degrees. Shape store-bought or homemade pizza dough into a rectangle shape on a large baking sheet sprinkled with cornmeal. Using a fork, poke holes in the dough and bake for 10 minutes. In a saucepan, sauté 6 finely chopped sage leaves, 3 cloves minced garlic, 1 teaspoon sea salt, ½ teaspoon fresh cracked pepper in 3 tablespoons olive oil over medium heat for 5 minutes (turn heat down if garlic starts to burn). Remove from heat and toss 2½ cups quartered Brussels sprouts into the oil mixture. Remove the dough from the oven and spread the sprouts mixture onto it. Evenly dollop 8 ounces of fresh ricotta cheese over the top and sprinkle with ¼ cup roughly chopped almonds. Bake for 20–25 minutes until crust, sprouts and ricotta are golden. Sprinkle flatbread with 1/3 cup golden raisins and immediately grate some Parmesan cheese over the top.
RELATED: Asparagus, Broccolini And Pesto Flatbread Recipe

Sesame-Ginger Sprout, Pear and Celery Root Slaw
Try using it as a topping on tacos or wraps, or as a lighter version of coleslaw for barbecue.
In a blender combine ¼ cup fresh squeezed orange juice, 2 tablespoons fresh squeezed lemon juice, 2 tablespoons minced fresh ginger, 2 tablespoons canola oil and 1 teaspoon sesame oil. Cut the ends off 1 pound Brussels sprouts, slice the sprouts thinly and transfer to a large bowl. Cut 1 red pear into thin matchsticks, cut the matchsticks in half and transfer to the bowl with the sprouts. Remove the skin from 1 small celery root, cut half of the root into thin matchsticks, cut the matchsticks in half and transfer to the bowl. Pour the mixture from the blender into the bowl and let marinate for 30 minutes in the fridge. Toss with 2 tablespoons, each, toasted almond slivers and cilantro and 1 tablespoon toasted sesame seeds. Leftovers can be stored in the fridge for up to 2 days.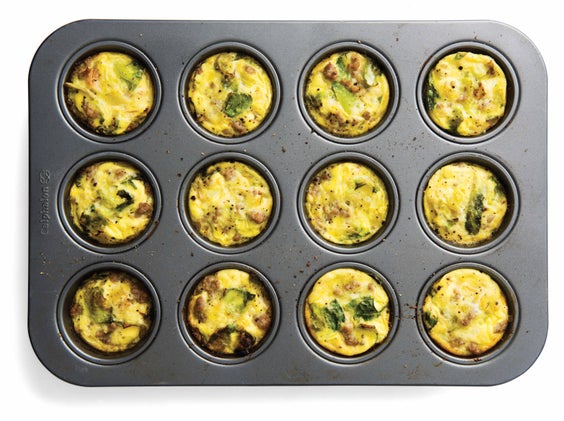 Turkey Sausage and Sprout Mini Frittatas
Try serving on toast, in a wrap or over rice or quinoa for a complete breakfast, or eat them individually for a filling snack.
Heat oven to 325 degrees. Prepare a non-stick muffin tin by coating it generously with cooking spray. Heat a large skillet over medium-high heat. Remove 8 ounces of turkey sausage from the casing and break apart in the skillet using a wooden spoon, cooking until golden brown (6–8 minutes). Remove and place in a bowl. Add 1 tablespoon olive oil and 8 ounces quartered Brussels sprouts to the pan. Sprinkle with salt and pepper and sauté, stirring often for 6–8 minutes, until golden. Add 2 cloves chopped garlic and sauté for 30 seconds. Put the sprouts in the bowl with the sausage, toss to combine and let cool. In a large bowl, whisk together 5 eggs, 3 egg whites and 1 cup 1% milk. Whisk in ¼ cup Parmesan, Gruyére or Swiss cheese. Divide the egg mixture evenly into the muffin cups. Spoon a scoop of the sausage and sprout mixture into each muffin cup. Bake for 25 minutes, until puffed up and golden. Let cool in the tin for 5 minutes, then turn over onto a baking sheet to remove. Store in the fridge wrapped individually in plastic wrap. Reheat in microwave or toaster oven. Makes 12.
RELATED: Asparagus Frittata Recipe
Jessica Cerra is the owner of Fit Food by Jess, a private chef and catering company in Encinitas, Calif., and the co-founder of Harmony Bar. A former professional XTERRA triathlete, Cerra now races for Twenty16 Women's Professional Cycling Team. Find 150 more of Cerra's recipes online at Triathlete.com/recipes.