4 Ways To Use … Almonds
Almonds show off their versatility as a tasty addition to both sweet and savory dishes in these four recipes.
Heading out the door? Read this article on the new Outside+ app available now on iOS devices for members! Download the app.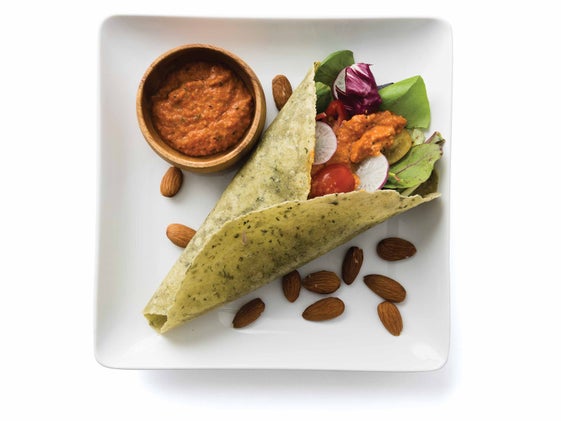 A heart-healthy nut rich in monounsaturated fat, almonds boast many other health benefits that endurances athletes don't want to miss out on. They are an abundant source of vitamin E, a powerful antioxidant, and they contain a significant amount of magnesium, which improves the transport of nutrients and oxygen to the body by assisting blood flow. Almonds have also been shown to help to control blood sugar levels, making them a smart addition to meals, as well as a great snack. In fact, a handful of almonds (1/4 cup) contains 5 grams of protein. Almonds show off their versatility as a tasty addition to both sweet and savory dishes in these four recipes.
Marcona Almond Romesco
Marcona almonds have a slightly softer, sweeter texture, making them a great addition to sauces like this romesco sauce. Toss in pasta, dollop into wraps, spread onto pizza or scoop up with veggies.
In a sauté pan, toast ½ cup Marcona almonds over medium heat until fragrant, about 3–5 minutes, remove and reserve. In the same pan heat 2 tablespoons olive oil and sauté 1 tablespoon garlic for 1 minute. Add 1 15-ounce can fire-roasted tomatoes and ½ cup dry white wine and sauté for 10 minutes. Remove from heat and let cool for 10–15 minutes. In a blender or food processor, combine the almonds and mixture from the pan with 1 cup roasted red peppers (from jar, drained and rinsed), 1 tablespoon chopped fresh parsley and salt and pepper to taste. Serve warm immediately or store in the fridge.
RELATED: 10 Healthy Grocery Store Options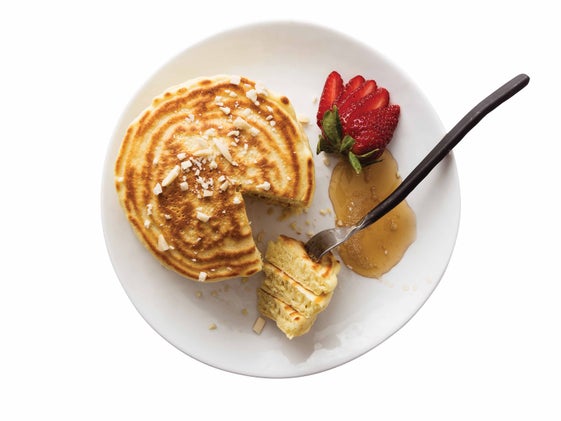 Almond Flour Pancakes
Almond flour makes a great substitution in this pancake recipe (in fact, you might never want to go back to regular flour!). These pancakes are a clean palate for your favorite add-ins or toppings like berries, bananas, chia seeds or yogurt.
In a bowl, whisk together 2 large eggs, ¾ cup vanilla almond milk, and 1 teaspoon pure vanilla extract. Add 1¾ cup almond flour, 1 teaspoon cinnamon, 1 teaspoon baking powder and a pinch of salt. Gently stir the ingredients together, and drop ¼ cup-sized dollops onto a prepared griddle or skillet. Cook for about 3 minutes, until bubbles form, and gently flip to cook for 1–2 minutes on the other side.
RELATED RECIPE: Trail Mix Pancakes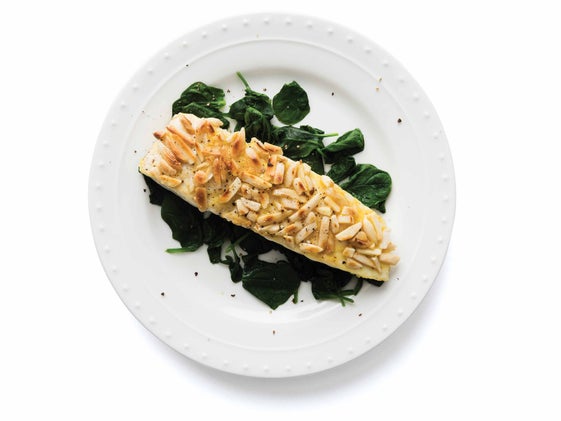 Almond-Crusted Halibut
This is an easy way to make fish fancy and add texture to a dish. This recipe works with any white fish like tilapia or halibut. Try serving over steamed spinach, topped with the Marcona almond romesco sauce.
Preheat oven to 425 degrees. Set up an assembly line of three plates: one with 2 tablespoons flour, one with 1 beaten egg and one with ½ cup slivered almonds (optional to add any herb or seasoning here). Salt and pepper four 5- or 6-ounce portions of white fish. Dredge them through the assembly line, on one side only, starting with the flour, then egg, then almonds. In an oven-safe pan coated with non-stick cooking spray, sear on medium heat, almond side down for 1 minute. Flip over and put directly into the oven and bake for 10–12 minutes, until fish is just underdone. Remove and serve.
Not a fish fan?
Try the almond-crusted halibut recipe with chicken breasts. Follow the same directions except bake until internal temperature reaches 165 degrees.
RELATED: 10 Ways To Use Canned Pumpkin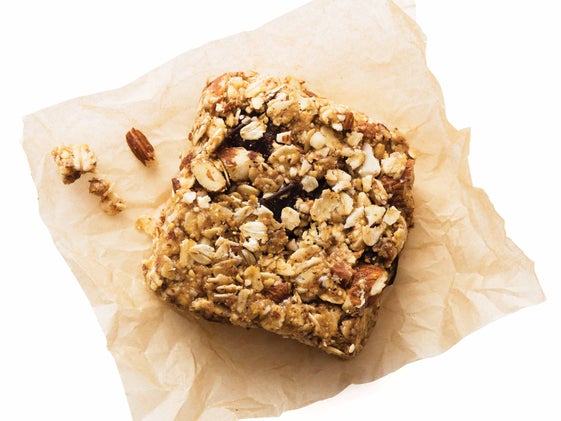 No-Bake Almond Granola Bars
All you need to know: These granola bars have almonds and dark chocolate. Whip up a batch for dessert, or pack with you for training fuel. Bonus: No baking required!
Line a 9×9-inch baking pan with parchment paper. In a bowl, combine 1¾ cup quick oats, 1½ cups chopped toasted almonds, 2/3 cup dark chocolate (chips or roughly chopped) and ½ teaspoon salt. In a separate bowl, whisk together 1 cup creamy almond butter, ½ cup agave and 2 teaspoons pure vanilla extract. Stir this into the bowl with the dry ingredients and use a spatula to spread the mixture evenly into the baking dish. Cover and refrigerate for at least 2 hours and up to overnight. Recommend to cut into 16 pieces, individually wrap and store in fridge or freezer.