4 Sweet Potato Recipes For Endurance Athletes
Sweet potatoes should have a place in any performance-focused diet.
Heading out the door? Read this article on the new Outside+ app available now on iOS devices for members! Download the app.
Sweet potatoes should have a place in any performance-focused diet. One medium sweet potato contains more than 100 percent of the daily recommendation for vitamin A, integral in eye health and immunity. They boast high vitamin C content, known for warding off cold and flu viruses. Sweet potatoes also provide a boost of iron, essential for keeping energy levels high, as well as potassium and magnesium, which both aid in healthy muscle and nerve function. Not only is this root veggie rich in vitamins and minerals, it tastes incredible with little preparation, stores well and is super affordable. Try these four recipes and discover just how satisfyingly versatile a sweet potato can be.
Sweet Potato Pizza Pie
Nutrient-rich comfort food? Yes, please.
Preheat oven to 400 degrees and prepare a pizza stone or round baking sheet with a light dusting of coarse ground cornmeal. Shape either homemade or fresh store-bought pizza dough around the stone or baking sheet. Poke holes in it with a fork, and bake for 10 minutes. Remove from the oven and immediately turn the dough over. In a large skillet, sauté half of a thinly sliced red onion, 2 tablespoons olive oil, 1 teaspoon sea salt, and ½ teaspoon pepper over medium-high heat for 5 minutes. Add 4 strips roughly diced turkey bacon and sauté another 3–4 minutes. Add 1 tablespoon minced garlic and sauté for 1 minute. Add 1 tablespoon olive oil to the pan along with an 8-ounce bag of fresh spinach, and sauté until the spinach is wilted, about 5 minutes. Spread 1 cup sweet potato purée (about 1 large roasted or microwave-cooked sweet potato, peeled and mashed) onto the over-turned pizza dough. Then spread the spinach mixture from the pan evenly across the sweet potato purée. Scatter about ½ cup (each) ricotta and goat cheese on the top, place back in the oven and bake 20–25 minutes longer, until the cheese becomes golden and the crust starts to crisp at the edges.
RELATED: What Do I Eat The Night Before A Race?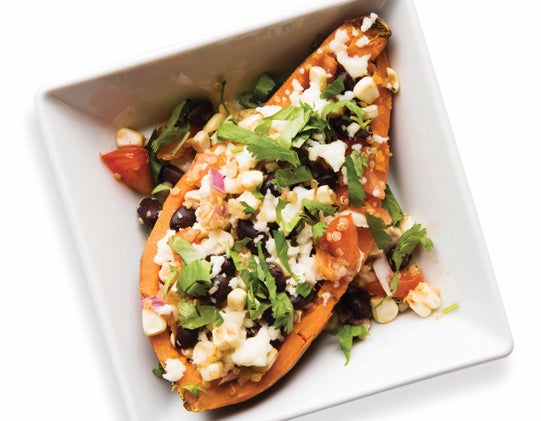 Quinoa, Black Bean & Corn Stuffed Sweet Potatoes
With 8 servings in one batch, this easy recipe is big on flavor and perfect for quick leftovers or on-the-go lunches. (Or make half the recipe for a smaller serving.)
Preheat oven to 400 degrees. Poke 8 small- to medium-sized sweet potatoes with a fork, wrap in foil and bake about 45 minutes, until soft. Remove from foil and let rest. In the meantime, combine 1½ cups cooked quinoa, 1 cup finely shredded rotisserie chicken breast, 1 cup black beans (drained and rinsed), 1 cup corn (recommend fresh cut from cob), ½ cup salsa fresca, 2 tablespoons canola oil, 1 tablespoon chili powder, ½ tablespoon cumin, ½ tablespoon paprika, 1 teaspoon salt and ½ teaspoon pepper in a large bowl. Cut the sweet potatoes in half lengthwise, mash the insides lightly with a fork, and then fill evenly with the quinoa mixture. Sprinkle 1 tablespoon queso fresco, or light Mexican cheese, over the top of each potato. Place on a baking sheet lined with foil, and place back in the oven for 5 minutes, or until cheese melts. Serve with fresh cilantro sprinkled on top.
RELATED: Breakfast Quinoa Recipe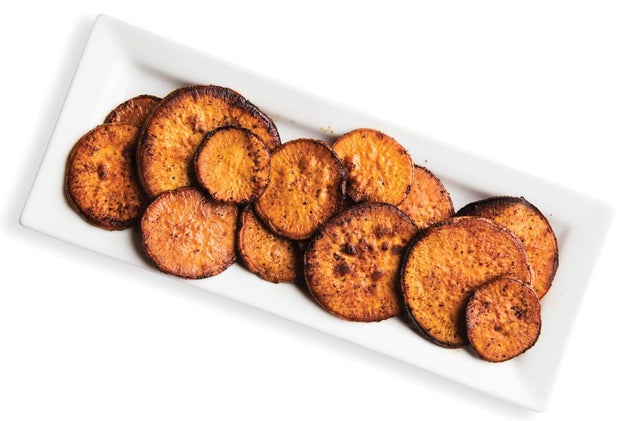 Chipotle BBQ Roasted Sweet Potato Chips
If you love sweet potato fries you'll crave these chips. Crisp and sweet, with a bit of heat, they complement grilled meats, salads, wraps and sandwiches.
Preheat oven to 425 degrees and prepare two baking sheets with non-stick cooking spray. In a large bowl combine 3 tablespoons canola oil, 2 tablespoons fresh lime juice, 1 tablespoon agave, 1 tablespoon molasses, 1 tablespoon chili powder, 1 teaspoon cumin, 1 teaspoon sea salt, ½ teaspoon chipotle seasoning and ½ teaspoon pepper. Slice 1 pound sweet potatoes into thin (¼-inch) slices, add to the bowl and toss until well combined. Spread the sweet potatoes evenly onto the baking sheets. Bake 20–25 minutes, turning once, until golden brown and starting to crisp.
RELATED – Eat Right: 6 Smart Snacks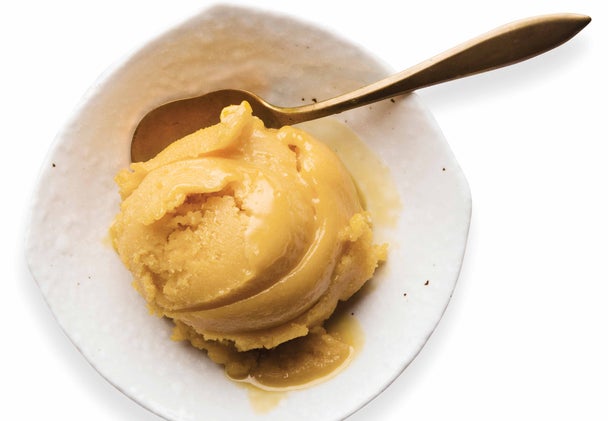 Sweet Potato Ice Cream
Whipping up this creamy dessert is a breeze—no ice cream maker needed!
In a food processor or blender, add 1 can full-fat coconut milk, 1 cup sweet potato purée (about 1 large roasted or microwave-cooked sweet potato, peeled and mashed), 1/3 cup pure maple syrup, 2 teaspoons pumpkin pie spice, 1 teaspoon vanilla and ½ teaspoon salt. Blend for 30 seconds until super smooth. Pour mixture into a 9×9-inch baking pan or a bread pan. Cover and freeze for 3–4 hours. Scrape the mixture out of the pan back into the food processor or blender and blend until smooth and creamy. Pour into a sealable container and let set for at least 1–2 hours in the freezer. Scoop and enjoy.
RELATED RECIPE: Stuffed Sweet Potatoes
Jessica Cerra is the owner of Fit Food by Jess, a private chef and catering company in Encinitas, Calif., and the co-founder of Harmony Bar. A former professional XTERRA triathlete, Cerra now races for Twenty16 Women's Professional Cycling Team. Find 150 more of Cerra's recipes online at Triathlete.com/recipes.