4 Ideas for Creating a Balanced Breakfast
A balanced breakfast can be hard to come by on hectic mornings, but these four simple recipes provide the nutrients and flavors for the ideal morning fuel.
Heading out the door? Read this article on the new Outside+ app available now on iOS devices for members! Download the app.
Breakfast sets the tone for the day, as it influences your energy levels, ability to recover from training sessions and future eating choices. A balanced breakfast can be hard to come by on hectic mornings, but these four simple recipes provide the nutrients and flavors for the ideal morning fuel.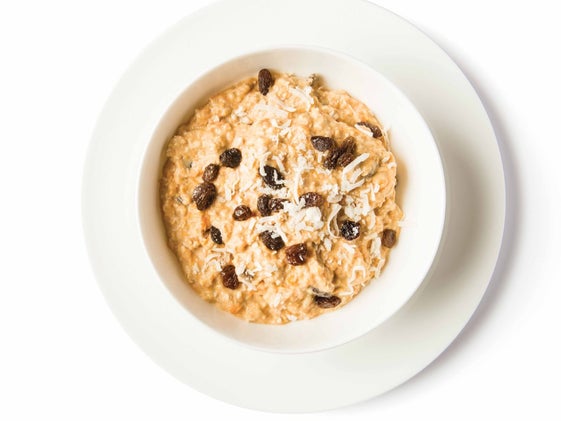 Sweet-Potato Overnight Oats
These oats are packed with energy and are great before a long day on the bike. They're so sweet and creamy you may even dip into them for dessert.
Serves 6
Ingredients
1 extra large sweet potato or yam
2 cups whole oats
2 cups vanilla almond milk
1½ cups plain Greek yogurt
½ cup raisins
1/3 cup finely shredded coconut
¼ cup pure maple syrup
1 tsp cinnamon
½ tsp ground ginger
½ tsp pure vanilla extract
½ tsp sea salt
6 T dry toasted, chopped pecans
Directions
Using a fork, poke holes in the sweet potato. Microwave or cook until soft. In a large bowl, mix together the rest of the ingredients. Remove the skin from the sweet potato while it is still hot, and mash the flesh with a fork in a bowl. Combine this with the oat mixture until creamy. Portion the mixture into six storage containers and let set in the fridge overnight. Sprinkle with 1 tablespoon of pecans before eating.
Turkey Sausage Egg Muffins
Get a boost of protein from these savory egg muffins. Try customizing with your favorite veggie and cheese add-ins and serve up by slicing onto whole grain toast, crumbling in a wrap or throwing on top of rice or steamed sweet potatoes.
Makes 12 muffins
Ingredients
4 eggs
4 egg whites
2 T 2% milk
½ tsp pepper
8 ounces turkey or chicken sausage
2 tsp olive oil
8 ounces button or cremini mushrooms, sliced
¼ cup leeks (or onion), finely diced
¼ cup shredded Gouda cheese
Directions
Heat oven to 325 degrees. In a bowl, whisk together the eggs, egg whites, milk and pepper. Remove the sausage from the casing and crumble into a skillet over medium heat. Cook 6–8 minutes until brown and transfer to a bowl. In the same skillet, add the olive oil, leeks (or onion) and mushrooms and sauté for 5–7 minutes, until golden. Add this to the bowl with the sausage along with the Gouda cheese. Heavily coat a muffin tin with cooking spray. Evenly divide the sausage mixture into the cups. Then pour the egg mixture over the top and bake for 25 minutes, until the tops are golden. Remove and let cool for 5 minutes before running a knife around the muffins and then turning the tin over onto a baking rack. Let cool completely, wrap muffins in foil and store in the fridge.
Buckwheat Toaster Waffles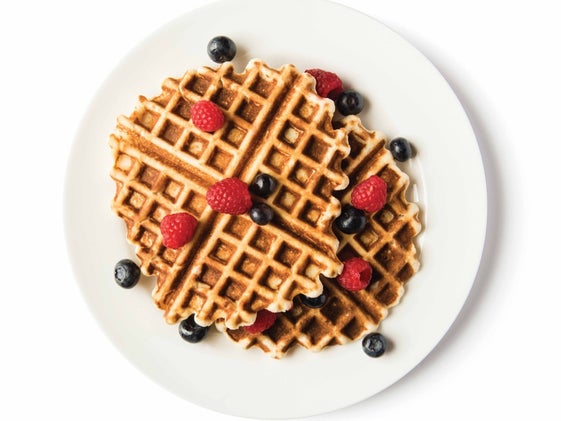 Made from gluten-free fruit seeds, not a grain, buckwheat flour has a nutty flavor and adds a healthy amount of protein to these waffles. These are delicious with coconut or almond butter and fresh berries.
Makes 6 waffles
Ingredients
1 cup buckwheat flour
1 cup all-purpose flour (also try gluten-free, almond or coconut flour)
1 T baking powder
½ tsp sea salt
1 ½ cups low-fat buttermilk
½ cup high quality ricotta cheese
2 eggs
3 T canola oil (or melted coconut oil)
1 T pure maple syrup
Directions
In a bowl, whisk together the dry ingredients. In a separate bowl, whisk together the wet ingredients. Gently stir the wet ingredients into the dry ingredients until combined. Heat a waffle iron to medium and coat lightly with oil. Spoon about ½ cup batter onto the iron and spread to the edges. Close lid and cook until golden, about 3-5 minutes (use manufacture's instructions). Repeat with the remaining batter. Store waffles in the fridge for five days, or make a double batch, cool completely and store in a resealable bag in the freezer.
Smoked Salmon & Avocado Toast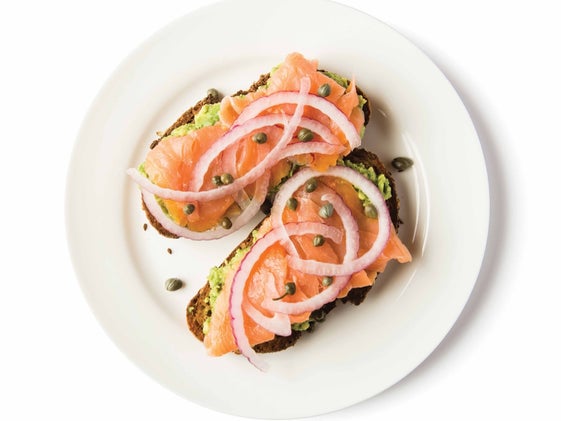 This breakfast hits the savory spot and can be quickly assembled for an ideal balance of carbs, fat and protein after an early morning workout.
Serves 4
Ingredients
1 large or 2 small avocados
1 lemon, juiced
1 T fresh dill, finely chopped
4 pieces crusty whole grain bread
12 ounces smoked salmon
Directions
In a bowl, mash the avocados with the lemon juice and dill. Toast the bread, then divide and spread the avocado mixture over the top of the toast. Lay 3 ounces smoked salmon over the top of the avocado on each toast (capers or thinly sliced red onion may be added if desired).