Uncrustables: Kid-Tested, Triathlete Approved
A sports nutrition experts explains how to use the popular PB&Js as long-ride fuel.
Heading out the door? Read this article on the new Outside+ app available now on iOS devices for members! Download the app.
When Smucker's launched its Uncrustables line in 2000, they were marketed as a lunchbox solution for time-crunched parents: simply toss a premade, frozen peanut butter and jelly sandwich into a child's lunchbox in the morning, and it would be perfectly thawed by the time Junior went to the cafeteria for lunch. It was an instant hit, with more than 10 million dollars worth of PB&J sammies sold in its first year; today, Uncrustables see more than $200 million in annual sales.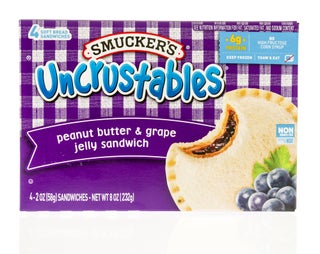 Little did they know, the concept would also gain a cult following with triathletes. As it turns out, the same things that make Uncrustables a perfect lunchbox food–tasty, compact, and virtually indestructible–are the same criteria for long-ride fuel. Simply stash a frozen sandwich in a jersey pocket, and it's thawed in time to stave off mid-ride hunger.
But while the practicality of throwing a frozen sandwich in a jersey pocket may seem appealing for many triathletes and cyclists, there are definitely things to consider when making it your staple go-to workout fuel, says Kim Schwabenbauer, former professional triathlete and sports nutrition expert at Fuel Your Passion.
"I've had athletes that like a little satiety-producing fat and fiber on a long ride, so they don't ride their bike directly through the drive-thru," says Schwabenbauer. "However, one must always consider what they plan to use on race day."
First, athletes should consider the macronutrient content of Uncrustables: 25 to 28 grams of carbohydrate, 6 to 7 grams of protein, and 8 to 9 grams of fat. These are important numbers, as carbohydrate, fat, and protein all impact the athlete's ability to digest the food on the run.
"Research supports consuming 60-90 grams of a mix of simple carbohydrates during exercise that digest very rapidly and can be immediately shuttled to the muscles for energy," says Schwabenbauer, who points out that Uncrustables have a higher carbohydrate count that most commercially-made sport nutrition products. Still, 28 grams of carbohydrates at a pop still falls short of the hourly requirement, so Uncrustables cannot be the only source of carbohydrates during an endurance effort. To meet the gram recommendations, Schwabenbauer suggests pairing Uncrustables with a sports drink that also contains carbohydrates in the range of 6g/100ml for optimum osmolality and sodium.
Though Uncrustables are higher in carbohydrate than most gels and chews, sport nutrition carbohydrates are usually easier to absorb, since they're lower in fat and protein. "With 9 grams of fat and 6 grams of protein in the classic PB & Grape Jelly Uncrustables, these macronutrients can delay gastric emptying and the release of quick-acting carbohydrates that may need to come to the rescue during your 2-plus hour long ride," says Schwabenbauer.
Fat and protein may also cause gastrointestional distress in some athletes. Schwabenbauer cites a 2014 article by Jeukendrup and colleagues which states that fiber, fat, protein, and fructose have all been associated with a greater risk of GI symptoms in endurance athletes. But how much fat and protein is too much? It depends on the athlete. Some can (and do) eat fat and fiber while training and racing; others are not able to digest as well. If the Smucker's version doesn't sit well while training (or you're looking for a less-processed option), Schwabenbauer says athletes can still experiment with PB&J by making their own. "It can be done easily with white bread and a little less peanut butter, thereby reducing the amount of fat and protein."
Most importantly, Schwabenbauer says athletes should consider the practicality of PB&J, whether commercially-produced or homemade, on race day: "All athletes need to train their gut with what they plan to use on race day, so as the big day draws closer, you may want to assess the use of your sandwich. If you don't suspect you can carry an item like this with you without it getting too sloppy when hot, or risking food-borne issues when it sits for over 4 hours in your special needs bag, then it might not be the best choice."