Taste Tested: Three Sustainable Seafood Selections
With one of our favorite places to swim at risk for overfishing, we sampled the most eco-conscious seafood available so you can do good while eating well.
Heading out the door? Read this article on the new Outside+ app available now on iOS devices for members! Download the app.
As we learn more and more about the dangers our oceans are in—due to pollution, overfishing, and even warming waters—sustainable seafood becomes more important than ever. Rather than avoiding fruits of the sea entirely, we found three brands who are going above and beyond to ensure that every link in the food-supply chain is responsible and eco-friendly. Check out our story from the July issue to learn more about choosing sustainable seafood options and tasty recipes, and below we've collected and tested three top choices for smart and tasty eco-conscious seafood:
Patagonia Provisions Mussels (Lemon Herb, Savory Sofrito, or Smoked)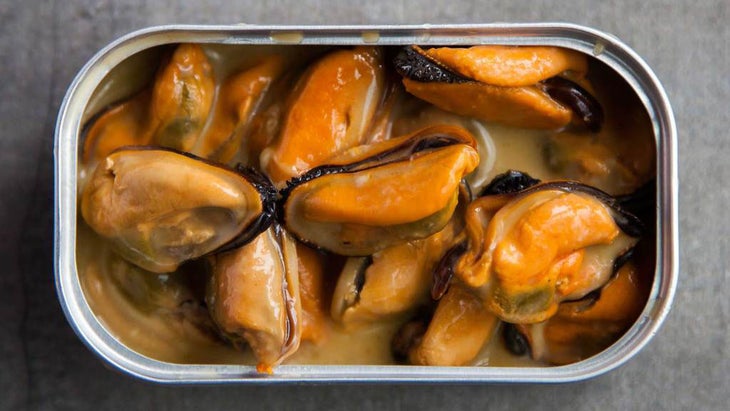 No longer just known for its top-shelf outdoor gear, in recent years Patagonia has become a champion for environmental causes from the Bears' Ears Monument to dams and dam removal. In a (seemingly) radical departure from jackets and pants, Patagonia has recently begun dabbling in other areas that could have a positive impact on the environment. Enter: Patagonia Provisions. According to Patagonia founder Yvon Chouinard:
"Today, modern technology, chemistry, and transportation combine to put more distance between people and their food than ever before. We harvest salmon indiscriminately or farm them in open-water feedlots, putting wild salmon in peril. We overgraze our prairies, fill our livestock with antibiotics, and drain fossil aquifers to water unsustainable crops. Chemicals reign supreme to maximize production, and the unknown impact of genetically modified organisms hovers over the entire industry. In short, our food chain is broken."
Hence going from "Pata-Gucci" to "Pata-Lunchie."
The best thing about the mostly dried or smoked stuff that Patagonia now sells is that they approach it not from a food brand trying to change their chain of supply to sustainable seafood, but that they approach it from a sustainability brand trying to properly source food. The upside is knowing a HUGE company's enviro-reputation is way on the line with every claim they make.
With that said, this clothing company does a great job with their smoked fish and more notably their canned mussels. Sustainability aside, the mussels were creamy, lightly seasoned for all flavors, and worked well alone, in pasta, or as an hors d'oeuvre with crackers and cheese. Smoked mussels can be hit or miss when it comes to consistency, but we found these to be some of the best canned variety we've tried. Of course sustainability and high quality comes with a cost, and at $7/can, you probably won't be eating these daily, but for an eco-conscious treat, these are a great choice.
BELA Sardines (Piri-Piri, Tomato, Lemon, or EVOO)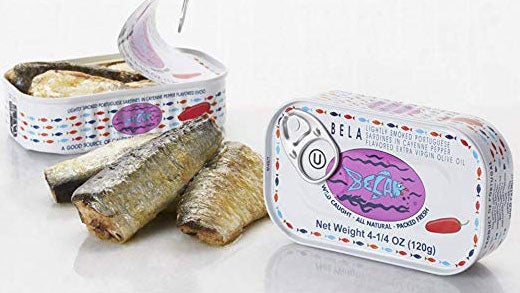 Unlike the other two offerings in this sustainable seafood roundup, the Bela brand has been fishermen for generations. Operating out of Portugal—an area famous for seafood—Bela is a huge proponent of sustainably wild-caught sardines. The vegetarian fish is touted to be high in omega-3 fatty acids and Bela's version is hand-packed in eight hours or less after catch—an extremely rare process that ensures the highest freshness and a focus on local fishermen.
Though sardines are certainly an acquired taste, these whole fillets aren't mushy like some canned competitors nor are they ground up into tiny, unappetizing bits (this is, of course, assuming you are a fan of the "whole fish" look). The fresh taste and meaty texture can bring even those who cringe at the thought of sardines to the table to enjoy one of the more healthy post-workout seafood snacks.
For those who just can't handle the fishiness of sardines, Bela also sells jarred tuna fillets that are pole-and-line-caught and dolphin safe. The larger fillets also give more options than regular canned tuna for those looking to add tuna to a main dish or classy appetizer.
Australis Barramundi (Lemon Herb Butter, Garlic Teriyaki, Natural)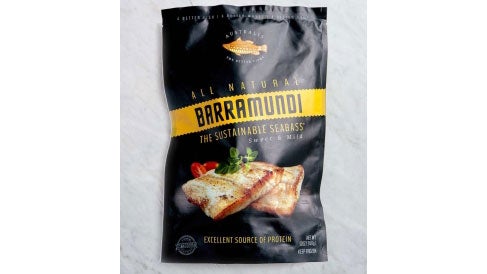 Though not an extremely familiar fish in North America, the Asia Pacific region has been touting Barramundi as the answer to your Chilean Sea Bass problems for a long time. Also known as Asian sea bass, Barramundi is a super hearty (read: easy-to-raise) fish that's low on the food chain (read: fewer chances for toxins) and mostly vegetarian. Though it seems counterintuitive, the most eco-friendly versions of this fish—like the one we reviewed—is farm raised under low-density conditions with no hormones, antibiotics, or chemicals. Barramundi's hearty, disease-resistant nature means it needs a lot less of the stuff that can make farm-raised fish a risky proposition.
As far as the taste goes, Barramundi is definitely on the lighter, more buttery, more sweet side of the fish spectrum. Not much of an "ocean-y" taste means this is a good choice for those who don't like fishy fish—again, a hit for fans of Chilean Sea Bass. Similarly Barramundi also doesn't produce much of a fishy smell when pan fried indoors, so those with seafood-averse housemates can rejoice. With that said, this is not a tasteless fish that needs to be fried or overly seasoned—even the plain option with a little olive oil, coarsely ground salt, and pepper is enough to carry a main dish.
Of the three sustainably sourced seafood options, this is probably the most economically feasible option for everyday eating, but it can take a little bit of searching to find it at a grocery store near you. The good news about Barramundi is that the more people who buy into this sustainable option, the more fish farmers will be able to raise it at a mass scale. So even if you're not a fiery environmentalist, you can still be an activist with your wallet.