Seaweed: Not Just For Mermaids
Heading out the door? Read this article on the new Outside+ app available now on iOS devices for members! Download the app.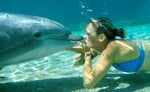 Written by: Bree Wee
Bree Wee discusses the nutritional benefits of adding a not-so-traditional food to your diet.
Let me guess, your number one New Year's resolution was to "lose weight", "eat better", or "clean up the diet". Again? It's time for a change, an adventurous one from the ocean. One that is a little more exotic than "eat more veggies."
Move over lettuce, broccoli and green beans! 2009 is the time to fill up our plates with vegetables from the sea. There are thousands of exotic sea vegetables with a variety of textures and flavors to add a little deep-sea adventure to your taste buds. And these sea vegetables are surprisingly loaded with the "good stuff" that doctors recommend, including cancer preventers and thyroid boosters.
Feast your eyes on this nutritional tidbit: From calcium to iron, vitamin K, vitamins A, C, B-1, B-2, B-6, and B-12, a single serving of seaweed contains all the minerals a human body needs. The Japanese are often considered among the healthiest humans on Earth; they credit it partly to their consumption of sea vegetables. A well- known Japanese researcher has linked one of the naturally occurring ingredients found in seaweed, fucodian, to be similar to a mother's milk. Well, how about that to boost the immune system! Fucans also have the power to prevent inflammation, headaches and asthma symptoms. Seaweed is also a well- known source of protein and fiber, not too many veggies can boast having a power-packed fiber and protein combo!
Okay, okay, so it looks a little slimy and algae green; it also smells like it might have been under the ocean for too long. Let's give those little sea vegetables a break! All that time spent under the sea it has been collecting a nice boost of organic sea salt, the all-natural sodium an athlete needs. The good news is that sea vegetables come in a plethora of edible choices. Not just the long, stringy weed-like things we often tread through before swimming. Have no worries my friends, of the thousands of different sea vegetables, all are safe for human consumption.
Now for the eating part, the most popular forms are dried sheets called nori. Nori is often used for wrapping sushi or a snack like chip enjoyed by children of the islands. Furikake (or kelp flakes) are more of a seasoning that you can sprinkle on snacks, rice and popcorn (a local favorite of Hawaii) and a great place to start getting the taste buds warmed up to the new kid on the block (or tongue). Hijiki is popular in soups and vegetable dishes as it is soaked so the flavors marianate into the meal. Don't take my word for it; there are too many varieties and recipes for this article. Take a stroll through the grocery aisle and explore for yourself.
You never know unless you try, and the new year is a great opportunity to try something new. Be spontaneous and grab a little sea vegetable at your next grocery store visit. I dare you …