My Day On A Plate
Sports nutritionist and pro triathlete Pip Taylor digs into a reader's food diary and offers advice for eating, performing and feeling your best.
Heading out the door? Read this article on the new Outside+ app available now on iOS devices for members! Download the app.
Sports nutritionist and pro triathlete Pip Taylor digs into a reader's food diary and offers advice for eating, performing and feeling your best.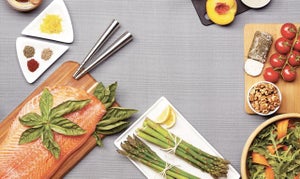 Ian Hall
Age: 38
Occupation: Marketing Director
Hometown: Trumbull, Conn.
Years in tri: 7
Best tri accomplishment: Second in Clydesdale division in my first half-Ironman
Nutrition status: I am 6 feet, 1 inch, and weigh 203 pounds. Although I'd like to get down to 190 pounds, I also like the fact that I can compete in the Clydesdale division. So, I just want to make sure that I'm eating properly to get the most out of my workouts.
5:30 a.m. Clif Bar and a cup of coffee on my way to the gym
6 a.m. Brick workout at gym—bike (40 min), run (30 min), with speed work on the treadmill
8:45 a.m. Arrive at work and have a clementine and mix of yogurt and granola
11 a.m. Peanut butter and cracker snack
12:30 p.m. Lunch of salad, leftover sloppy joe and baked beans, and an apple
2:30 p.m. Slice of office party birthday cake
6:30 p.m. Dinner of chicken tortilla soup, chocolate chip cookie for dessert
Triathletes have different optimal race weights, which maximize their own individual strengths across the three sports. Certainly carrying excessive body fat can be detrimental, but you are always looking to be at the best weight and body composition for you—remember that many Clydesdale athletes can be lean and muscular at 200 pounds.
If you are working out once a day and have eaten adequately the day before, you probably do not need the pre-workout snack for shorter or easier days. If you have a key workout that you won't be able to complete to your desired intensity or length without fuel, that's the time to eat beforehand. Otherwise you could perhaps benefit from some fasted morning workouts to help with fat-burning efficiency and to optimize body composition. If you do work out fasted, pay attention to recovery nutrition rather than playing catch-up during a sedentary workday.
Make sure your meals and snacks are nutrient-dense and high quality—this will ensure satiety but also ensure you are getting all the nutrients you need without unnecessary caloric intake. I would cut out crackers (especially on low-activity days) and swap the cookie for some berries and yogurt, which are sweet enough to still satisfy yet infinitely more beneficial.
Homemade soups and sloppy joes can be great if they're packed with vegetables and nutrients. Fresh herbs are an easy and low-calorie way to increase nutrient quality of meals, and can be added to just about anything.
You don't list any fluid intake, besides coffee. Stick to water unless you have a particularly hard training weekend or very intense session. And stay hydrated throughout the day, especially if you are inside a climate-controlled office.
Want to get personalized nutrition advice from a nutritionist and triathlete? Send an email to fuel@competitorgroup.com and you might see yourself on Triathlete magazine's "My Day on a Plate" page.