Hydration Tips For Triathletes
Being dehydrated by as little as 2 percent of your body weight can begin to increase fatigue.
Heading out the door? Read this article on the new Outside+ app available now on iOS devices for members! Download the app.

What's the big deal about hydration? The answer: Being dehydrated by as little as 2 percent of your body weight can begin to increase fatigue, reduce your athletic performance (mentally and physically), and increase your risk of heat stress. You're also more likely to get muscle cramps during training and racing. On the other hand, when your body is well hydrated and nourished, you have the capacity to tolerate longer and more intense exercise.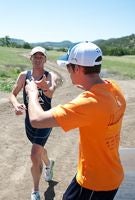 Some individuals are dehydrated prior to exercising or competing, so they're at a disadvantage even before they start. Hot temperatures accelerate the dehydration process, so fluid requirements are higher in warmer climates. Typically, 80 percent of our water intake comes from a variety of beverages and 20 percent comes from foods such as fruits and vegetables. That's another reason why it's important for athletes to not skip meals.
If you find that you're dehydrated (see the simple tests below), increase your daily fluid intake using an assortment of beverages. It's easier for your body to absorb fluid if your intake is spread throughout the day than if you try to gulp down too much at one time. Beverages to keep you well-hydrated include water (plain or flavored), milk, juice and fruit smoothies. Certain foods can help keep you hydrated such as fruits and vegetables which are high in water content. For better absorption, it's important that the beverage you choose is cool, as opposed to warm or room temperature. Recent research has shown that low to moderate amounts of caffeine (less than 300 mg) do not cause dehydration or electrolyte imbalance. Drinking a cup of coffee or a few soft drinks is fine, but higher amounts may have a diuretic effect (they make your body lose water). Alcohol has a sustained diuretic effect, so it is not recommended to meet hydration needs.
At least four hours before a triathlon or other endurance activity, drink 1 ounce of fluid for every 10 pounds of body weight (or 5-7mL/kg) to start the event well-hydrated. Don't experiment with new beverages before or during a competition; stick with the tried and true.

How do I know if I'm dehydrated?
To measure hydration status, check your urine concentration (indicated by color) and volume (amount of urine you make). Your urine should be pale yellow or straw colored. If urine is dark yellow, and there's not much of it, chances are you're dehydrated. (Remember that certain vitamin supplements and foods may also change the color of your urine.) A reduction in body weight of at least 2-3 percent of body mass at the end of vigorous exercise represents a loss of body water that needs to be replaced.

What should I drink during exercise?
If you train at a moderate intensity for less than an hour, water is sufficient to maintain normal fluid balance. However, if you're exercising vigorously, or for longer than an hour, you will benefit from a sports drink. Why? Sports drinks are formulated to provide three important components:
• Fluid to maintain body water balance
• Electrolytes (particularly sodium and potassium) that help the body retain fluid and limit urine output. A good sports drink for exercise lasting longer than two hours should have about 0.5-0.7grams/liter of sodium and 0.8-2grams/liter of potassium.
• Carbohydrates to provide glucose to both the muscles and brain for optimal functioning. Sports drinks are formulated with 6-8 percent carbohydrate to promote fast absorption during activity. During prolonged exercise ingest about 30-60grams/hour of carbohydrates to maintain muscle fuel. This can be in the form of sports drink or snacks.
Every athlete is unique in what his/her ideal rate of fluid intake would be during an endurance event or sport activity. It can depend on many factors such as your sweat rate, gender, size/weight, speed, temperature, metabolism, muscle mass, etc. Fluid recommendations during exercise typically range from 14-27 ounces/hour (0.4 to 0.8 liters/hour), with the lower end of the spectrum applying to smaller and/or slower individuals, and the higher end of the spectrum applying to larger and/or faster individuals. Monitor your thirst and urine output (and weight if possible) to help you adjust the rate of hydration. Ask a sports nutritionist to help you determine exactly how much fluid is right for you.

What about after exercise?
Generally you should drink 16-24 oz of fluid for every pound of weight lost during exercise (450-675mL/lb). Weigh yourself before and after several workouts to get an idea how much weight you typically lose. This will also help you adjust your fluid intake before and during workouts to prevent excessive fluid losses and maintain body water balance. If it's a really hot day, you're likely to lose more fluid in sweat, so adjust upward. Salty snacks or meals can help replace sodium losses in sweat.
Your muscles will recover more quickly when you take in carbohydrate (and some protein) after exercise. Carbohydrate is necessary to replace depleted muscle glycogen (fuel for energy). Carbohydrate intake of 0.5-0.7g per pound of body weight is recommended during the first 30 minutes after exercise and again every two hours for 4-6 hours to replace glycogen stores. Protein provides the amino acids necessary for muscle repair. This can be done through food or in your rehydration beverage. Focus on carbohydrate foods with some protein thrown in. Try chocolate milk or flavored yogurt.

What happens if you drink too much?
Drinking too much water can actually lower the concentration of sodium in our body. When the concentration of sodium in the body is too low, it's called hyponatremia. Sodium ensures that body water is evenly distributed to our tissues, organs and muscles. Hyponatremia often occurs in endurance events when an athlete overestimates the amount of water he/she needs to drink during long, intense exercise. Hyponatremia can cause a variety of symptoms including fatigue, nausea, headache, disorientation, confusion, swelling, seizures and even death. The stress of competition can result in a defect in the body's ability to maintain a balance between salt intake and fluid output. This results in water overload, which causes organs in the body to swell and may be fatal.
If you haven't lost weight after intense prolonged exercise, or you have actually gained weight, then it's likely that you have fluid overload from hyponatremia and need to be seen by a physician ASAP. If your urine is very lightly colored/clear then you are likely well-hydrated, if not over-hydrated, and don't need to drink more. So don't overdo it.
Salt intake before and during a long-course triathlon can help decrease the risk of developing hyponatremia, especially in athletes who are "salty sweaters." Some athletes may add salt to their sports drink or take salt supplements during a long endurance race. Try eating salty snacks or foods such as pretzels, pizza, pickles, tomato juice, canned soups/beans or whatever works for you. Salt isn't good for everyone—some people have medical conditions for which they need to avoid too much salt and other people are sodium-sensitive. So work with your doctor and/or a sports nutritionist who can help you personalize a hydration and food strategy to optimize your performance and recovery.

This article was contributed the UC San Diego Sports Medicine. To learn more about them call 858-657-8200 or visit Sportsmedicine.ucsd.edu.