Fueling for Every Type of Triathlon Workout
The right fuel—taken at the right time—can make all the difference in maximizing your athletic potential and recovery.
Heading out the door? Read this article on the new Outside+ app available now on iOS devices for members! Download the app.
Knowing what foods to eat to fuel your training is important, but to reap the benefits of the nutrients, it's the when that really matters.
Before and during a workout, your goal is to increase the delivery of nutrients to your working muscles to maintain glucose levels, postpone fatigue and improve your hydration status. After you're done training, the focus shifts to replenishing glycogen stores and initiating tissue repair and muscle growth so you can bounce back even stronger for future workouts.
With the following fueling suggestions, not only will you reduce risk for GI distress, but you may find yourself gaining a competitive edge.
Ready to learn more about triathlon? Check out our complete beginner's guide.
How to Fuel Before Workouts
Eating something before a training session is critical, as it will better prepare your gut for race day and help you to become more aware of how your body absorbs and metabolizes fuel in varying intensity levels, durations and weather conditions.
Note: For an individualized approach on fueling your triathlon routine and to meet dietary needs, contact a registered dietitian specializing in sport nutrition. It should be noted that recommendations for fueling around workouts should be "as tolerated" and perfected by each individual over time.
Before a 6 a.m. swim session
Considerations: Early morning wake-up calls leave limited time to eat or digest solid food. But a pre-workout snack may prevent overeating or cravings later in the day and improve mood before an early morning swim, and hydration can help minimize leg cramps in the pool.
Timing: 15–20 minutes before your workout, eat around 15–30g of high glycemic carbs + 8–12 ounces of water (coffee/tea is fine as well)
Eat this:
1 energy gel
OR
1 cup milk + 1⁄2 cup Cheerios cereal
Before a 6 p.m. track session (or high-intensity workout)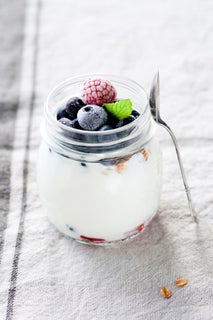 Considerations: Minimize high fat and fiber foods in the 90 minutes before a high-intensity evening workout. Avoid feeling "stuffed" before the workout, and stabilize blood sugar levels in the four hours preceding the workout. Opt for an easy and portable snack that can be consumed on the go.
Timing: 60–90 minutes before the workout, eat a snack that has a 3:1 ratio of carbs to protein (ex: 30g carbs and 10g protein).
Eat this:
2 lightly salted rice cakes + 1⁄2 tbsp PB + 3 ounce plain nonfat Greek yogurt
OR
1 5.3-ounce flavored nonfat Greek yogurt + 1 cup grapes
Before a Saturday long brick (3-5 hours)
Considerations: Eat carbohydrate dense—not volume dense—foods to reduce GI distress to restock liver glycogen. Mimic race-day foods and allow adequate time for digestion before starting your warm-up. Think "tummy happy" foods. If hypoglycemia sets in at the beginning of the workout a bottle of sport drink during the first 20 minutes of the workout doesn't fix the problem (sport drinks should contain 60–90g carbs and a mix of maltodextrin + glucose/dextrose + electrolytes + optional branch chain amino acids per bottle per 75 minutes), increase protein/fat slightly or allow no more than 90 minutes after eating be- fore working out (adjust foods as tolerated).
Timing: 75 minutes–2 hours before, eat a 4:1 ratio of carbohydrates to protein (ex: 50–70g carbohydrates and 13–18g protein). Drink 12–16 ounces of water with an optional Fizz or Nuun tablet (or electrolyte pills). Eight ounces of coffee or tea is okay.
Eat this:
1/3 cup granola + 1/3 cup oats + 1 cup milk or yogurt + 1⁄2 cup sliced bananas (= 70g carbs + 13g protein)
OR
1 slice of pita bread + 1 tbsp PB (or nut butter) + 1 banana + 1 egg (61g carbs + 19g protein)
Before a long run (90 min–3 hours)
Considerations: Consume easy-to-digest foods to reduce GI distress, restock liver glycogen and limit muscle damage during the workout. Hydrate. Foods do not have to be the same as long brick/ bike pre-workout fueling due to the different stress on the GI system with constantly jostling activity.
Timing: 75–90 minutes before the workout, eat a 4:1 ratio of carbs to protein (30–50g carbohydrates + 8–13g protein). Think low fiber, low volume, carbohydrate dense foods.
Drink 12–16 ounce fluids with an optional Fizz or Nuun tablet (or electrolyte pills). Eight ounces of coffee or tea is fine.
Eat this:
2 light rye WASA crackers + 1 tbsp PB (or nut butter) + 1 tbsp honey + 1 egg white (34g carbohydrates + 10g protein)
OR
8 ounce applesauce + 1⁄2 cup sliced banana + 10g vegan or whey protein powder mixed together (in blender or if palatable, in a bowl/ cup) (41g carbs + 10g protein)
Before an easy recovery workout (30–60 minutes)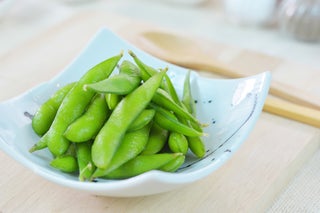 Considerations: Focus on properly refueling from the past week/days of intense training and preparing the body for upcoming workouts. Depending on the timing of the workout (morning vs. evening), proper fueling could reduce the risk for overeating later in the day.
Timing: 30–60 minutes before the workout, consume 15-30g of carbohydrates + 5-10g protein. Drink 8–12 ounces of water. Eight ounces of coffee/tea is okay. (Tip: To assist with recovery, enjoy 30–60 minutes of extra sleep instead of the early-morning active recovery workout. Wake up without an alarm if you can).
Eat this:
1⁄2 cup unshelled edamame + 1⁄2 cup cooked quinoa
OR
4 dates + 4 ounce cottage cheese
---
Do you have more questions about your first (second, third, or tenth) tri? We have an active and supportive community of everyday athletes and experts in Team Triathlete who are willing to help. Plus: Members have exclusive, near-instant access to the entire editorial staff at Triathlete. Help is just an @ away! Become an Outside+ Member and join Team Triathlete now!
---