5 Powerfoods To Get You Through Winter
So what if summer's bounty is long over? There are plenty of seasonal powerfoods to get you through the winter.
Heading out the door? Read this article on the new Outside+ app available now on iOS devices for members! Download the app.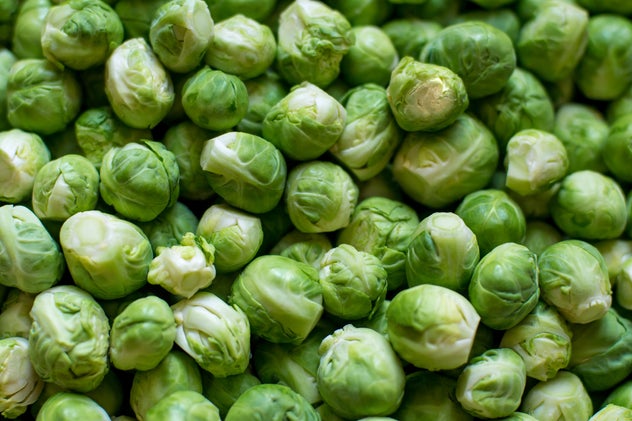 So what if summer's bounty is long over? There are plenty of seasonal powerfoods to get you through the winter.
When Jack Frost is unleashing his wrath, it's easy to let your vegetable and fruit intake slide. After all, tomatoes and strawberries that actually taste good seem like a distant memory. But if you take a closer look at the produce aisle—and even the frozen food section—when the snow is flying you'll find some standout cold-loving options that have the nutritional resumes needed to help athletes get the most out of their winter training routine. Substitute these for some common summer options and you'll garner an appetite for winter.
Instead of: Green Beans
Eat: Brussels Sprouts
In a child's perfect world, Brussels sprouts would be illegal. But grown-up triathletes would be well served by making them a winter staple. For starters, they are loaded with vitamin K for better bone health. You'll also benefit from a wallop of vitamin C, which has been linked with improved exercise performance via its role in reducing oxidative stress in the body. And as a cruciferous vegetable member, Brussels sprouts are also sprouting with a surfeit of disease-fighting antioxidants.
Make: Sweet and Sour Brussels Sprouts
Preheat oven to 400°F. Toss 1 pound Brussels sprouts (halved lengthwise) with 1 tablespoon oil; season with salt and pepper. Spread out on a rimmed baking sheet and roast, stirring once halfway through, until tender and cut sides are browned, about 25 minutes. Whisk together 2 tablespoons rice vinegar, 1 tablespoon honey, 1 tablespoon soy sauce, 2 teaspoons fish sauce, and 2 teaspoons sesame oil. Toss with sprouts in a serving bowl and garnished with toasted pumpkin seeds.
RELATED: 4 Ways To Use… Brussels Sprouts

Instead of: Peaches
Eat: Pears
When in season, hazardously juicy local peaches are not to be missed. But come the off-season, imports pretty much suck. So instead, bite into a pear, be it Bosc, Anjou or Bartlett. Nutritionally, a pear's claim to fame is stellar levels of dietary fiber—6 grams in a medium fruit. A raft of research suggests that higher intakes of fiber can confer protection for everything from diabetes to certain cancers to high blood pressure to an expanding waistline. Extra grit can improve blood sugar control, beneficially alter gut bacteria numbers and induce hunger to prevent overeating—all of which gives fiber its life-prolonging powers and ability to stymie winter weight gain. What's more, pear skin has been found to be home to some potent antioxidants.
Make: Breakfast Pear Milkshake
Place 1 cup milk of choice, 1/2 cup plain Greek yogurt, 1 chopped pear, 1/4 cup rolled oats, 1 tablespoon almond butter, 1/2 teaspoon vanilla extract, 1/4 teaspoon cinnamon and 1 small frozen banana in a blender container and blend until smooth.
RELATED RECIPE: Cranberry, Pear, Apple And Gingerbread Crumble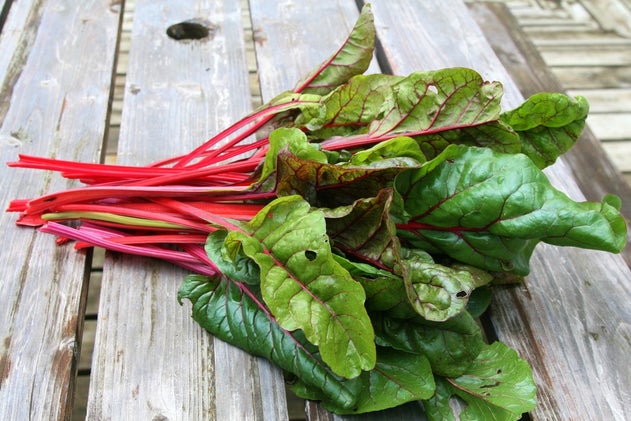 Instead of: Lettuce
Eat: Swiss Chard
Summer is a great time to luxuriate in fresh salads replete with tender greens. But when the big chill has taken hold, it's time to focus on more hearty greens like Swiss chard. In fact, chard and other dark, leafy greens provide such a high amount of nutrients for very little calorie cost they should be considered the MVP of the winter produce aisle. A mere cup of Swiss chard delivers more than 3 times the daily quota for bone-friendly vitamin K, as well as impressive amounts of beta-carotene. In the human body, beta-carotene can be converted to vitamin A to ramp up immune health so you can spend more time training this winter than curling up with a box of Kleenex. And don't compost those stems. They can be sliced and sautéed or stir-fried in dishes. Or Google Pickled Swiss Chard Stems.
Make: Swiss Card Bean Soup
Heat 1 tablespoon oil a large saucepan over medium heat. Add 1 diced onion, 2 cups sliced crimini mushrooms and 1/2 teaspoon salt to pan; cook until onions are softened about 6 minutes. Add 2 tablespoons tomato paste, 2 minced garlic cloves, 2 teaspoons dried thyme, and 1/4 teaspoon each black pepper and chili flakes; heat 30 seconds. Place 1 cup white wine in pan, bring to a boil and simmer uncovered 5 minutes. Add 5 cups vegetable broth and simmer for 10 minutes. Stir in 2 cups cooked or canned navy beans, 1 chopped bunch of Swiss chard and juice of 1/2 lemon; heat until greens are wilted.
RELATED: 6 Super Greens And Their Benefits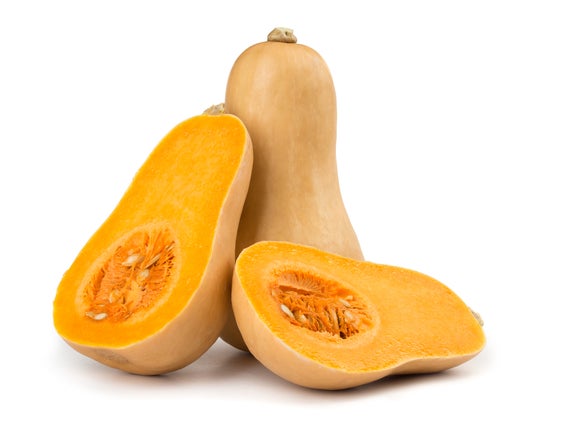 Instead of: Zucchini
Eat: Butternut Squash
Nutritionally, butternut squash pretty much squashes zucchini. Not only is that buttery flesh a better source of both fiber and vitamin C, butternut is also one of nature's best dietary sources of beta-carotene. In addition to its role in bolstering vitamin A status in the body, beta-carotene itself acts like an antioxidant which is why higher intakes have been found to be protective against coronary woes. Plus, the gourd has a wickedly long shelf-life if kept in a cool, dark location.
Make: Butternut Hummus
Preheat oven to 400°F. Toss 1 medium peeled and cubed butternut squash with 2 teaspoons oil and spread out on a rimmed baking sheet. Roast until tender, about 30 minutes. Let cool. Place roasted butternut in a food processor container along with 1 cup cooked or canned chickpeas, 3 tablespoons tahini, juice of 1/2 lemon, 1 minced garlic clove, 2 tablespoons olive oil, 1 1/2 teaspoons smoke paprika, and 1/2 teaspoon each cumin power and salt; blend until smooth.
RELATED: 4 Ways To Use… Butternut Squash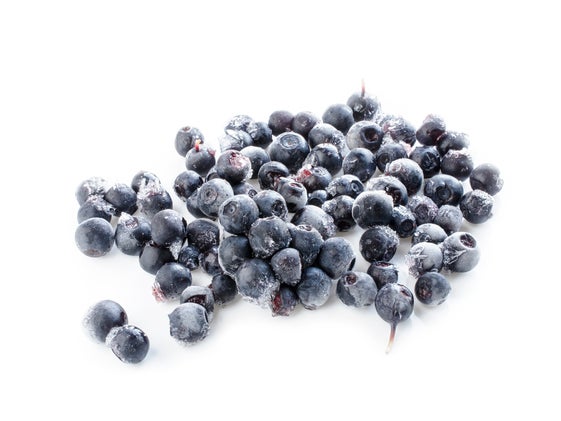 Instead of: Fresh Blueberries
Eat: Frozen Blueberries
You definitely want to load up on local sun-kissed berries like blueberries when in season, but don't give their subzero counterparts the cold shoulder when only fresh imports are available. That's because blueberries that are trucked in from afar can lose some of their nutritional firepower during the long trip from farm to store and also during subsequent storage. In contrast, frozen berries are harvested at peak ripeness (and peak nutrition) and then quickly frozen to lock in their nutrients and antioxidants. Preliminary research suggests that a special antioxidant in blueberries called pterostilbene may make it easier to shed any unwanted body fat. If available, frozen wild blueberries are especially chockablock in body-friendly antioxidants.
Make: Blueberry Compote
Place 2 cups frozen blueberries, 1/3 cup water, zest of 1 lemon, 1 teaspoon cinnamon and 1/2 teaspoon ground ginger in a medium sized saucepan. Bring to a boil, reduce heat and simmer over medium-low heat, stirring occasionally, for 20 minutes. In a small bowl, stir 2 teaspoons cornstarch into 2 tablespoons water until dissolved. Stir dissolved cornstarch and 1 teaspoon vanilla extract into blueberry mixture and heat 1 minute more, or until thickened. Serve over yogurt, pancakes or oatmeal.