Do Probiotics Have Benefits for Athletes?
Often called "good bacteria" for your gut, the benefits of probiotics still remain under the microscope.
Heading out the door? Read this article on the new Outside+ app available now on iOS devices for members! Download the app.
Can probiotics help keep your digestive system in shape on race day and beyond? Nutritionist Josh Axe believes they can, "Some research suggests that probiotics can help promote muscle recovery and fight fatigue, both of which can be especially beneficial for endurance athletes."
But the science on probiotics isn't crystal clear. Although some probiotics have shown great promise in research studies, evidence to support their specific uses for most health conditions "is lacking," according to the National Institutes of Health's National Center for Complementary and Integrative Health. Furthermore, the U.S. Food and Drug Administration hasn't approved probiotics for preventing or treating any health problem.
There is preliminary evidence, however, that suggests some probiotics are helpful in preventing diarrhea caused by infections and antibiotic use, and probiotics might help improve symptoms of irritable bowel syndrome, but more needs to be learned, according to the NIH.
Axe believes that issues like bloating, gas, diarrhea, and abdominal pain can be strong indicators of an unhealthy gut, and probiotics may help. A healthy gut microbiome "plays a major role in nearly every aspect of health and has been associated with an extensive list of health benefits," he says. "The gut microbiome is also thought to aid in immune function, so symptoms like food allergies, poor wound healing, or impaired immunity may also be tied to poor gut health."
Researchers are working to unlock the mysteries of the live microorganisms that are lumped into the probiotics category. The most common belong to the bacteria groups Lactobacillus and Bifidobacterium, although other bacteria can be found, along with yeasts such as Saccharomyces boulardii. But here's the rub: "If a specific kind of Lactobacillus helps prevent an illness, that doesn't necessarily mean that another kind of Lactobacillus would have the same effect," according to the NIH. "We also don't know how much of the probiotic people would have to take or who would most likely benefit from taking probiotics."
If you're in limbo over probiotics, keep in mind that the FDA doesn't review probiotic dietary supplement products for safety and effectiveness before they are marketed. But you can look to the many foods that are naturally rich in probiotics (like those below).
"Including a variety of different probiotic foods in your diet is the best way to ensure you're getting a good mix of different probiotic strains to take advantage of the unique benefits that each has to offer," Axe says.
Probiotic-Rich Foods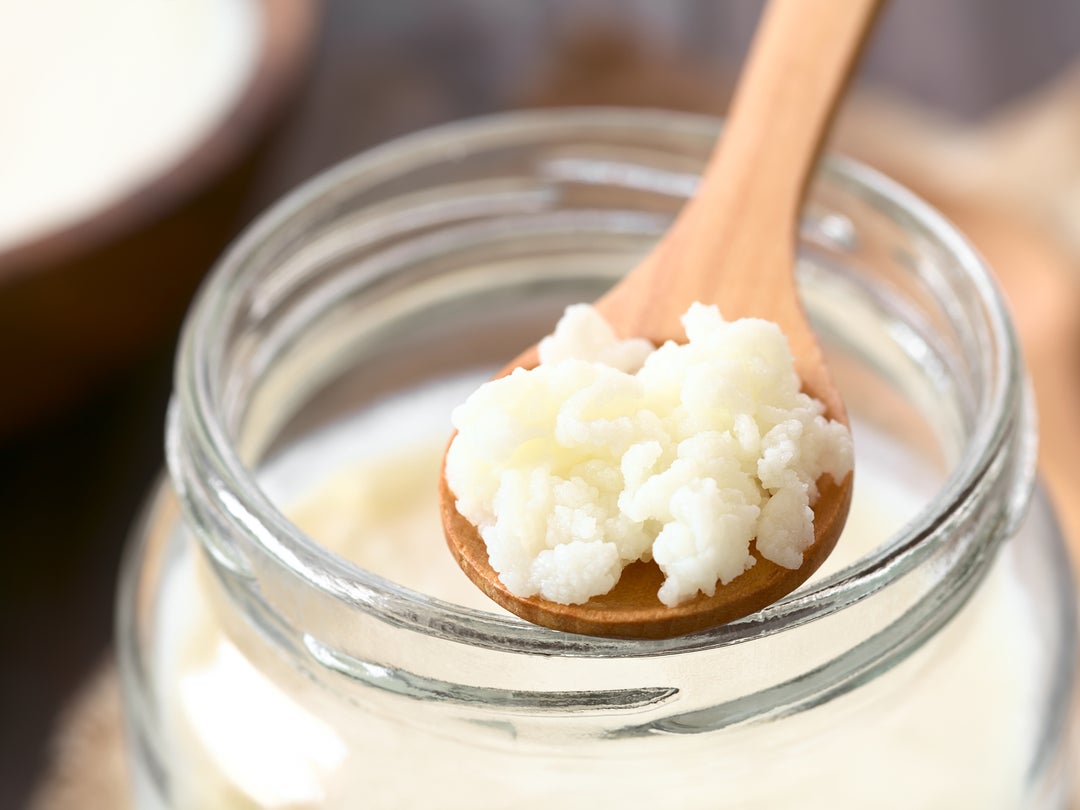 Kefir

This tangy, fermented milk drink is a probiotic powerhouse that'll also give you a boost of protein, calcium, and B-vitamins. Stick with the full-fat plain stuff and avoid flavored kefir, which can be loaded with added sugar.

Kombucha

Rich in probiotics and antioxidants, kombucha is a fermented tea drink that's both tangy and fizzy. Remember to read the label and choose options with no added sugar for the best health benefits.

Sauerkraut

Gut-friendly kraut is near the top of the list of foods naturally loaded with probiotics. And it has immune boosters, like vitamin C and iron, to boot. Look for it in the refrigerated section of your grocer.

Tempeh

Probiotics aren't the only thing this popular high-protein meat alternative has going for it. Made from fermented soybeans, tempeh is packed with a long list of vitamins and minerals, including calcium, iron, and magnesium.

Yogurt

Not all yogurt contains probiotics, so check the label to be sure it contains "live active cultures." In addition to being great for your gut, yogurt is also loaded with nutrients like protein, calcium, and potassium.