Are Races Won in the Fourth Discipline?
A look at two pros who have invested significantly in testing and development of race-day fueling strategies.
Photo: David Durochik Photography
Heading out the door? Read this article on the new Outside+ app available now on iOS devices for members! Download the app.
More pros are going all-in on nutrition.
Though triathlon is a race of swim, bike, and run, many a race has been lost in the so-called "fourth discipline"—nutrition. As so many athletes learn the hard way, a stellar bike split becomes irrelevant if the wrong fueling or hydration strategy causes gastrointestinal distress, a bonk, or hyponatremia on the run. Even tiny mistakes in nutrition can have a big influence in performance. To win isn't just about who's the fastest—it's who fuels the best.
For pros like Jan Frodeno and Lionel Sanders, that philosophy has been front and center of their 2018 season. In addition to swim, bike, and run training, both athletes have invested significantly in testing and development of race-day fueling strategies.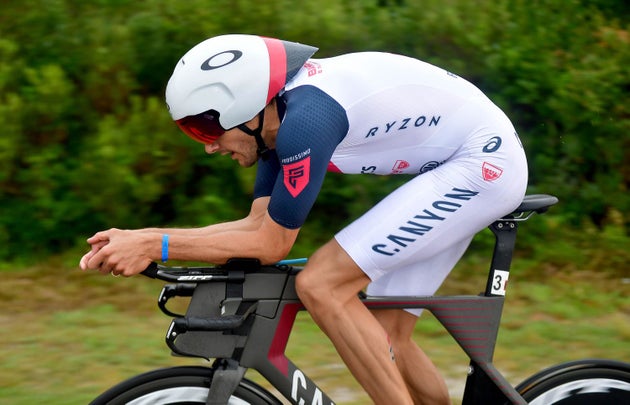 Frodeno: A New Approach
"I wondered whether I was taking in enough energy," says Frodeno of his venture into nutrition science in 2018. "I've come very close to hitting the wall in almost all races. So really, I was looking for the cause, and I guess energy defeat is the easy answer."
The answer came in the form of an e-mail from Herman Reuterswärd of Maurten, a Swedish startup known for the development of a new drink formula for the SUB2 project. Maurten had generated significant buzz in the running community for an innovative formula which transforms from liquid to a buffering "hydrogel" when it hits the stomach, increasing carbohydrate availability and reducing gastric distress. In addition to fueling Eliud Kipchoge's 2:00:25 marathon in the Nike Breaking2 event in 2017, Maurten had played a prominent place in other big running wins, including Desiree Linden's 2018 Boston Marathon Victory.
"We worked with the best runners, and thought that if we were to seriously get into another sport, we better work with the best athlete in that sport, too," says Reuterswärd. When he contacted Frodeno with Maurten's idea for a new product—a gel which offered the same buffering properties as its drink—it was perfect timing.
"It sounded like a solid approach and I was in a time of questioning everything in my sports life, in a good way, so I thought, 'Why not?" Frodeno collaborated with Maurten in the development and testing of their new gel as well as developing in-race nutritional strategies. For Frodeno, that meant taking something other than liquid calories on the run—something he had never done in his career.
Over the past year, Frodeno and Maurten have worked to optimize the timing and amount of fluid and gel intake. This included increasing Frodeno's carbohydrate levels by 25 percent for the Ironman European Championship in Frankfurt, where he bested a stacked field that included defending Ironman world champion Patrick Lange. Frodeno also cites the nutritional breakthrough as being a big part of his recent win at the Ironman 70.3 World Championship.
"It's all about getting enough energy," says Frodeno. "I believe this is why I'm finally able to put together on race day what I feel should be possible, judging by my training."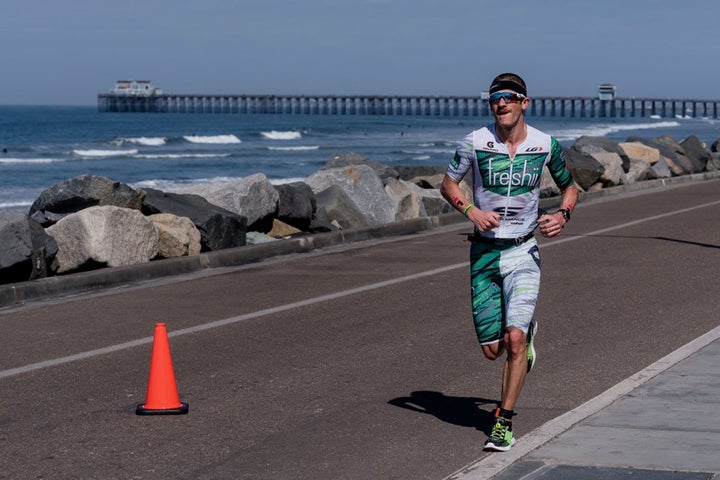 Sanders: Maximizing the Tried-and-True
Where Frodeno overhauled his nutrition program with new strategies and products, Sanders took the opposite approach. As a long-time fan of Gatorade products, Sanders knew his body tolerated the product well, but he also sensed he probably wasn't using it as effectively as he could. After Kona 2016 (which he described as "the wheels fell off") and 2017 ("I felt like a prisoner of my own body. My mind screamed 'Go!' but my legs had nothing left," he said after the race), he decided 2018 would be the year of nutrition.
"I am a heavy sweater, so I just wanted to be able to dial in my nutrition plan for different races and different sweat rates, trying to minimize all losses the best I can," says Sanders, who reached out to the Gatorade Sports Science Institute to ask about optimizing his intake for various conditions. He expected a spreadsheet, but instead got an invitation to the Institute's headquarters in Barrington, Illinois for physiological testing.
"With Lionel looking to hone in on his fueling and nutrition strategy in 2018—he called it his 'next frontier'—it was a natural partnership," says Dr. Matt Pahnke, Principal Scientist at GSSI. "While in the lab, Lionel underwent a number of different tests, including an evaluation of his physiology in Kona-like conditions at race-day intensity and speeds, assessing fluid and electrolyte losses, as well as fuel utilization. Following the evaluation, a team of GSSI scientists developed a nutrition plan for Lionel."
"The scientists at the GSSI tested so many things while I was there. I left with a lot of takeaways that I will use in my race plan going forward," says Sanders. "One thing I learned was that I need to supplement with extra sodium in high sweat environments."
Using the data collected in testing, Sanders's team formulated a detailed plan centered around the Gatorade Endurance products already on course at the Ironman World Championship. "It's nice to be able to train and race with the same fuel," says Sanders, who has documented his nutritional plan for Kona on his YouTube channel.
Has Sanders conquered his "next frontier"? He'll know for sure in October. For now, he says the attention to nutrition has already given him a new level of confidence heading into the big show: "I don't expect any surprises in Kona with regards to nutrition this time around."