Amino Acids In Sports Nutrition Products
Heading out the door? Read this article on the new Outside+ app available now on iOS devices for members! Download the app.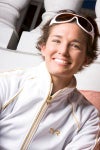 Written by: Pip Taylor
Adding amino acids (the building blocks of protein) to sports drinks and gels has challenged the more traditional formula of carbohydrates and electrolytes, which has long been believed to improve endurance exercise more than the consumption of water alone.
During exercise fat and glycogen (stored in muscles and the liver) are the body's primary fuel sources. However, protein may contribute up to 10 percent of the energy used during high-intensity endurance training and even more once glycogen stores are depleted. This means that toward the end of a long, hard training session or race, the body begins to break down muscle proteins for fuel. Sports drinks and gels that contain carbohydrates reduce this muscle damage and improve endurance by providing a readily accessible fuel source.
The accepted optimal carbohydrate concentration is 6 percent to 8 percent for maximal uptake beyond which gastric emptying slows, thus reducing the uptake by depleted muscles. Since the uptake pathways for carbohydrates and protein are separate, adding protein in the form of amino acids means that you are effectively adding another fuel source simultaneously. Amino acids from the breakdown of ingested protein may also moderate the metabolic responses to exercise, limiting muscle breakdown.
The common perception is that the recovery process begins after exercise ceases. However, there is ample evidence to show improved muscle protein balance when protein and carbohydrates are consumed both before and during exercise. Faster muscle damage repair leads to improved recovery, which in turn means greater adaptation and performance. There are studies showing improved endurance performance when protein is added to a carbohydrate formula during exercise, and although other studies have failed to show the same benefits, none have shown a detrimental effect. So it seems there is nothing to lose and potentially a lot to gain! As with many nutritional issues, individual response is a huge component, and what works for some may not work for all. I use Accelerade and Accelgels, as they work the best for me. However, I would recommend experimenting with any new products in training before trying them out in a race.