3 Powerhouse Nutrients You Should Be Eating
While these three nutrients might be the dietary equivalent of mom jeans, they're tried and true.
Heading out the door? Read this article on the new Outside+ app available now on iOS devices for members! Download the app.
Sure, other health foods may be more exciting. But while these three nutrients might be the dietary equivalent of mom jeans, they're tried and true, and a deficit of any one of them can keep you from reaching your full potential. So add this trio of simple, sometimes overlooked nutrients into your diet to reap their performance rewards.
Magnesium
How it helps: Consider magnesium the renaissance man of minerals. It's a major player in hundreds of biochemical reactions in our bodies, affecting everything from nerve to heart to bone to muscle functioning. So it makes sense that higher intakes are associated with a lower risk for heart failure and diabetes, per a 2016 BMC Medicine study. And based on its role in energy production within our cells, low levels could contribute to general fatigue and feeling beaten down during training.
Are you missing out? Dietary surveys show that about half of all Americans are not reaching their daily magnesium quota—400 milligrams daily for adult men and 310–320 milligrams for women, about how much you'd find in 2.5 cups of spinach. This happens when too many processed and refined foods like white pasta edge out magnesium-rich plant-based whole foods.
Load up: Be sure to eat plenty of legumes, whole grains like quinoa, nuts, seeds (especially pumpkin seeds), potatoes and dark greens such as spinach and Swiss chard.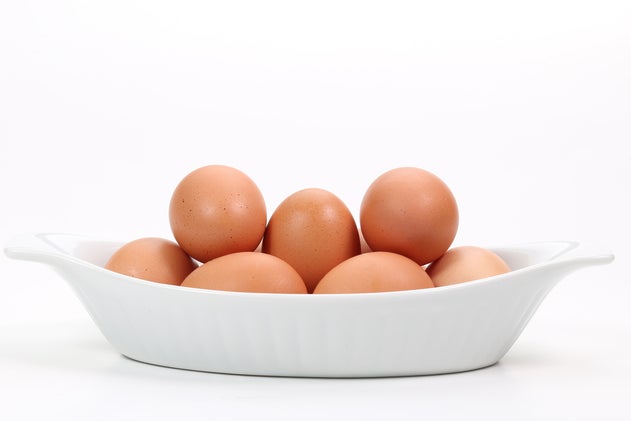 Choline
How it helps: The vitamin-like compound is the main building block of acetylcholine, a neurotransmitter involved in brain functioning as well as muscular movement. The unsung nutrient also plays an important role in a properly operating metabolism and nervous system. Symptoms of prolonged choline deficiency can include poor memory, sagging energy levels, muscle aches and altered mood.
Are you missing out? Only about 10 percent of Americans eat the recommended amount of choline—550 and 425 milligrams each day for men and women, respectively. And poor intakes might be especially concerning for endurance athletes. One study on long-distance runners published in the International Journal of Sports Medicine found that choline stores dropped by about 40 percent following a race. That's because the more you exercise, the more acetylcholine is used up for the purpose of stimulating muscular contraction. So without a resupply of choline, your muscles may feel less than spunky during training.
Load up: An easy way is to crack open an egg—a single yolk has about 145 milligrams of choline. Other dietary sources include liver, beef, fish, chicken, milk, Brussels sprouts, broccoli, and peanut butter.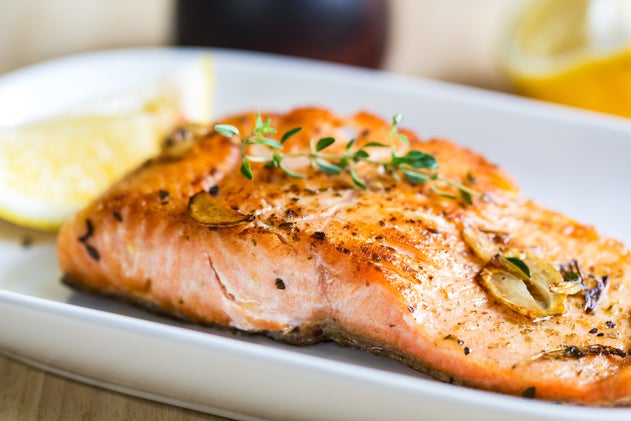 DHA
How it helps: DHA (docosahexaenoic acid) is a long-chain omega-3 fat that has proven itself in the battle against a number of maladies including heart disease, diabetes, cancer and cognitive decline. DHA is such an effective disease thwarter because it wiggles its way into the cell membranes of all our bodily tissues including the heart and brain to allow vital chemical reactions to happen more freely. Research also shows that DHA, which has strong anti-inflammatory powers, can lessen post-training muscle pain, making it a boon to the athletic crowd.
Are you missing out? The Academy of Nutrition and Dietetics advises taking in a daily average of 500 milligrams combined DHA and its omega-3 counterpart EPA. Most people don't get even half this amount, owing to a dietary preference for beef and chicken instead of fish.
Load up: Cast your line for fatty swimmers including salmon, mackerel, sardines, herring, sablefish, rainbow trout and albacore tuna ("white" canned tuna). Serve up two to three servings of these a week, and you'll get much closer to meeting your needs. Sea vegetables can contain small amounts of DHA, while eggs from hens fed omega-rich items like flax can also deliver a small boost of this mega-healthy fat. Some of the plant-derived omega-3 fatty acid alpha-linolenic acid (ALA) is converted in the body to DHA, and you can get more ALA by eating walnuts, hemp seeds, flaxseed, chia and canola oil.