How Male and Female Triathletes Show Different Signs of Hyponatremia
30 years of Ironman World Championship data explains how warning signs of low sodium and hyponatremia differ by sex.
Photo: Daniel Karmann/picture alliance
Heading out the door? Read this article on the new Outside+ app available now on iOS devices for members! Download the app.
In the early days of endurance sport, athletes' understanding of their own needs with respect to hydration and electrolytes was not what it is today. When participating in marathons (the most common type of long-distance activity of the time) participants tended to have a laissez-faire attitude towards taking on fluids and did so guided by thirst. This often led to significant dehydration and hypernatremia (an excessive loss of total body water in comparison to sodium loss).
By the late 1970s and early '80s, our understanding of hydration began to improve, and the importance of taking on fluids throughout an event began to take hold. For the most part, those fluids consisted of water or other dilute liquids. While athletes were no longer completing events in as dehydrated a state as they once were, the intake of large quantities of fluids in the absence of electrolytes—particularly sodium—was leading to a different, potentially more dangerous problem: exercise-associated hyponatremia (EAH).
RELATED: Ask Stacy: Why is Hydration So Important for Triathletes?
Understanding exercise-associated hyponatremia
EAH is, for the most part, asymptomatic. While this condition likely existed for some time, it wasn't until the early 2000s that it really blossomed in the consciousness of endurance athletes. In 2003, two runners died during a marathon from EAH, and it was that moment that fully exposed the significance of this issue to sports medicine providers and researchers as well as to the lay public.
The development of EAH is often misunderstood by athletes as relating to a loss of or an inadequate intake of salt. This has led to the all-to-frequent specter of triathletes trying to ingest significant percentages of their body weight of salt in various formulations. In reality, the development of EAH has much more to do with water than it does with salt.
The development of EAH is often misunderstood by athletes as relating to a loss of or an inadequate intake of salt...In reality, the development of EAH has much more to do with water than it does with salt.
RELATED: How Much Salt Do You Need While Training and Racing?
An overwhelming body of evidence has shown that EAH results from the overzealous consumption of fluids (specifically free water) combined with a hormonal response to retain fluid that is an exaggerated normal response when exercising. The combination of these two leads to an expansion of total body water in excess of total body salt and so salt concentrations decrease in the blood and in the cells. Salt losses through sweat compound the problem but are a smaller contributor to the development of EAH for most people, except in the longest duration events in the warmest environments.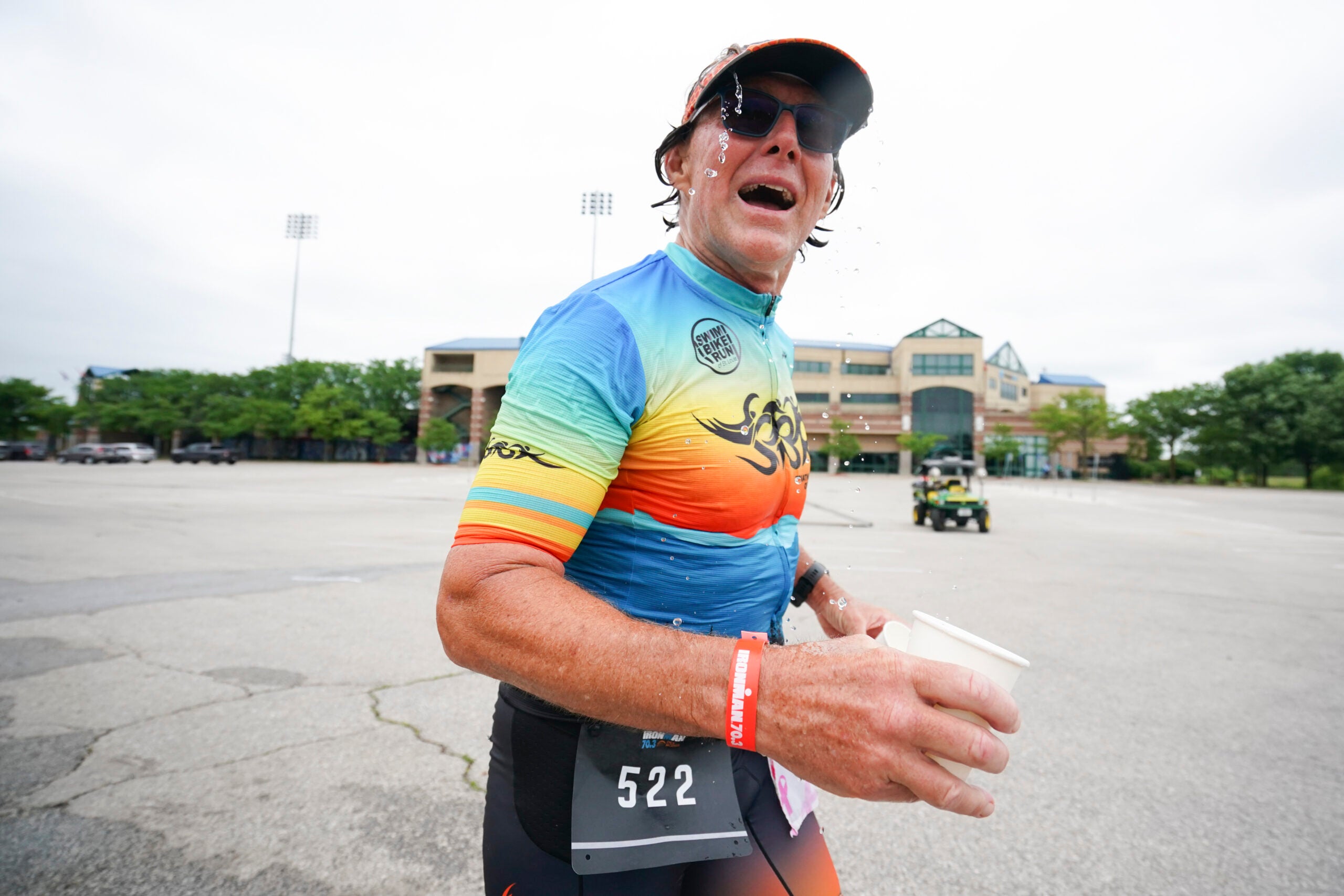 The study
Women who menstruate are thought to be more susceptible to the development of EAH than men are because of the effects of the female sex hormones that can impair some of the important defense mechanisms that prevent the effects of EAH. Indeed, many studies on EAH reveal that the majority of symptomatic cases occur in women.
A recent study on EAH is of particular relevance to triathletes and further explores not just the rates of incidence of EAH in men and women but also the symptoms with which they each present. This is important, because it is not clear that EAH causes the same symptoms in each gender, and knowing what to look for is useful information both for athletes who are self-monitoring for EAH and for medical personnel who may encounter people with this problem in the medical tent.
Published in the Scandinavian Journal of Medicine and Science in Sports, the article is titled "Clinical presentation of exercise-associated hyponatremia in male and female Ironman triathletes over three decades" and is a retrospective analysis of data collected at the World Championships in Kona over that time frame. The authors of this study set out to answer a couple of questions using their robust dataset: First, how often is EAH associated with excessive fluid intake that results in fluid overload or normal volume status in athletes versus total body water loss that results in hypovolemia (a state of low extracellular fluid)? Second, are the clinical symptoms different among men and women who present with EAH?
While this was a well-designed study with a data set spanning more than thirty years, it is important to note some significant limitations: First, only those athletes who presented to the medical tent were evaluated and so this was a self-selected group. Out of more than fifty thousand competitors, that number ended up being only around 9,500. Given that EAH is almost always asymptomatic, this study could not tell us about the true incidence of EAH in this overall population, nor could it give us any generalizable conclusions for all long-course triathletes. It is only able to give conclusions for the small number of athletes who had blood drawn—the most serious cases only. Second, the number who had blood drawn to inform the data set was one-third of those who presented to the medical tent. So from the original number of competitors, we are working with a dataset that comprises only about 6% of the total. Still, even with those limitations, we can glean some important information.
RELATED: How Sweat and Hydration Needs Differ for Men and Women
Sex differences in hyponatremia
As expected, the authors found that hyponatremia was more likely to occur in women than men. Furthermore, when present, hyponatremia was slightly more severe in women than in men as indicated by lower sodium concentrations in the blood.
The clinical signs and symptoms that men and women presented with in the context of EAH also differed. Men were more likely to present with muscle cramps, dehydration, and higher blood pressure while women presented with nausea, vomiting and diarrhea with abdominal pain, lower blood pressure, and weight gain.
Symptoms of hyponatremia, by sex
| | |
| --- | --- |
| Men | Women |
| Muscle cramps | Nausea, vomiting, diarrhea |
| Dehydration | Weight gain |
| Higher blood pressure | Lower blood pressure |
The muscle cramps experienced by men is of interest given that there is so much conflicting evidence related to the role that sodium plays in the development of cramping. The authors also noted that men experienced "heat cramps" at about the same rate, leaving the reader to wonder if these were one and the same?
The more interesting finding related to weight loss in men and weight gain in women. As mentioned above, EAH is generally attributed to excessive fluid intake and many papers have established that athletes with EAH are often at their base weight or even overweight when they present with EAH because they have taken in so much fluid. The authors of this study point out that in their sample for men at least, EAH is developing in conjunction with significant fluid losses—though this is not completely unexpected in an event such as the Ironman in Hawaii, where the race is very long in a very warm environment.
Women who developed EAH followed the script more closely, showing evidence of significant weight gain associated with excessive fluid intake reflecting the impact of the female sex hormones that can impact fluid balance.
At the end of the day, this study has added to the bank of knowledge that we have related to EAH in important ways: It allows men and women to understand the specific signs and symptoms that they may experience when developing EAH so that they can be on the lookout for them. It also serves as a reminder to be diligent in formulating our hydration and nutrition plans for longer events to avoid this problem in the first place.
All athletes need to ensure that they are ingesting isotonic fluids—in other words, fluids that contain sodium as opposed to just drinking plain water. The amount of sodium may vary but almost all athletes will do well with solutions of 300-400mg/l.
RELATED: How to Choose the Best Sports Drink for Triathlon
Men should increase the amount of fluids they take in when participating in longer events in warmer environments. Supplementing with sodium should be an individual decision but is unnecessary for most. Symptoms of developing hyponatremia in men may include muscle cramps and dehydration.
Menstruating women need to be cautious about fluid intake, and should consider being guided by thirst later in an event as they are susceptible to over-hydration. Supplementing with sodium should be an individual decision but is unnecessary for most. Symptoms of developing hyponatremia in women include nausea, vomiting and diarrhea with abdominal pain.
Dr. Jeffrey Sankoff is a Denver, Colorado-based emergency room physician, who  produces the "TriDoc Podcast." Dr. Sankoff is also a triathlete himself and a USAT- and Ironman-certified coach.