This New Sunglasses Trend is Perfect for Triathletes
Half-framed sunglasses hit the sweet spot for triathletes with protection on the bottom and unobstructed vision in the aero position on top.
Heading out the door? Read this article on the new Outside+ app available now on iOS devices for members! Download the app.
Half-framed sunglasses hit the sweet spot for triathletes with protection on the bottom and unobstructed vision in the aero position on top. Check out two new options for letting it all hang out.
Roka Gp-1
Roka.com; $220; 25g
What: Roka's latest venture into the eyewear world has the company going toward a sportier look than its famous Phantom active aviators. Not wanting to be a one-trick pony, Roka's performance line has expanded with the addition of the convertible GP-1 and GP-1x. The GP-1x has a slightly higher profile, which adds an additional gram of weight, but the coverage of the GP-1 is still excellent in the aero position.
Pros: As with everything Roka, the GP-1 is the lightest in its category. The featherweight nylon-injected frame, coupled with a near- invisible anti-scratch, anti-fog, anti-reflective, and hydrophobic lens make it easy to forget these shades are on your face. Near-zero distortion throughout the entire field of vision means you won't be distracted by imaginary peripheral movement.
Cons: Though it's only a small thing, the tabs on the top of the lens that are meant to serve as a guide for replacement lenses seemed a tiny bit unfinished and slightly hurt the aesthetic of the otherwise sleek sunnies. Also, without a polarized option as of press time, fans of polarized lenses are out of luck.
This is for: Triathletes looking for simple, lightweight eyewear without any crazy bells and whistles.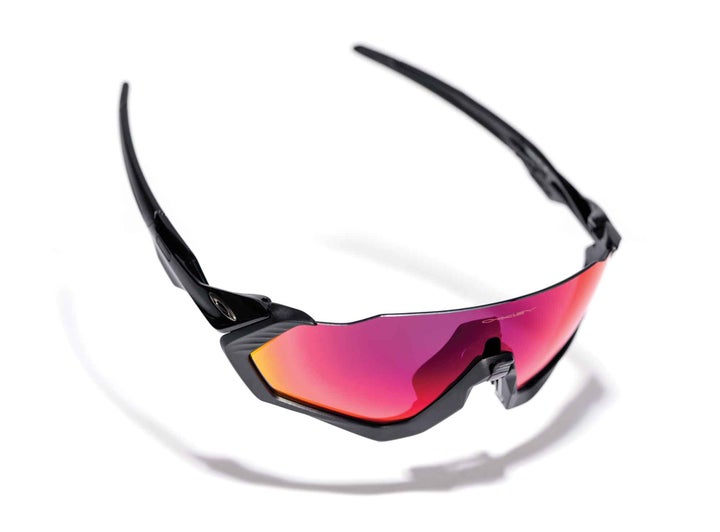 Oakley Flight Jacket
Amazon.com; Starting at $220; 34g

What:Yes, the Flight Jacket is a topless pair of sunglasses, but the big news is its "Advancer" nose bridge: With the flip of a tiny lever, the nosepiece pushes the lens away from your face, creating a draft of air, cooling your face, and preventing fogging on slow climbs. Oakley also makes different temple lengths available to help fit different helmet setups. Of course, the available lenses are super high-grade with minimal distortion and excellent clarity.
Pros: The brow-less design is perfect for sitting in the aero position, but unlike other high-coverage sunglasses, the ability to flip a switch and change the lens position makes these a much cooler option. The modular temples are also a boon for triathletes with tough- to-fit aero helmets. The Advancer is more than a gimmick; it does help dramatically with airflow.
Cons: These are a hefty pair of sunglasses—definitely not something that you forget you're wearing. Also, the switch isn't entirely intuitive or effortless at first, but it doesn't take long to get the hang of; if you do happen to forget to flip the switch back for downhills, prepare to have your eyeballs blasted with a beam of air.
This is for: Triathletes who love a big coverage lens but hate that hot-faced feeling; people who love a good conversation-starter.
Winner!
Roka
This was a tough one, but the GP-1's basic, featherweight approach makes for sunglasses that simply vanish on your face.