Heading out the door? Read this article on the new Outside+ app available now on iOS devices for members! Download the app.
Five years ago, ROKA didn't exist. Now its logo is everywhere, from swim caps at local tris to Gwen Jorgensen's kit in Rio. Editor-at-Large Julia Beeson Polloreno got the inside scoop on the company that's taken over triathlon with a hip look and the tech to match.
Photographs by Mark Leibowitz
This was going to be easy. Fun, even. It had been 10 years since college buddies Rob Canales and Kurt Spenser hung up their Speedos as All-American swimmers at Stanford University. But both were confident that a quick dip in Austin's Barton Springs pool to sharpen their strokes would set them up for a front-pack swim in their first half-Ironman. So a couple months before the 2011 edition of Ironman 70.3 Austin, a race in Canales' backyard, the duo jumped into the city's spring-fed urban watering hole in their slick new wetsuits for a practice swim. They made it 200 meters.
"Oh, man, we're in trouble," Spenser said to Canales when the two stopped after a few minutes of swimming. Those were strange words coming from a swimmer who'd once competed in the U.S. Olympic Trials.
But Spenser was burning up in his suit, and his shoulders ached mercilessly. Canales, who'd also raced at the Trials, was equally uncomfortable and perplexed as to why it felt like he was fighting the suit with every stroke. "I thought we bought the suit for swimmers?"
As the two smallest guys on Stanford's team—Spenser stands 6 feet tall and weighed about 145 pounds as a freshman—they relied on a deep understanding and mastery of technique and stroke mechanics to compete with beefier teammates who torpedoed through the water using sheer brawn. The scrappy duo knew how to swim correctly—and fast. And they felt like their fancy triathlon wetsuits weren't helping them do that.
"That experience turned into casual conversation about what we would do to make it better," Spenser says. But it was merely an intellectual exercise, as preparation for the race—and demanding jobs—maxed out their energy and attention. Canales, 38, was logging absurdly long hours as a corporate lawyer in Austin while Spenser, also 38, was immersed in his work as head of creative for Radley, a content and design studio he'd recently helped establish in Los Angeles.
The buddies continued to navigate training as triathlon newbies (although Spenser had done some IronKids races in the late '80s), armed with the swankiest gear they could find to compensate for a lack of fitness and experience. On race day, still unsatisfied with their wetsuits, Canales finished just under his five-hour goal, while Spenser blew up on the run and walked nine miles to the finish. "I had a lot of time to think about what went wrong," he says. It was a turning point for both men; they were hooked on multisport and hungry for improvement. But instead of overall fitness or strength, the first thing their inner product-design geeks wanted to improve was their wetsuits.
Flash forward four years, and the duo's ROKA brand is everywhere, from the smallest local races to the Olympics. Not since the sport was the budding hobby of a handful of adventurers has one company come to dominate the space so hugely. What started as a single wetsuit has become an entire suite of triathlon gear, from goggles to tri kits and sunglasses, with the cachet of a high-end fashion brand and the performance to impress the greatest of gearheads.
Their first wetsuit got buzz like no other, and more athletes have worn their swimskins at Kona than any other brand, two years running—no small feat for a company entering an already packed field.
"ROKA came in and kicked the door down," says Bob Babbitt, Ironman Hall of Famer and the sport's unofficial historian. "They are bright guys who asked, 'If we want to be the preeminent brand in this space, who do we need to partner with and how do we differentiate ourselves?'" Babbitt compares the ROKA origin story to that of Under Armour: A business-savvy athlete identified an opportunity in a space crowded with established players and was successful because he offered a distinctive, quality product with a different attitude.
With all that in mind, we had only one question: How did ROKA do it?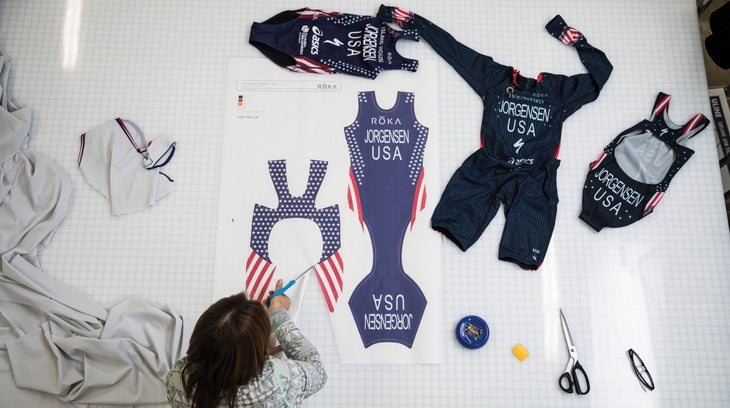 After their first 70.3, Canales and Spenser gathered up a handful of wetsuits and began deconstructing them in Canales' garage. "We looked at the suits on the market and said, 'Strip it all away and consider what you really need to add back to create a wetsuit that performs how we think it should,'" Canales says. That meant aiding body position by raising up dragging hips, and doing something to promote proper rotation.
To tackle the first goal, they removed excess buoyancy from the chest and added it in the legs—a modification that would allow "swimming downhill." To address the second, "We looked at some very basic physics and said, 'If we can make the suit more buoyant down the middle and remove buoyancy from the sides, that will allow for a more efficient power transfer along that freestyle axis and not let the suit interfere with optimum rotation,'" Canales says.
Confident in their plan of attack, Canales made a late-night call to the Japan headquarters of major neoprene and wetsuit manufacturer Yamamoto Corporation in search of material and a factory referral to help with a prototype. Numerous factories told them what they were trying to do wasn't possible—the varied flex and thickness throughout the suit presented technical challenges that no one had ever encountered.
Finally, they found a factory that was willing to work with them and pooled their money to pay for the prototype. "That was the turning point, when we asked ourselves, 'Do we spend money on this?'" says Spenser, who knew they'd need to bankroll multiple prototypes throughout the design process. "It was quickly going to be the world's most expensive wetsuit."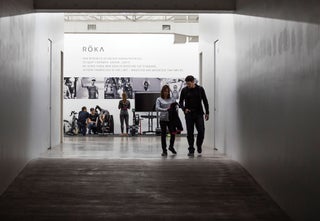 Communication with the factory was challenging, and often took place in the middle of the night in the U.S.. But the guys felt they were on to something and pushed forward through a dozen prototypes, spending thousands. "The core principles stayed the same, but we tried a ton of different stuff," explains Spenser. "There were definitely some bad ideas early on," like zippers in weird places. (Where? Canales says he'd "rather leave that to the imagination.") After a few months of back and forth, they were ready to test their suit in real-world conditions at the 2012 Ironman 70.3 in Galveston.
The wetsuit arrived just in time. "We stayed up late the night before hand-stitching the suit, trying to fix the neck flap because we screwed up the design and it came in really large," recalls Canales. In an effort to be stealthy—"We didn't want our own precious dollars to get cannibalized," Spenser says—they blacked out their company name, ROKA, a loose translation of "crest of a wave" in Japanese.
But the ink masking the ROKA logo washed away, exposing the name of their covert project. And a photo of Spenser exiting the water in the front pack in Galveston made it into LAVA Magazine's online race gallery. They couldn't tinker totally under the radar anymore, but it didn't bother them; the duo was deliriously happy because they felt like they'd nailed it. "Comparing the feeling in this suit to the ones we had been swimming in before in Barton Springs was absolutely night and day," says Spenser. "It was all high-fives and huge grins."
Within days, the idea mill was churning again. "We thought, 'OK, we've got a suit that works for us, but we're elite swimmers—maybe there's opportunity to work with other triathletes,'" says Canales. "We had our own biases but also felt that any time you can get a range of opinions and viewpoints across the spectrum during the design process, you'll get a better outcome." They reached out to some amateurs they knew, and, through a former Stanford teammate, connected with up-and-coming pro Jesse Thomas, who'd recently won Wildflower and had a reputation as a stellar runner (as a former Stanford steeplechaser), promising cyclist and developing swimmer.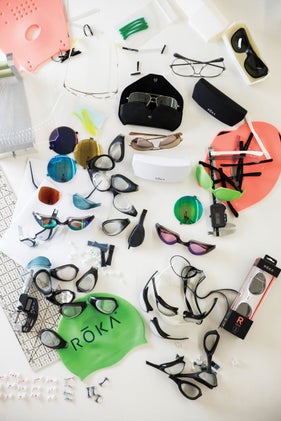 "It was clear to me from the beginning that they wanted to push the boundaries of design, product and marketing," says Thomas. "They weren't bound by any conventional or prior experience and weren't afraid of trying something completely different just to see what happened."
With Thomas' insights (also informed by his mechanical engineering degree), they made some significant design modifications focused around reducing lower body drag. They experimented with different liners and sleeve lengths, then they tested the suit themselves to see if it impeded them in any way. It didn't.
After two years of engineering, they finally had a triathlon wetsuit for both elite and developing swimmers, which they dubbed the Maverick Pro. Always a bit of a data geek, Thomas worked with a respected swim coach to conduct a blind test that pitted the Maverick against the competition. Remarkably, Thomas swam 2–2.5 seconds faster per 100 yards in ROKA's suit. "For Jesse, that time savings meant the difference between making the front pack and getting dropped," says Canales.
"It was a bit of a light bulb moment, and we thought, 'I think we're on to something," adds Spenser. Then came the event that truly put ROKA on the map.
Pro Meredith Kessler wore the Maverick Pro at Ironman New Zealand and clocked an astonishing 47:37 swim for 2.4 miles. Her closest competitor, Gina Crawford, also a fantastic swimmer who had outswum Kessler in their previous race, exited the swim four minutes back.
All of that buzz compelled Canales and Spenser to launch a basic website and lay the foundation for a formal business launch. (They had already incorporated in 2011 to protect their intellectual property.) But buzz hardly guarantees success, and they worried about consumer response in a fairly fragmented tri suit market. "There were a number of established players, and people said, 'This is a really competitive market—what makes you think you can possibly compete?'" says Canales. "Our view from the get-go was that there is always a market for better."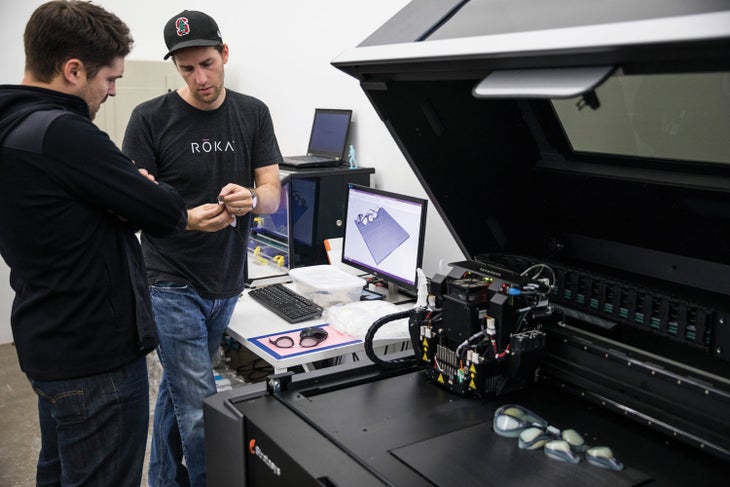 What comes next is a classic story of American entrepreneurship. Canales decided to quit his job to focus on ROKA full time. "My family was cautiously supportive at first," he says. "But after our success with Jesse and Meredith, it was clear that we were onto something, and then my family gave me their unconditional support." (It must be mentioned that his wife, Kate, is a respected product design expert who created and runs a master's degree program in design and innovation at Southern Methodist University in Dallas.)
So Canales left his law job in March 2013, right after he and Spenser launched the website.
Spenser remained in LA at Radley, his production company/creative agency that had taken on ROKA as a client as it was morphing from an idea to a brand. "It's rare that an agency will take on a brand from scratch," says Spenser. "While there was a team of people working on Discovery Channel shows and big-brand commercials, there were weirdos in the corner working on this wetsuit."
The guys borrowed money from a friend to make a small factory order, and on March 30, 2013, began accepting orders on their site. That day Spenser was in LA at work, and Canales was at their small loft office in Deep Ellum, a gritty but up-and-coming Dallas neighborhood, with former Stanford teammate Michael O'Neil, whom they'd just hired to run the e-commerce store and customer service. Going live with sales was hardly a formal affair. "There were four high-fives at my creative agency, and a really happy phone call after work with Rob," says Spenser.
Initial inventory was gone in a week.
They followed the suit up with neoprene swim shorts, then a race-day swimskin called the Viper. "We looked at wind tunnel testing that NASA had done with Speedo on Olympic swimsuits and identified a couple stitch techniques, zipper combinations and variants that work better for fast swimming," says Canales. They launched the Viper in 2013, and pro Brandon Marsh wore it in Kona and was first out of the water.
Then the requests for new ROKA products started flooding in. Could they build a quality goggle? How about a race-day kit? Canales and Spenser had to decide: What do we want ROKA to be?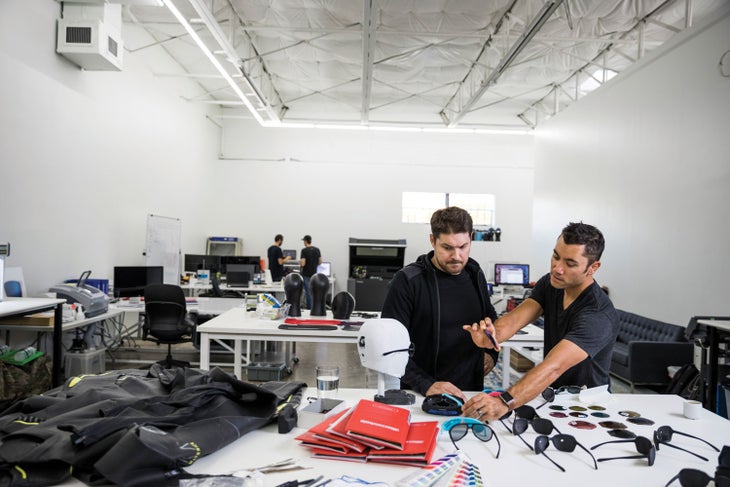 The answer is definitely not a small, family-owned business. More like: a world-class design-driven business; the best at making things better.
In the spring of 2014 the guys raised $5 million in an investment round and were able to add some serious horsepower to the ROKA team. "You don't know what you don't know," says Canales, and the cash helped the guys recruit "rock stars in their respective industries." Among today's employees: Jamie Oman, VP of engineering who was director of R&D at Oakley for 14 years, then a VP at Skullcandy and a director at Apple; Mark Niiro, director of engineering who ran packaging at Apple and Skullcandy and was the 2016 Texas State Criterium Champion in his age group; Mark Stephens, VP of product development who held the same title at Finis and was also a Stanford swimmer; and James Saadi, VP of e-commerce sales and operations who worked at both Shazam and Google.
Canales and Spenser turned their team loose on goggles next. That's when they hit a snag. It took a significant number of revisions to get the design right on a very aggressive production calendar, which caused a tremendous amount of stress on the team. "We are trying to bring things to market in half the time of some of our more established competitors," says Canales. Factories took too long to believe in what they were doing, and to churn out ROKA's rapid product iterations.
So Canales and Spenser went after more money in order to beef up in-house R&D capabilities. To date, ROKA has received more than $25 million in equity financing; the most recent round was $12 million in June 2016, led by Madrone Capital Partners, a Silicon Valley venture capital firm that is also an investor in Strava.
That investment in tech has let the company run wild, tackling triathlon's other two disciplines with the same rapid-iteration design process that's heavily influenced by their direct-
to-consumer sales approach—being closely in tune with customer feedback helps ROKA tweak their products with each production run so they're constantly improving.
ROKA has since put out a line of swimsuits and cycling apparel, launching both at the 2015 Ironman World Championship. Then they turned to triathlon and running apparel and finally, most recently, sunglasses—the thing that excites Canales the most because it's the product line that he hopes will bring ROKA out of the triathlon niche and to the masses.
Today, ROKA employs 25 people and mainly operates out of an 11,750-square-foot converted warehouse in Dallas' artsy Design District equipped with an array of state-of-the-art prototyping equipment, from advanced textile bonding machines to the most sophisticated, multi-material 3D printers. And while Canales is tight-lipped when it comes to revenue and sales data, he will say the company has had "double-digit and triple-digit growth since inception."
As for ROKA's future, the company has two overall goals: to keep supporting triathletes and to maintain a clear vision of what ROKA is as the company evolves beyond the tri space.
Regarding the first goal, ROKA sponsors some of the best athletes in the world, including both reigning Ironman 70.3 world champions and gold medalist Gwen Jorgensen. ROKA also sponsors a range of events, from small grassroots races like the Long Beach Triathlon and open-water swims to Kona and the Olympics. To be sure, there are bottom-line benefits to seeing your logo atop the Olympic dais, but Canales says the real motive has more to do with empathy. "The primary reason we like to partner with athletes," he says, "is that we used to be athletes ourselves and want to see them succeed." In fact, this past December ROKA signed a multi-year agreement with USAT to become the organization's official race apparel and swim partner.
Regarding the second goal, "there are a lot of shiny new objects out there," Canales says, "and we've got to be really thoughtful about what we do." He might've meant to say how we do. From the sound of it, these two product design-loving college buddies have grand plans to better all sorts of things. "We just hired some serious running talent into the Dallas office, so there is a lot more awesome run talk going on right now," Spenser says.Then Canales goes bigger: "There's no reason ROKA can't be the company making the spacesuits that people will wear to Mars."