Reviewed: TYR x Whoop Smart Swimsuit
Is this "smart" swimsuit really worth the $110 price tag? We put the TYR x Whoop suit to the test.
---
Basics
Elevate your Whoop usage by integrating it directly into your swim workout without the drag of a wristband. Whoop partnered with TYR to create a Whoop-compatible swimsuit for women (and jammers for men) with a special compartment built into the suit just for the small smart device.
---
Pros
Eliminates drag of Whoop wristband on wrist
Same type of swimsuit or jammers a triathlete would usually wear
Accurate data capture
Cons
Women's Whoop x TYR suit is double the price of a standard TYR suit ($110), plus $30 monthly membership fees for Whoop 4.0 device
Whoop compartment within the suit chafed 
---
---
Heading out the door? Read this article on the new Outside+ app available now on iOS devices for members! Download the app.
If you haven't heard of the TYR x Whoop swimsuit yet, chances are you've probably heard of Whoop x something. Whoop, a smart wearable device that tracks bodily metrics such as heart rate variability (HRV), blood oxygen percentage, and sleep quality, has been popping up in sports of all stripes these days.
Whoop is also an activity tracker and has a variety of sports and recreating options to log, from swim, bike, and run to disc golf and jiu jitsu. When Whoop introduced the Whoop 4.0 in 2021, it included notable athletic partnerships to encourage athletes of all kinds to integrate Whoop tracking into their daily training. One such partnership was with the tried-and-true swim brand TYR, that created men's and women's swimsuits, allowing a Whoop to be used during a swim workout without need for a wristband. 
RELATED: What is Whoop? Everything Triathletes Need To Know
Section divider
TYR x Whoop Review: The Good
Although wearing a watch in the pool is helpful for tracking time and distance stats, there is no doubt that it is clunky and creates extra drag in the water. Whoop wanted to avoid one more drag-inducing wrist device, so they partnered with TYR to create swimsuits with special compartments for the Whoop to sit flush against a swimmer's body.
In the women's suit, the Whoop pocket sits on the left side, a few inches below the armpit on the ribcage. For men's suits, the pocket is located on the frontal lower part of the left thigh. There is something to be said for not loading up your remaining free wrist with another drag-creating device. And if you don't swim with a watch, this solution allows you to still capture valuable data without throwing off your feel for the water.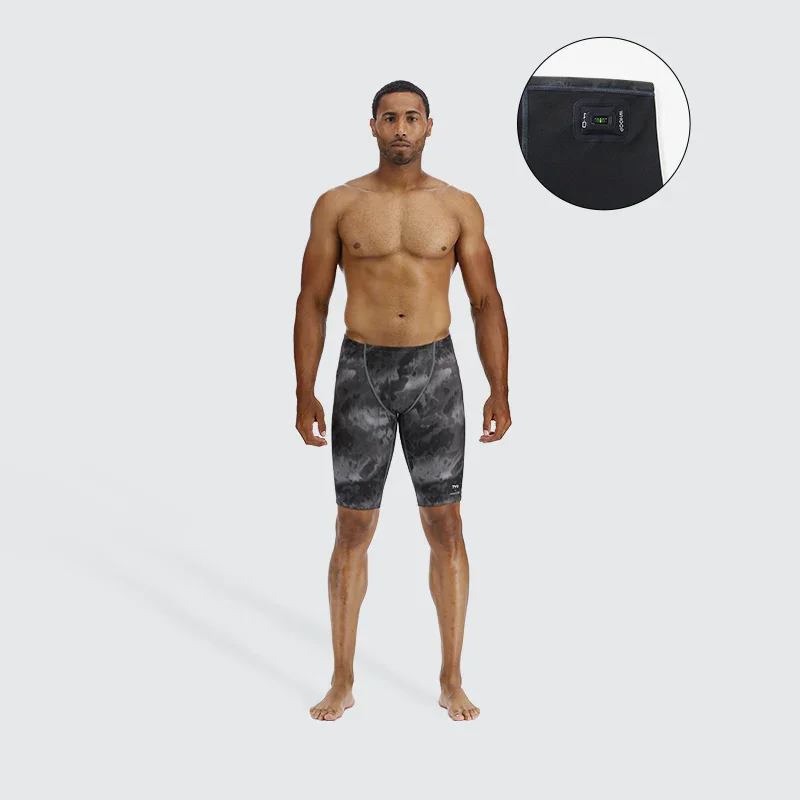 Other than having this special velcro-sealed compartment for the Whoop, the TYR women's and men's suits are the same design and fit as standard TYR suits of the same model, which for women is the TYR Durafast Elite Diamondfit suit and for men is Durafast Elite Jammer. No need to take any special sizing considerations (but do consult the size chart if you're unfamiliar with TYR's measurements for each size) to use the TYR x Whoop suit.
Most importantly, the Whoop is able to capture accurate swim session data when secured in the compartment with the heart rate monitor side of the Whoop touching the athlete's skin. From session heart rate to the "strain score," the Whoop 4.0 was active and recording for the entire swim session.
Section divider
TYR x Whoop Review: The OK
One of the first things likely to catch a buyer's eye is that the Whoop x TYR women's suit is anywhere from $35 to $50 to more expensive than a non-Whoop version of the Durafast Elite TYR women's swimsuit, depending on where you look. A retail price of $110 for the women's TYR x Whoop suit does seem like a fairly steep markup for what is essentially a Whoop-sized velcro pocket sewn into the suit. (The men's price jump is similar – $80 for the TYR x Whoop version compared to $50 for their standard Durafast jammer.)
Inserting myself into the review for a second – I can only speak to the women's suit, as that's the one I tested, but the internal Whoop compartment chafed a fair amount during the swim. The pocket's fabric is smooth, but is not tight enough to make for a totally flush environment against the skin when swimming. Plus, the location of the pocket on the side and upper part of the torso against the ribcage is already a prime spot for chafing due to the arm's natural windmill motion through the water.
The chafing wasn't so bad as to cause bleeding or prolonged stinging in the shower, but it was irritating enough that I adjusted my swimsuit after each interval to try to ensure the fabric would rub on a slightly different patch of skin whenever I could. In salt water, I would not recommend wearing this suit with the Whoop. I can only imagine the chafing in that circumstance.
Section divider
TYR x Whoop Review: Conclusions
If you already have a Whoop and its accompanying monthly membership, then it's not such a far leap that a triathlete would spend some extra cash to get the TYR x Whooop suit. The suit is a convenient way to continue to get Whoop data during a swim session and not leave your day with a gap in key workout data. The suit prevents wrist drag that you may already be dealing with thanks to wearing a watch during a swim session. The women's suit is no-frills and fits the same way any other TYR Durafast Elite swimsuit would.
On the flip side, dishing out an extra $50 for what is basically a suit with a pocket can be viewed as an extraneous and unnecessary purchase when a smartwatch and a wearable heart-rate monitor will capture much of the same data as the Whoop. The women's suit chafed just enough to be annoying, and for those super-long swim sets, you don't need any more irritants than the workout itself already provides. Plus, unless you already own a Whoop, it would be quite expensive to buy a Whoop, a monthly membership, and a TYR x Whoop suit all at once.
RELATED: All You Need to Know About Training with Heart Rate Variability