Reviewed: FORM Goggles Do In-Water Heads-Up Display
After two months of testing, former pro triathlete/college swimmer Ben Collins reviews some exciting new tech shaking up the pool.
Heading out the door? Read this article on the new Outside+ app available now on iOS devices for members! Download the app.
FORM goggles are a big step forward in swim tech devices, solving two major problems: accuracy of performance data and the ability to view it while swimming. FORM goggles do this via a see-through augmented-reality heads-up display inside one of the goggles, combined with a powerful sensor package that measures every aspect of your swim workout—from stoke count to interval times, without ever pressing a button.
I was impressed with the accuracy of the data, the quality of the materials, and the ease of use. Having swim metrics in the goggle was a huge advantage to distance swimming, allowing me to get my splits throughout the workout and view them later. I loved the smartphone app's ability to aggregate my workout splits into a format that actually looks like a swim workout. Further, trusting the goggles to track stroke count and time allowed me to focus my brain power on improving my stroke. As a lifelong competitive swimmer, I was skeptical, but FORM Swim Goggles enhanced my swim training.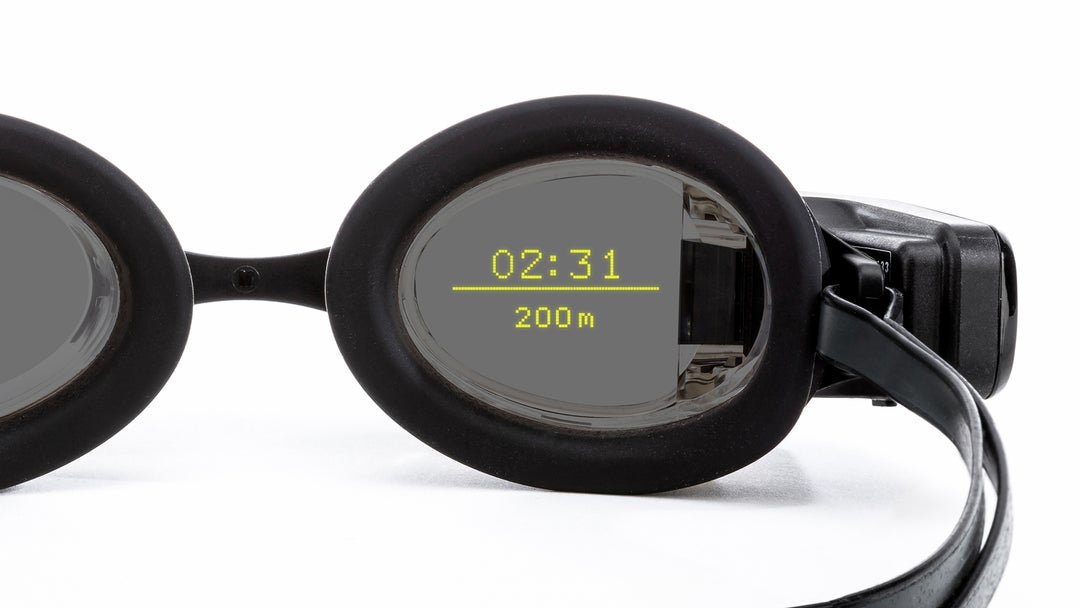 FORM Goggles: How does it all work?
A square protrusion to the side of one goggle projects a transparent digital display onto that same side's lens. (It is permanently attached to the goggle, so unlike the Instabeat heart-rate goggle add on, these are the goggles you'll be using.) While swimming, two lines of data are displayed directly in your line of sight. Metrics include lap time, stroke count, distance, and many variations, programmable through an accompanying app. The digital display took a few lengths to get used to, but it is easy to read and doesn't block your vision.
Seeing metrics while swimming is novel, but the device's automation is what truly sets it apart. The two buttons are primarily for starting and saving workouts. There is no lap button. Push off the wall, the interval timer starts; flip turn, the goggles can show your pace for the last lap; finish an interval, the goggles start a rest timer and display your interval time. Gone are the days of rushing to hit the lap button the moment you touch the wall.
The data from the FORM goggles was remarkably accurate. Using the pool's pace clock to check, I found that the interval splits were spot on and distance measured was superior to any watch I've tested. Like watches, drills and kicking require a "drill mode," and with very short rest intervals the goggles would sometimes fail to start a new interval and would instead keep the timer running. Even with a few glitches here and there, overall, the goggles blew away existing swim tech.
Of course, the technology is only useful if the goggles fit your face and are comfortable to wear. FORM's founder, Dan Eisenhardt, was a collegiate swimmer. He wanted to keep the low profile that competitive swimmers are looking for, while providing adjustability and a durable gasket for cushioning. The FORM goggles fit me straight out of the box, and additional nose bands allows them to fit larger and smaller faces as well. The goggles look and feel like a premium product, but thanks to high-grade materials you don't necessarily have to treat them that way. Still, they come with a carrying case that prevents scratching inside your swim bag. In my two months of use, the goggles never fogged, and showed no major scratching.
Uploading data to the app allows for post-workout analysis of every interval, formatted like a swim workout (i.e. 10 x 50 butterfly). After years of typing out workouts and entering splits, this feature made me much happier than I expected. The app saved me time every day and helps my coach to track my workouts much more effectively.
FORM goggles pass the test: Effortless, accurate, real-time data allows me to focus on improving my metrics, while premium materials give me confidence that these goggles are built to last. This is the fit-tech device that swimmers have been waiting for.
$200, available now, Formswim.com
Ben Collins is a former Division I swimmer and worked as a robotics engineer before becoming a professional triathlete. He raced for the USAT National Team from 2010-2012, and is a three-time NYC Triathlon champion.